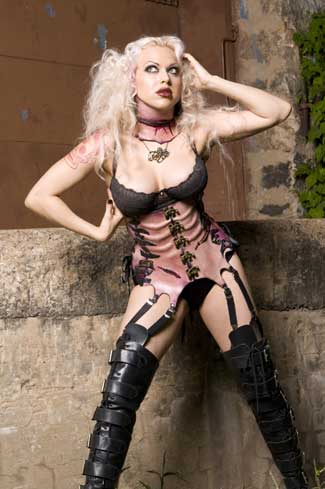 Atlanta/Las Vegas- (July,2012) – Gia Nova, showgirl and fetish performer, started dancing at the Chamber Fetish Club in Atlanta (now closed). She states "I started sneaking into fetish clubs when I was 17 and ended up getting hired at The Chamber as a performer and Go-Go dancer." During this same time Ms. Nova was also performing with The Doll Squad, a local burlesque troop, when a friend of hers came to see a show and convinced her that she had what it took to become an exotic dancer. A year later Gia started dancing at Masters Show Bar on cheshire bridge road, where she was to meet her first feature entertainer. It took a few more years before she started featuring, and then everything started moving faster.
Gia has posed for Playboy, Penthouse Magazine has covered a number of her shows, and she has even landed a cameo in Rob Zombies Halloween 2 and The Satan's Angel Movie. Since she designs and makes her own costumes, props, and mixes most of her own music; she is always staying busy. Ms. Nova told us, "It's very rewarding to be able to work for myself. Performing is not just a career, it's my passion. I have found that bringing my fetish and burlesque roots into the shows really give the performances a new slant!"
She was the first feature on the circuit ever to introduce the angle grinder show, traditionally from the fetish world. For those who haven't had the pleasure to see it, she takes an angle grinder to a metal bra and panties to shoot sparks from her naughty areas! Over the years it has become one of her trademark shows in the feature industry.
Fast forward to the present and Gia still calls Atlanta home, however she is on the road often and always staying busy. Ms. Nova excitedly remarked "Last year I won the exotic dancer national championship, so this year I had the honor of hosting the entire event with radio personality South Side Steve! I am also extremely honored to announce that I am nominated for entertainer of the year for a second year in a row, by Exotic Dancer Magazine. This is the absolute top honor you can receive in the exotic dance community! The voting is Internet based and is live at theedawards.com. Every vote makes a difference and I would be grateful for my fan to take to the polls!"
The Exotic Dancer Awards will be voted for online and you can go to www.TheEDawards.com to register and vote for Gia Nova and many other incredible Exotic Dancers and Gentlemens Clubs across the country. The winners of the Exotic Dancer Awards "Entertainer of the Year" will be announced at the Mandalay Bay in Las Vegas after a live performance by Gia and three more nominees. These entertainers are the top four feature show girls in the nation.
The Red Carpet affair will be attended by a majority of the Gentlemens Club Owners in the United States, and the general public may also attend by purchasing a ticket from the Exotic Dancer Expo either on line at www.EDPublications