Jack Perez recently directed the film Some Guy Who Kills People which has gotten some pretty great reviews. I recently got a chance to speak with him, and my interview with him follows:
Todd Martin: So tell us a little bit about the movie Some Guy Who Kills People. Give us an overview of the plot and where the idea came from.
Jack Perez: The story is about a quiet, would-be graphic novelist played by Kevin Corrigan who is haunted by a terrible event in his past, when he was brutalized by bullies. He's been living at a psychiatric hospital ever since, and has now come home. Soon as he returns, the bullies (now adults) start dropping dead. Murdered. There's much more to it, of course – and it was all Ryan Levin's idea.
TM: Was it a fun movie to make? Are there any stories that took place on set that you would like to share that really stand out?

JP: It was a lot of fun to make. I was surrounded by an amazing cast and a terrific crew. For whatever reason, I remember trading lines from old Woody Allen movies with Kevin and laughing our asses off.
TM: What was it like working with screen veterans like Karen Black and Barry Bostwick?
JP: I loved working with them. Both Barry and Karen are wonderful actors and lovely people in general. I had admired their films since I was a kid, so I was totally geeking out directing them.
TM: What other films have you worked on in the past? What other actors have you worked with on other projects?
JP: I directed the pilot for XENA: WARRIOR PRINCESS with Lucy Lawless, WILD THINGS 2 with Susan Ward and Isiah Washington, LA CUCARACHA with Eric Roberts, MONSTER ISLAND with Mary Elizabeth Winstead and Adam West. And of course MEGA SHARK VS GIANT OCTOPUS with Deborah Gibson.
TM: What is your favorite movie and favorite movie genre?
JP: BRING ME THE HEAD OF ALFREDO GARCIA by Sam Peckinpah. The thriller genre is my favorite.
TM: Do you have any projects you are working on now or in the near future?
JP: BLOWING VEGAS OFF THE MAP with Barry Bostwick for the SyFy Channel. A supernatural disaster romantic comedy.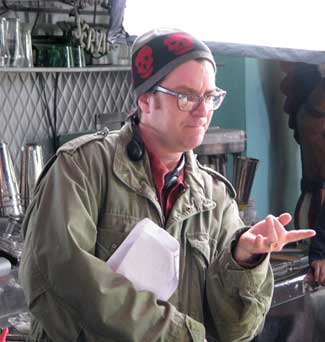 TM: If you both had to describe Some Guy Who Kills People in one word what would it be?
JP: My savior.
Thanks to Jack Perez for allowing me to interview him!