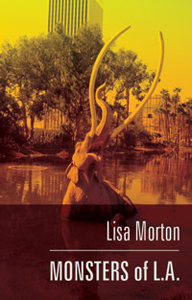 Monsters of L.A. by Lisa Morton
(Bad Moon Books)
In these pages you'll find the dark stars you grew up watching: Frankenstein, Dracula, Mr. Hyde, the Phantom, the Hunchback…all the silent ones and the first to find their voices are here, and they're even presented in roughly the order in which they first appeared on a silver screen. The Haunted House of the '30s gives way to the Werewolf of the '40s, the Monsters of L.A. Creature of the '50s, and so on, all the way up to our favorite modern boogeyman, the Zombie.
In some of these stories, you'll find an earthly incarnation of a famous namesake: Frankenstein is a patched-together, homeless vet, the Invisible Woman is so ordinary you'd never see her; but some of these familiar friends — Dracula, the Devil, or those seriously creepy Clowns — will be instantly recognizable.
When I received "Monsters Of L.A." by Lisa Morton from my good friends at Bad Moon Books I have to admit I felt like a kid at Christmas. I love Lisa's work, she is one of my favorite authors.
In her latest book she tackles all of our favorite monsters with a twist. All the stories take place in her hometown of Los Angeles California. This is an outstanding short story collection that is sure to please anyone who loves the classic monsters, loves L.A. and loves superbly written short fiction.
As good as all the stories are what really brought everything together for me was at the end of the book where Lisa explains the inspiration for each story. It is nice to be able to read how Lisa came up with each idea for the stories and to be able to see how and why the stories came about.
There isn't a bad story in the bunch though I can't believe (spoiler alert) that Lisa killed off my favorite vampire of all time Dracula with a sparkly vampire. But I forgive you Lisa, as you and I both know that you cannot kill Dracula.
As is standard with all short story collections I did have a few favorites that really stood above the rest.
"Frankenstein" – A really sad and poignant twist on the Frankenstein mythos that tugs at the heart and soul.
"The Hunchback" – Based on a true story that happened in L.A. in February of 2008 and is an indictment on the intolerance that still is alive and well in modern society. She hits the nail on the head with this one and it really sickens me that this still goes on today.
"The Invisible Woman" – A telling tale of modern society and how we as a species have seemed to have lost that sense of community and caring. Reading this should be a wake up call to open your eyes to whats going on around you, be forever vigilant to one another and step in when someone needs a hand or some help.
"The Creature" – Just a fun monster tale that takes place at the La Brea Tar Pits.
"The Killer Clown" – I have always loved killer clowns and Lisa's take on this is wonderful. Personally I am not scared of clowns but I know people who are as I am sure you do.
"The Urban Legend" – The longest story in the book and a beautiful tale of a local legend that unbeknownst to the general public is taking place right before their eyes. Some really great characters in this story.
"The Zombie" – Now what kind of "Monsters" collection would it be without a zombie tale. Lisa's take on the zombie mythos is outstanding. You may never look at zombies the same way again…that is if they don't eat your flesh first.
All in all, a must collection for those connoisseurs of short fiction and monsters.  Bad Moon Books did an absolutely wonderful job with this book, it is a beautiful edition.
Lisa continues to write superior short fiction that rivals any that is being published today and I give it my highest recommendation.
Book Review: Monsters of L.A. – Author Lisa Morton