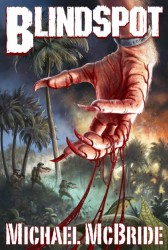 Blindspot
by Michael McBride
(Dark Regions Press)
At 2:31 a.m., seismic monitoring stations in China and South Korea detect a magnitude-4 event consistent with a nuclear detonation in the southeastern corner of North Korea, within the Korean Demilitarized Zone. With the threat of full-scale war escalating by the minute, the United Nations Security Council dispatches an elite unit of peacekeepers to cross the border, penetrate the cloud of dust hanging over the site, and determine the exact nature of the seismic disturbance. What they find triggers a series of events that culminates in a civilian biomedical engineer boarding a transport carrier at Ft. Detrick, Maryland, bound for the Far East.
His name is Dr. Parker Ramsey and he is uniquely qualified for this mission.
He is the brains behind a secret project–Code Name Hindsight–developed under the oversight of the United States Army Medical Research and Materiel Command. Hindsight has never been field-tested, but with global catastrophe looming on the horizon, the only chance of averting it lies in utilizing the project's extraordinary capabilities. If it works, Dr. Ramsey will be able to unravel the mystery behind the detonation and identify the responsible party.
For, thanks to Hindsight, Dr. Ramsey will be able to see something that no one has ever seen before…
He'll be able to see the moment of death through the eyes of the dead.
If he's able to survive long enough to do so.
I was terribly excited when I received this from my good friends over at Dark Regions Press in the mail. I have become a big fan of Michael McBride's books over the past year or so. His books are a hell of a lot of fun to read with great characters and story lines.
Michael continues his run of great books with his latest novella "Blindspot". It is a taught, fast paced thrill ride that packs quite the punch in such a quick read.
The story is based on a scientific discovery that the last thing a dead person saw can be retrieved and viewed.
What I like I about Michael's writing is his uncanny ability to draw me into the story right from the beginning. I am able to lose myself in his fictional worlds, experiencing what the characters do.
"Blindspot" is another great novella from Mr. McBride and another beautiful edition from Dark Regions Press and I highly recommend it.
Book Review: Blindspot – Author Michael McBride