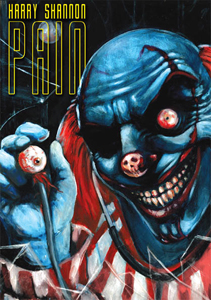 Pain
by Harry Shannon
(Dark Regions Press)
A top secret virus infects the water supply of a mountain town. Two mercenary soldiers, a retiring doctor and a handful of terrified patients struggle to defend a remote ER against a mob of the living dead. Through one long, harrowing night the living will learn there are many different kinds of…
PAIN
I was introduced to Harry Shannon's writing when Dark Regions Press sent me a copy of his short story collection A Host Of Shadows, which is an awesome collection.
In Harry Shannon's newest novella "Pain" he brings us a gut wrenching tale of human suffering and the living dead that includes a clandestine government organization, corrupt politicians (is there any other kind), a top secret virus and a small town placed directly in the center of it all.
Though the premise has been widely used, it is Mr. Shannon's writing that separates "Pain" from a lot of pretenders. His writing is visceral in its impact, his characters wonderfully developed and more than enough gore, blood and mayhem to appease the most hardened gore-hounds.
The majority of the story plays out in one place, which only adds to the mounting tension, fear and inevitability of the situation.
The book is short, powerful and a hell of a ride. My only complaint would be the length. I wanted more when I got to the end.
Dark Regions Press continues to publish top notch horror fiction and Harry Shannon's "Pain" is no exception. Use the links above to purchase "Pain" and satisfy all your flesh eating fantasies.