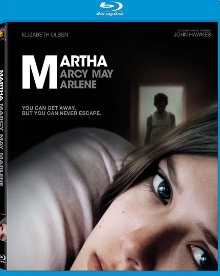 Mark your calendars for Feb 21, for this new feature from 20th Century Fox = Coming on Bluray and DVD
From 2011 Sundance Film Festival "Best Director" winner Sean Durkin, in his feature film debut, and featuring breakout star Elizabeth Olsen in her "Best Female Lead" Film Independent Spirit Award nominated role, MARTHA MARCY MAY MARLENE arrives on Blu-ray and DVD February 21 from Twentieth Century Fox Home Entertainment.
After escaping from a dangerous cult and the watchful eye of its charismatic leader, a young woman named Martha (Olsen) tries to reclaim a normal life with her family. But the haunting memories from Martha's past trigger a chilling paranoia — and nowhere seems safe as the fragile line between her reality and delusions begin to blur.
Supported by unforgettable powerhouse performances from Academy Award® nominee John Hawkes (Winter's Bone, American Gangster) and Sarah Paulson (Down With Love, What Women Want), the MARTHA MARCY MARY MARLENE Blu-ray and DVD is rich with feature special features, including "Mary Last Seen," the chilling short film by writer/director Durkin that started it all.
Featuring the Award Winning Short Film "Mary Last Seen"
MARTHA MARCY MARY MARLENE Blu-ray Features:
● Mary Last Seen
● Spotlight on Elizabeth Olsen
● The Story
● The Making of Martha Marcy May Marlene
● A Conversation with Filmmakers
● The Psyche of a Cult
● "Marcy's Song" Music Video by John Hawkes
● Theatrical Trailer
MARTHA MARCY MARY MARLENE DVD Features:
● Mary Last Seen