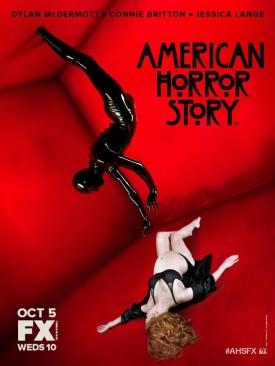 You all getting pumped for the new FX horror series AMERICAN HORROR STORY yet. FX network has a pretty kick ass record of bringing top line programming, I mean really they have brought us RESCUE ME and SONS OF ANARCHY, don't really get much better than that so I am stoked that they have decided to venture into the horror arena.
AMERICAN HORROR STORY looks to be one messed up time. The PR they have been pimping so far gives it a kind of TWIN PEAKS feel, at least to me.
Sporting an all ready kick ass cast that includes Dylan McDermott, Connie Britton and Jessica Lange the addition of HEROES Zachary Quinto is yet another smart move from the creators of the show. Zach also played Spock in the recent STAR TREK reboot as well. One hell of an actor!
Story wise AMERICAN HORROR STORY revolves around therapist Ben Harmon (McDermott) and his wife Vivien (Britton) who in dealing with the aftermath of Ben's adultery, move along with their kids into a new house that seems to know all about their fears and plays on them.
Quinto is signing on for a short lived story arc where he will play an ex owner of the house and he should be on screen for about four episodes or so. FX also has plans for a two part Halloween episode that will air over the holiday.
It's all looking and sounding good! Keep it here and I will pass along more as Fox gets it to me.