Summer is just around the corner and our beloved fall/spring television season has gone on break. Alas horror fans! Not to worry. A few networks have some summer shows that may be of interest. One popular vampire show along with a few newbies is set to premiere this summer. They range from drama to reality all with a nice horror twist. Will they fill the void of shows like "Supernatural" and "Vampire Diaries?" We shall see what the season of summer has in store for us.
"True Blood" is set to air its third season beginning June 13. Season two left fans wondering where the hell Bill went? We watched as a happy and in-love Sookie Stackhouse discovered her vampire love had gone missing. We also saw Sam Merlotte make a trip to find his long lost family that abandoned him as a child. Queen Sophie gave our resident Viking vampire Eric Northman, the okay to sell vampire blood. Jason Stackhouse shot Tara Thornton's boy toy, Eggs. A lot of questions were left last season that will hopefully get answered.
This season will take its cue from the third book in the Sookie series, "Club Dead." The show will introduce new characters Alcide Herveaux, the lonely leader of a werewolf pack that will help Sookie locate her missing beau along with vixen Debbie Pelt. Herveaux will also serve as a sexy temptation for our lovely heroine. Other werewolves are planned to appear as well. Fans are eagerly waiting to see what the heck is going on in Bon Temps and what other mischief our favorite telepathic waitress will get herself into.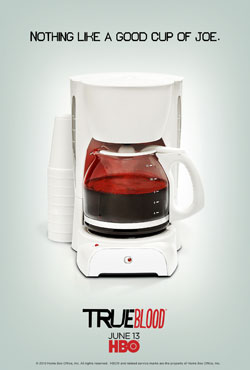 NBC and ABC will be bringing their own horror inspired shows to the table. NBC has "Persons Unknown" waiting in the wings. The show seems to take its cue from the "Saw" series but may go without the gratuitous gore. The show is about a group of people who seem to be living normal lives up until they blackout and wake up in a ghost town. They are being watched by some unknown person, people, or entity. The strangers find themselves trapped and alone as they figure out what is going on and are designated tasks to complete in order to stay alive.
The gore may be a little on the shallow end but the mystery and thrills are still embedded. What is scarier than waking up in an abandoned town with creepy cameras everywhere? The show is set to premiere June 7. ABC has decided to jump into the vampire pool with their show "The Gates." Based on the promos, it seems to be a vampified "Desperate Housewives." A young couple moves to a gated community where things aren't what they seem. Housewives, sex, and secrets appear to be the common themes in the show. It may be the least horror driven out of the new shows but, for those who love vampires it may satisfy the blood craving. June 20 is the premiere date.
Along with plenty of interesting and eccentric movies, Syfy has its own shows ready to debut over summer vacation. A revamped version of "The Phantom" will come to our television screens June 20 in the form of a four hour movie event. We find Kit, the son of the current Phantom, taking on the role as he finds his father has been murdered. Kit will leave behind his youth and innocence to become the superhero that fights injustice and evil. This mini-series may fall a bit more on the science fiction side but it may still fill the void of many horror enthused fans. Stephen King has donated his time and talent to help create "Haven," a show based on his novel "The Colorado Kid." Promotional teasers for the heavily anticipated show have already begun airing on Syfy.
The show consists of an FBI agent hot on a case who finds herself in a town that seems to house people with supernatural powers. The show resonates a bit with "Eureka," another program that portrays a town that involves strange and supernatural occurrences. Fans of the popular show may want to check out "Haven" when it premieres July 9. Syfy already has plenty of reality style shows on its schedule. One more will be added come July 15. "Fact or Faked: Paranormal Files" will be joining the Syfy reality family this summer. The show follows a group of paranormal experts as they comb through "supernatural" evidence that ranges from photos to videos posted online. Their goal is to prove whether or not the evidence is truly fact or truly faked. I must admit the show does seem rather intriguing.
Many times I see photos or watch some video of an alleged paranormal phenomenon and wonder if it's actually real? These folks will do all the leg work and allow us to simply watch them investigate and find out how much b.s. is truly out there.
The summer television season appears to be promising. Not everything will be a home run but, there's enough variety out there to at least keep us entertained. Who knows, perhaps a new favorite will emerge? I plan on sitting on the couch with remote in hand. Summer horror seems to be ready and fully equipped to keep us fans in the horror mood.