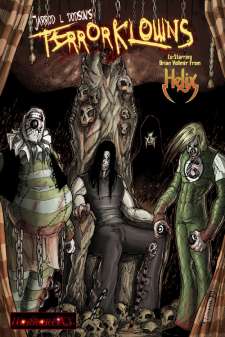 TERRORKLOWNS Issue 1
Just when you thought it was safe to go back to the circus…there comes a time where not enough good horror comics and novels and any other related entertainment is not out there. Well, from the twisted mind of one individual who has promised to bring us something extraordinary, he did just that. What started as a Vlog on YouTube turned into something unexpected and exciting. The author is Jarrod L. Dodson. Jarrod has been thinking about this for a long time. He wrote the series and came up with an artist to do the first issue, that title is Terrorklowns. Co-starring Brian Vollmer.
Having read this issue, it shows great potential. The artwork is really good, the whole killer clown theme hasn't been touched upon since Stephen King's It and Killer Klowns From Outer Space. Jarrod's Vlogs are both entertaining and exciting to watch, he's walking the walk and talking the talk.
The idea behind Terrorklowns is, a whole world is invaded by these creatures that look like clowns but are known as Terrorklowns as the result of a mishap by a magician. Now true horror begins. The style of the artist who did the interior pages is dark, and as a scratchy feel to the look of the artwork.
The cover definitely would catch the eye of those who are looking for that one of a kind dark and twisted comic book. There is really nothing pleasant about Terrorklowns. It is dark, twisted and when all is said and done, it's really creepy. There's something about killer clowns that fills us with much fear. The way their faces are painted. The paint itself could be a mask, to hide something insidious. The main villain himself, Laughing Dark, gives the Joker a run for his money. There's so much building up to the point where the sh*t hits the fan.
I'm really eager to see what happens in following issues. I've been watching Jarrod's videos and he's been very passionate about his creation. He's been doing something interesting. Celebrity YouTubers. People who get to guest star in a story, with them facing an army of Terrorklowns.
The cover for David Spate's comic is done. The title of the comic is, Slade VS Terrorklowns. So far, Jarrod has been keeping true to his word. The book is really a good read and it keeps you interested in what happens next. It's like the feeling you get when you see a really good movie, or read a novel or any other comic and it leaves you with a cliffhanger, that's what issue 1 does. It leaves you in the end, wanting more. There's much potential in this story.