You're stuck between a rock and a hard place, you think you have your whole life figured out, then you're swimming in the paranormal, things suddenly happen that you can't explain. You've stepped into…the Twilight Zone! Even if you never have seen an episode, The Twilight Zone has such a cult following and is so extraordinary in the sci-fi/fantasy/horror community, I'm sure you have heard the theme song before. Did you know that even though The Twilight Zone is a cult phenomenon and beloved by fans of sci-fi, horror and fantasy the ratings tanked for most of the season?  Let's revisit this masterpiece and look at some favorite episodes.
The Twilight Zone was created by Rod Sterling and ran for five seasons on CBS from 1959 to 1964. The series consisted of unrelated original episodes that portrayed paranormal, futuristic, dystopian, and disturbing events. Usually episodes guaranteed a shocking plot twist and was brought to a close with some sort of message. The series is notable for featuring established stars and stars that would later become famous (Ron Howard, Robert Redford, Burt Reynolds, William Shatner, Shelley Fabares….). Sterling served as executive producer and head writer. He wrote or helped write 92 of 156 episodes. Many leading genre authors also contributed to The Twilight Zone. This includes: Charles Beaumont, Ray Bradbury, Harlan Ellison, Earl Hemner Jr,  George Clayton Johnson, Richard Matheson, Reginald Rose, and Jerry Sohl. Many episodes also featured adaptations to classic stories.In addition to writing and directing, Sterling also hosted the show, providing on or off-screen monologues at the beginning and end of each episode.
The "twilight zone" itself serves as a metaphor for strange circumstances that befall the protagonists of an episode. Sterling's opening and closing monologues summed up the episodes events in tones ranging from cryptic to pithy to eloquent to unsympathetic. This usually illustrated how or why the main character(s) had "entered the twilight zone."
The Twilight Zone was born from an idea Rod Sterling had to create a television show of his own. He wanted to escape the frustrations of never ending edits and constant changes made by networks and sponsors. He thought that behind a television series with robots, aliens and other supernatural experiences, he could also express his political views in a more subtle fashion. Sterling went forward and created a pilot pitch for the show. The pilot, called "The Time Element," was about a man who travels back in time to Honolulu in 1941 and unsuccessfully tries to warn everyone about the impending attack on Pearl Harbor. Subsequently the pilot was shelved for a year until Bert Granet discovered and produced it for an episode of Desilu Playhouse in 1958. The show was a success and Sterling began production on the series. A writing team of Sterling, Charles Beaumont, and Richard Matheson was responsible for many of the stories each season.
"There is a fifth dimension, beyond that which is known to man. It is a dimension as vast as space and as timeless as infinity. It is the middle ground between light and shadow, between science and superstition, and it lies between the pit of man's fears and the summit of his knowledge. This is the dimension of imagination. It is an area which we call The Twilight Zone"-Rod Sterling.
The Twilight Zone premiered October 2, 1959 to rave reviews. Even though critics praised the series, shockingly the television audience struggled to catch on. Many episodes in the first season became the most celebrated. Here are some of them:
"Time Enough At Last"
"The Monsters Are Due On Maple Street"
"The After Hours"
The first season landed Sterling a fourth Emmy for dramatic writing, a Producers Guild Award for Sterling's creative partner, and a Hugo Award for best dramatic presentation. The first season also featured a completely different theme song and background. Subsequent seasons featured images of Sterling's narration, shorter opening narration and truncated theme song, the song we all know.
"You're traveling through another dimension, a dimension not only of sight and sound but of mind; a journey into a wondrous land whose boundaries are that of imagination. That's the signpost up ahead — your next stop, the Twilight Zone."-Rod Serling
Season two premiered September 30, 1960. "King Nine Will Not Return" was the opening episode, it was Sterling's fresh take on the pilot episode titled, "Where is Everybody?" The show was repackaged to the way we know it today and the way I described from before. The show also hit another curve-ball. A new executive was at the helm of CBS and was very tough on the show, trying to slash an already tight budget. The second season also had memorable episodes. This included:
"The Eye of The Beholder"
"The Invaders"
"Long-Distance Call"
This season won multiple awards including another Emmy for Sterling and another Hugo Award for best dramatic presentation.
"You're traveling through another dimension, a dimension not only of sight and sound but of mind; a journey into a wondrous land whose boundaries are that of imagination — Next stop, the Twilight Zone."-Rod Sterling
Season three started to wear Rod Sterling down. He was juggling multiple roles as the executive producer, host, narrator, and primary writer for the series. "I've never felt quite so drained of ideas as I do at this moment", said the 37-year old playwright at the time. Despite his weariness he pushed on and created more highly regarded episodes. This included:
"It's a Good Life"
"To Serve Man"
"Five Characters in Search of an Exit"
By the end of the third season The Twilight Zone had reached over 100 episodes. The series received two Emmy nominations but unfortunately won neither. The series was also late in pulling a sponsor for an upcoming season. This lead to the series being replaced in the CBS lineup and cancelled for a short time. Producer Buck Houghton left the series and became apart of another production company. In the meantime Sterling accepted a teaching position at his Alma mater, Antioch College. Eventually a fourth season was green-lit but Sterling's contribution as executive producer decreased in the final seasons.
"You unlock this door with the key of imagination. Beyond it is another dimension: a dimension of sound, a dimension of sight, a dimension of mind. You're moving into a land of both shadow and substance, of things and ideas; you've just crossed over into the Twilight Zone."-Rod Sterling.
Season four premiered in November 1962 with noticeable differences. The Twilight Zone lost it's The and just became Twilight Zone and an episode was now an hour long instead of a half hour. This did not sit well with the crew at first. Herbert Hirschman was hired to replace Producer Buck Houghton. His first act as Producer was to direct a new opening sequence. Sterling's input was limited this season. He still provided the bulk of the teleplays but was virtually absent as executive producer. As a host this season he had to be shot back to back against a gray background because of his infrequent trips to Los Angeles.
Only one episode in this season Sterling thought was the most effective:
"On Thursday We Leave for Home"
With five episodes left in the season Hirschman received an offer to work on another show and was replaced with Bert Granet. Granet previously produced "The Time Element." For the next and last season The Twilight Zone went back to it's original half-hour format.
By the time Season five rolled around Rod Sterling was exhausted. He said, "I was writing so much, I felt I had begun to lose my perspective on what was good and what was bad." He had contributed 92 scripts in five years! Producer Bert Granet left and was replaced by William Froug. Froug made decisions about the show that was frowned upon. He started by shelving several scripts (which included "The Doll" which went on to eventually be produced). He alienated writers and then hired another writer to re-write scripts. Even so, many episodes from this season are celebrated. This includes:
"Nightmare at 20,000 Feet"
"Living Doll"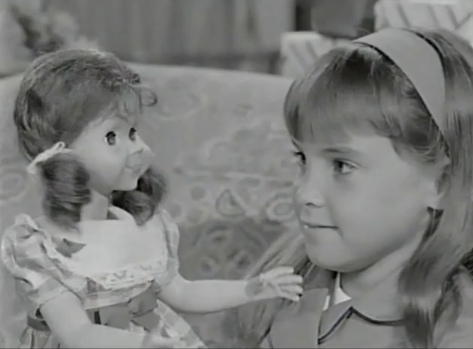 "A Kind of a Stopwatch"
In late January 1964 CBS announced that it was cancelling the show. ABC showed interest in bringing the show over to their network under a new name, Witches, Warlocks and Wolves. Sterling was not impressed, "The network executives seem to prefer weekly ghouls, and we have what appears to be a considerable difference in opinion. I don't mind my show being supernatural, but I don't want to be booked into a graveyard every week."
Sterling sold his 40% share in The Twilight Zone to CBS. He left all projects behind him dealing with the macabre and supernatural until 1969 when Night Gallery debuted.
If you enjoyed this spotlight on the most prolific series mixing elements of the occult with real world problems, please check out my next piece. I am working on trying to gauge the most memorable episodes. Rod Sterling was a creative dynamo. We haven't even scratched the surface of the most memorable and not so memorable episodes. Seasons 1, 2, 3, and 5 are available on Netflix. Updated versions of The Twilight Zone are available on dvd and now Blu-Ray. Please Stay Tuned! If i missed any of your favorites and if you have any suggestions please sound off in the comments section! I'd love to hear from you. Next time something miraculous or unbelievable happens in your life, briefly check yourself and your surroundings. You could be…in The Twilight Zone.
Sources: The Twilight Zone wiki, Wikapedia, The Croc's Domain-Complete episode guide for the original Twilight Zone  (tzone.the-croc.com/original-twilight-zone-episode-guide.html)