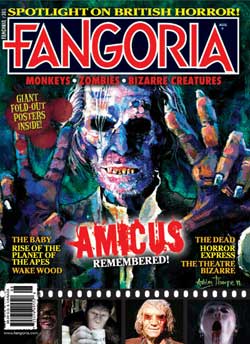 Fangoria Magazine – Issue 305
Welcome a new addition to our regularly reviewed magazines, but certainly not new to horror fans…..Fangoria. As the world of horror changes and grows, there has been one constant bringing us month to month reports on things that go bump in the night. That constant though has changed faces a few times, which leads me into my review of the latest edition of Fangoria.
Featuring a painted cover, Fangoria just may very well have realized something horror fans have known for along time. That is….we get plenty of photos within but need something artistic to package its outer shell. This issue proudly displays a rather cool rendition painting of Amicus paying tribute to of course the Hammer era. Not only that but as I read about things old and new, it's also apparent that the direction of Fangoria has altered its presentation to cover more than just the coolest major studio releases. This makes for a pretty rich experience and offers a wider overview of the genre now to readers.
"Spotlight of British Horror" – I know this issue will make quite a few loyal fans of the Hammer stuff happy. There is plenty of coverage here on all things British horror. Amicus gets the lead with a few titles discussed from the collection. "Wake the Dead" is new Hammer horror detailing the much talked about "Wake Wood". Ingrid Pitt exposes her fangs in some early stills from "The House that Dripped Blood" (just released on Bluray recently) "And now the screaming starts" interviews actor Ian Ogilvy. There's lots more here….I'm a bit behind on my Hammer lore, so this some nice reading to contribute to the horror genres Brit education.
"Rise of the Planet of the Apes" covers the new addition to the "Planet of the Apes" legacy. As we hear about a change in direction from Tim Burton's previous introduction, we also get the scoop on the production and some previous thoughts on the franchise. Myself, being a fan of the original 70's releases, am hoping that the series gets the care it deserves. Talking apes? Of course ….the original version this film sees a progression in the evolution of Apes to man, which includes of course speech. But there doesn't need to be a spoiler here as that fact is already known. In any case, Fangoria takes things a step further with a tribute to the product line…a few of which I'll admit to owning myself. Model kit? Check, Lunch box? check….yep even a pack of them cool cards.
"Raising the Dead" explores a new zombie film that was shot in Africa. What I found more interesting here was the details on the production and rough times the filmmakers had with the African locals and authorities. You got to hand it to them for sticking it out, but what this tells me is "keep the productions in our country" …it will save few headaches. I've become rather numb to new zombie offerings, however this one is still intriguing enough to give a look.
"Saint and Sinner" – Details the new Claus themed horror exploration by the title of "Sint". Some cultural details are exposed and all things Christmas may never be the same with this new addition. I'm already sold on "Sint" if even for the culture aspect itself.
"The Theatre Bizarre" – A cool title for what they are calling an even cooler anthology collective. Creepy toads, witches and more here promise a potential winner release due to hit streets soon.
If you are paying attention, you'll note Severin Films latest releases of retro titles. One of those,  "Baby" gets a feature here towards the magazines 3rd act. I'm gonna skip reading his one only because I want to see the film myself first. In closing, some great content here and even barely a sign of new horror or pictures of Megan Fox. I believe the team is onto something…..nice issue!
Fangoria Magazine – Issue 305