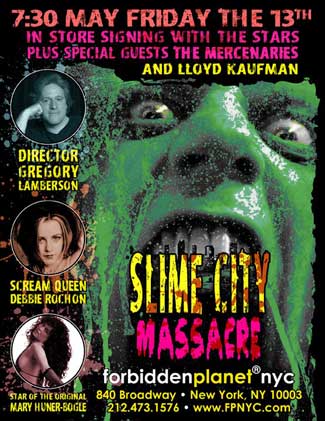 Get your slime on with some latest news from the Buffalo circuit of film making
Buffalo, New York – With the May 10th release of Shriek Show's 2-disk DVD of SLIME CITY MASSACRE just around the corner, author and filmmaker Greg Lamberson reports on a slew of upcoming SCM events, including screenings in Buffalo and New York City, and cast signings at Forbidden Planet and Dark Delicacies.
First up is The Slime City and Slime City Massacre Double Feature to Benefit Benjamin Heppel on May 9th from 7:00 pm – 10:30 pm at the Market Arcade Film & Arts Centre in Buffalo, where SLIME CITY MASSACRE was filmed. 100% of the proceeds from ticket sales and a raffle will go to an emergency fund for an 8 year old boy with Leukemia.
"This double feature has turned into a really special event for me," says Lamberson. "Horror authors, filmmakers, publishers, distributors and collectibles manufacturers have generously donated books, DVDs, magazines, and T-shirts to this great cause, which shows what big hearts professionals in this genre have."
Next up is a DVD launch signing at Forbidden Planet in New York City on Friday the 13th of May, from 7:30 pm – 9:30 pm. Lamberson will be joined at the signing by Debbie Rochon, Mary Huner-Bogle (who starred in the original SLIME CITY and reprises one of her two roles in SCM), Lloyd Kaufman, and several other cast and crew members from both SLIME films.
SLIME CITY MASSACRE will also screen at the Bronx Week Film Festival, which runs from May 16th – 19th.at the Bruckner Bar and Grill, 1 Bruckner Boulevard in Port Morris. Portions of the original SLIME CITY were filmed in the Bronx, where SLIME producer Marc J. Makowski, has been a lifelong resident. Other features showing at the festival include Jerry Landi's horror spoof KRACKOON and the drama GUN HILL ROAD.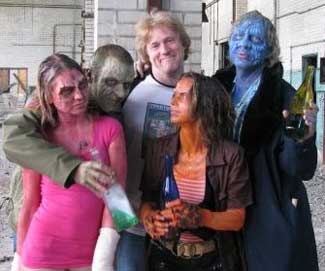 Finally, on June 4th, from 2:00 pm – 4:00 pm, Robert Sabin, who starred in the original SLIME CITY and plays the evil cult leader Zachary Devon in SLIME CITY MASSACRE flashbacks, will be joined by scream queen Brooke Lewis, who co-produced SCM, for a DVD signing at Dark Delicacies in Burbank, California.