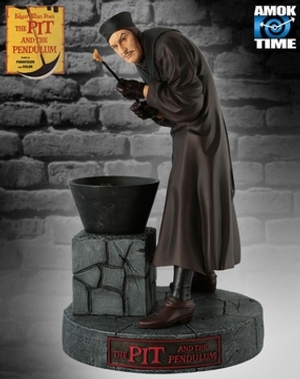 To celebrate Vincent Price's 100th birthday (daaaang, really?!), AmokTime is running a promotion on their site called "Vincentennial" with a statue that's two feet tall (or 12 inches to be exact) that is based on Roger Corman's version of Edgar Allen Poe's "The Pit and The Pendulum".
The statue includes a battery operated cauldron with a hidden light to give the appearance of a real glowing fire, and a poker. And as a way of celebrating the "Vincentenniel"; AmokTime is offering this statue for only $79.99 (regularly $149.99) along with FREE SHIPPING.
This is a one time deal, and it will expire on 5/1/11, so get yours now before the time runs out!!