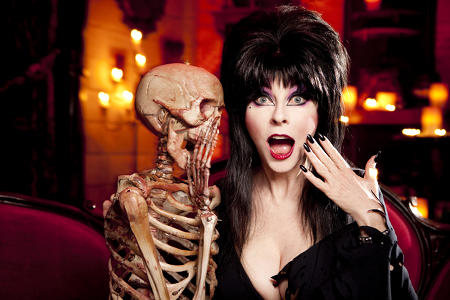 There are few icons of the genre who have managed to stay such a staple and whose image alone can draw that flash of recognition but ELVIRA is once such icon.
Can you believe she has been bringing the camp for 29 years! And she doesn't look a year older for all the bad flicks she has had to endure.
ELVIRA returned to the cable airwaves this past fall, I just recently found her here in the Cleveland area and it is indeed a treat to watch her strut her ample stuff across the screen.
For those of you who haven't been able to search her out on a digital cable system near you, fear not! The whole new season is coming to DVD and I've got the info for you.
ELVIRA'S MOVIE MACABRE will be hitting DVD as double feature presentations. Here's the info on the first couple of titles, are you ready?
Leading independent distributor Entertainment One (eOne) has acquired North American home video and digital rights for the nationally syndicated series ELVIRA'S MOVIE MACABRE, which will arrive in its first two installments of hilariously horrifying Double Feature DVDs this June. Presented by Elvira: Mistress of the Dark the worlds sexiest, most outrageous and original movie hostess ELVIRA'S MOVIE MACABRE was re-launched on over 120 stations across the country this past fall and was instantly praised as a dream come true for horror fans.
Featuring Elvira's signature, unflinching, tongue-in-cheek commentary of some of the greatest B-movies ever to unspool, eOne's release of all-new ELVIRA'S MOVIE MACABRE Double Feature DVDs kicks off with the zombie-themed pairing of George Romero's Night of the Living Dead with I Eat Your Skin and a double-bill of Hammer Film's The Satanic Rites of Dracula with The Werewolf of Washington. Future DVDs will pair such camp classics as The Terror (starring Boris Karloff and Jack Nicholson) with Eegah! and Scared to Death (starring Bela Lugosi) with Manster.
When you hear the name Elvira only one person comes to mind Halloween icon and quintessential symbol of all things spooky, the one and only Mistress of the Dark. The first horror host ever to be syndicated nationally, Elvira has seen her reign as Queen of Halloween span an amazing twenty-nine years, highlighted by two feature films, an IMAX film and two motion control rides. She has appeared in national ad campaigns for Pepsi and Coors, recorded five music CDs, published four books and licensed over 400 products, including two Bally pinball machines, BC Rich guitars, three comic book series, Elvira's Night Brew beer, Evil perfume and a slot machines from IGT. Elvira also boasts the best selling female costume of all time and has just launched a new iPhone App and an online fan club at www.elvira.com.