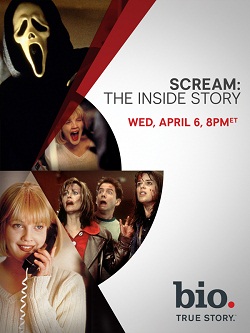 Have you heard? SCREAM 4 opens in 2 weeks.
If you're a horror fan and paying any attention at all there is no way you can't know that Wes Craven and crew are back fro another round of fun in Woodsboro.
SCREAM 4 opens April 15th and to help prime us all for the event the BIOGRAPHY CHANNEL will be airing a retrospective documentary on the franchise and it's looking to be a winner.
Think what you will of the films there is no denying their effect on the genre.
The BIO CHANNEL will premiere the show next Wednesday April 6th and I'm sure many repeats will follow. This show comes to us from director Dan Francis who was also the man behind HIS NAME WAS JASON and NEVER SLEEP AGAIN so you know we're in good hands. Here's the official synopsis from BIO:
In 1996 director Wes Craven unleashed Scream, a slasher flick that shattered box-office records for horror films and turned Craven and some hot young actors (Neve Campbell, Skeet Ulrich, and Rose McGowan) into overnight stars. In this two-hour special, we go inside the Scream story with all-new, exclusive interviews with cast and crew. Viewers will learn that Craven originally didn't want to direct the film, the production had to survive delays and objections to its violent content, and industry analysts predicted it would be bomb at the box office. But Scream became a blockbuster and single-handedly revived the horror genre.
Check your local cable listings to make sure you have BIO but it's pretty much a staple channel on digital cable tiers.
Here's a teaser to promote the debut:
[dailymotion]http://www.dailymotion.com/video/xhxvxu_bio-channel-trailer-for-scream-documentary_shortfilms[/dailymotion]<!–nevermore–>