I know, it seems like I'm talking about this flick a lot but they are doing a great job of stirring things up and keeping it interesting. Remember that trailer I showed you yesterday? Well, hidden in the camera lens at the end of the trailer was a website address, it looks like this: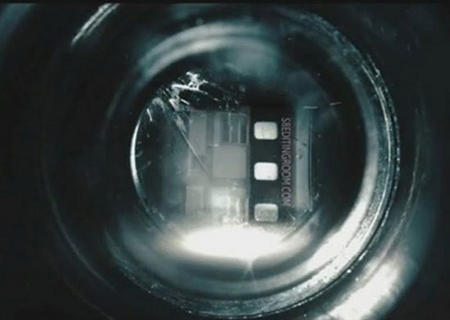 If you look in the lens, on the film strip is a site address. CLICK HERE and you'll go right on in. It's a hidden part of the official site called "the editing room". The controls for this room are kind of hidden throughout the page but click around and you'll figure it out pretty quick.

Also in the trailer, again in the camera lens at the end of the clip is this montage image:
Don't know what the hell any of that means, but it's awesome.
Go, play, have fun. If you unlock anything else post it in the comments section so we all can partake. Head on over to this great site, SUPER 8 NEWS for a complete listing of all this crazy hidden SUPER 8 stuff. CLICK HERE NOW!