Cult Collectibles in association with Grindhouse Releasing is proud to announce the upcoming release of THE BEYOND "Weird Wobbler" bobblehead figure. From the classic 1981 film by legendary Italian director Lucio Fulci comes the world's first bobblehead figure to include a separate detachable face.
"The films of Lucio Fulci are incredibly important to me, THE BEYOND especially, so I wanted to make absolutely sure that this figure was like nothing ever created before," says Cult Collectibles owner, Mark Jason Murray. Taking the character of the young girl "Jill", played by Maria Pia Marsala, and putting it into figure form was no easy task. "I got the idea right away that it would be incredible if the figure could have two faces, one in her 'possessed' state and another destroyed by gunshot, to duplicate one of the most shocking moments in the film."
The creative process of this figure took over 9 months as extreme attention to detail and functionality were needed. "Although it was necessary to evolve from the initial concept due to limitations of the polyresin material these figures are made of, I believe the final version turned out even better than I had originally planned," states Murray who collaborated closely during each stage of creation with Grindhouse Releasing co-founder, Bob Murawski.
"I had a great time working with Mark on this," comments Murawski. "He definitely shares the Grindhouse Releasing philosophy of obsessing over every detail and taking as much time as necessary to assure that every one of those details, no matter how tiny, is perfect. Mark worked tirelessly with his international team to create something that has surpassed all expectations on every level. As a rabid Fulci fan myself, I am excited to have a cool new BEYOND item on the market and I'm proud to be associated with the sickest bobblehead ever made!"
Cult Collectibles prides itself in delivering unique and high quality products. "I did some research and couldn't find anything like this having been done before with a bobblehead. The detachable face rests nicely on the figure's base by its feet for easy storage and display and is held onto the head by magnets embedded into both the detachable face and solid head. When attached, it fits almost seamlessly. So much so that you may not even realize that it is removable having not known it already," boasts Murray who incorporated further references to the film by having the figure stand in a "blood flood".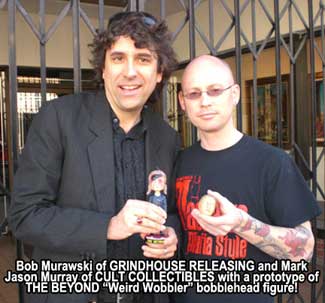 "I just kept coming up with ideas for this and thought it would be great if the packaging referenced the book of "Eibon" from the film," comments Murray, "so the front of the box has a flap that looks like the cover of a very old and evil book." As with previous figures released by Cult Collectibles, noted artist Stephen Romano was hired to provide the elaborate packaging artwork. "Bob got the idea to include the film's Italian language title on the base, so "L'ALDILA'" was added to the back of the base with "THE BEYOND" on the front. I am incredibly proud of how amazingly awesome this figure is!"
The figure is currently available for pre-order with an expected ship date in early June, 2011.
Lucio Fulci's THE BEYOND "Weird Wobbler" bobblehead figure details:
-Limited edition of 1,000 individually numbered figures
-7 inches of lightweight polyresin
-Alternate detachable "possessed" face
-Deluxe "Book of Eibon" packaging designed by Stephen Romano
-Exclusive trading card available only during pre-order period from www.cultcollectibles.com
-Pre-orders available now with figure expected to ship early June, 2011.
(Due to licensing restrictions outside of our control, this figure is only available to purchase in North America. Fans outside of North America, please understand that this is a legal matter which Cult Collectibles must abide by.)