Continuing on working on the local Buffalo scene of filmmaking I was able to talk to Matthew Patterson (otherwise know as Matty Mask). He is most famous for his deathmask of Johnny Gruesome and for his love of coffee. I asked him to tell us a little about him and his work:
"My influences are varied but a main theme in them is 1970s monster comics, toys, magazines, movies, and TV. Also, Clifton hill, Canada, plays a significant part.the wax museums/haunted houses are a main part of anyone growing up near here. We went every summer to the House of Frankenstein, and Dracula, mostly and how cool is it that I have a Frankenstein mask being used by the staff at the House of Frankenstein?
I always loved looking at toys of that particular time frame .the product was heavily superhero/monster oriented. The aurora models of monsters were still going strong, and the box art was a thrill. Famous Monsters Magazine had all this stuff in their ads, so when going to the drug store with my parents, I would sit on the floor looking at this stuff, trying to commit it all to memory.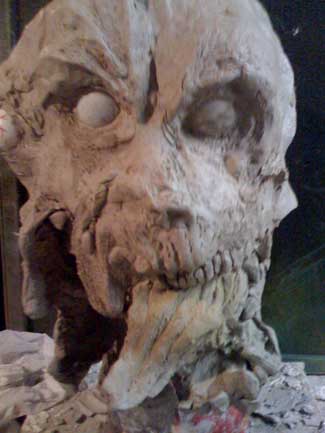 I always loved getting dressed up for Halloween and my wife and I won some contests over the years. She made a giant pizza slice for her brother which won us a free weekend in a Toronto Marriot. I won $500 at the hard rock cafe as dead Elvis and every year we would tweak or customize masks we bought. As a kid I always wanted to try something FX oriented, but any questions were met with a dead end. We didn't have the internet, so that information wasn't at hand.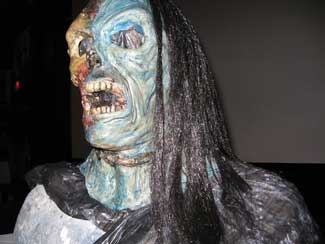 I made my first mask ever (the fly) on Halloween 2005 a month after shoulder surgery. I used my ice hockey helmet, latex, and plastic bags. The work was difficult, physically painful due to my shoulder, but it worked and that led me to figure out how they actually make real Halloween masks. In 2006, while rehabbing my shoulder, my physical therapist suggested using my daughter's playdo as a means of strengthening my hand. One thing led to another, and I made the Wolfman. I made a couple one of a kind masks for friends and that was it for a while.
Until 2007 when I answered an ad looking for FX people for a rock video. I told the guy, I don't know if you could use me but I'm trying to make monster masks. In comes Greg Lamberson and the Johnny Gruesome deathmask. It was my first exposure to all these people involved in movie making. And Greg was, and is a mentor and friend. He introduced me to such an array of people in horror. On the video shoot I met Jay Mager (Buffalo filmmaker) and at the videos premiere we met Rod Durick (Zombified Studios) .Can you say divine intervention?
Little did I know that we would be teaming up in 2008 on the Pigman movie. At the Buffalo Film Fest we met Rodrigo Gudino of Rue Morgue Magazine. He was very interested in the Pigman, and even has a Pigman mask which I made for the film. Rodrigo and the people of Rue Morgue have been supportive of our projects and great to hang with. That same night Herschell Gordon Lewis asked what the mask was and I have posted pictures of us together with the Pigman mask (same with Rodrigo). To say Ii felt like a kid on Christmas morning with the best gift ever is an understatement! Having anybody, much less the caliber of the horror heavyweights interested in my work, is still an incredible achievement to me.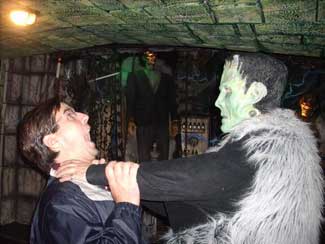 I also worked on First Dark: Beast of Teeth. My task was to make these gas masks that were made to look flesh like. That was a cool shoot because Melantha Blackthorne was in the film, and I had just met her at the film festival. I am hoping that film will be out on DVD soon.
After that it was getting close to Halloween so I ramped up my production for Rotten Jacks Creepshow 2 (a Buffalo Horror Show with vendors, bands, movies and all things creepy), We premiered the Pigman in front of 800-900 people. We sold a ton of the Pigman DVDs, and quite a few Pigman masks, I had wolfman masks, Frankenstein, Johnny Gruesome deathmasks everything I had done so far .and people either bought or took pictures. A week later Jay, Rod, John Renna (another makeup artist), and myself were on Lair of the Yak. (A web TV program that has a gaggle of horror authors just clowning around) .We had a blast. You can get the link to the 2 part goofiness on my website.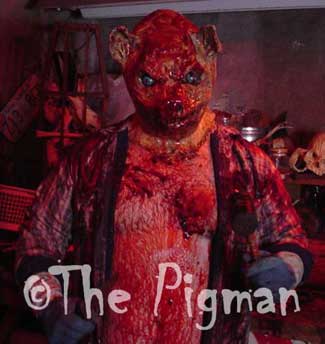 This year is intriguing: since Christmas break I worked on "Severed Limbs" (Return to Slime City mini film) from Greg Lamberson. I am working on "Gore" from Deftone Studio Pictures, "Born to Die" from Jay Mager, "House of Horrors: the movie", and "Slime City Massacre".
 I am also making a mini bust for independent comic book creator Kyle Kaszcmreazak (zomibeinkcomics.) Plus an original mask, Chemical John slated for release soon, with a free contest on a horror oriented magazine site. I love giving people a chance to get one for nothing because it makes them happy and it makes me happy.
I think I would have come to this road eventually, but the catalyst (my surgery) made it happen now. I wouldn't trade that event, because I might have missed meeting and working with all these great people. Life is about timing. In the future?
Hopefully more film work, and pleasing my fans, all 3 of them.no, there are some who have bought a mask from me in every flavor. I love that they feel I've given them something to make them happy, and entertained. That's it for now. Stay tuned." We will be covering more of Matt's work both in movies and in mask making. Just remember to bring the man coffee.
To see some of Matt's work you can go to