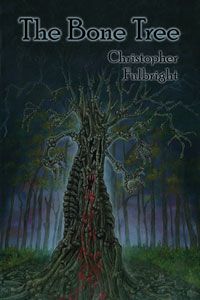 THE BONE TREE
by Christopher Fulbright
(Bad Moon Books)
Above a Civil War graveyard in the backwoods of Texas, Kevin and Bobby's treehouse was their haven against the world. But the day Tom Plecker comes screaming through the creek below, terrified of a shadow man, that all changes. Walking Tom home they see it — the tree, its branches twisted like the pain-wracked frame of a fleshless corpse, knotty snarls of bone-white wood clawing the sky. The Bone Tree is more than a stark, twisted visage. It's alive, and it's gaining power. When the shadow men come to call on the boys, they must fight a supernatural force they barely understand…
It seems I have been in a novella mood lately, as this is the fourth one in a row that I have read. I love well written novellas, they don't take too long to read and I can fit them pretty easily into my busy schedule.
The Bone Tree is the first book I've read by Christopher Fulbright. Though it didn't break any new ground in the coming of age, kids fight monster storyline I enjoyed it immensely.
It is well written and the characters are wonderfully developed. The friendship between Kevin and Bobby was realistic and quite believable, given their circumstances, divergent backgrounds and race…it just felt right.
The pacing was spot on, the frights, tension and atmosphere build to a feverish pitch, leading to an ending that will leave you wanting more and this is my only real complaint.  I feel that this story would have benefited in a longer tale with a little more history and details about The Bone Tree.
Minus that small complaint, I wholeheartedly recommend giving The Bone Tree a try. I for one liked it enough that I will be on the lookout for any new projects from Mr. Fulbright as well as digging into his back catalog.