SYNOPSIS:
Journey into the twisted mind of a serial killer with this exploration of the true-life German "Lipstick Killer." Suspected of murdering more than a dozen women, psychopath Lothar Schramm (Florian Koerner von Gustorf) paints the lips of the women he's killed and rapes them after death. With shocking images of brutal violence, filmmaker Jörg Buttgereit imagines Schramm's life flashing before his eyes as he dies. Micha Brendel co-stars.
REVIEW:
Starring: Florian Koerner von Gustorf, Monica M.
Director: Jorg Buttgereit
Writers: Jorg Buttgereit, Franz Rodenkirchen
Schramm is about the fictional German "Lipstick Killer" Lothar Schramm (Gustorf). The film starts out with Schramm laid out semi unconscious. You hear a knocking in the background from his neighbor Marianne (Monica M.), but obviously Schramm is unresponsive. The film quickly cuts to an earlier time where Schramm answers his door to a young couple. They inquire about his belief in god and if they can discuss it inside. Schramm agrees and walks them to his living room of his cramp apartment. He offers them a Cognac or coffee which they agree to. But before you know it, Schramm is having his bloody way with the poor couple. In the mist of all this some very vague imagery is dispensed throughout. From shots of legs jogging, to old home footage it illustrates the fracture puzzle that is Schramm's mind.
Schramm trailer can be found here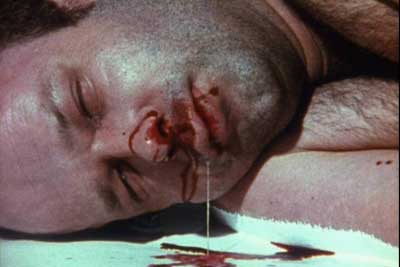 Cut to Schramm walking by during a conversation Marianne is having with two of her new clients, as you find out that Marianne is a prostitute. As you find out in the movie through various scene that out of good conscious I won't explain, I am a gentlemen after all. Schramm is clearly consumed with Marianne. But how about far does will his attraction go, can Schramm keep his inner demons at bay, or more importantly will Schramm tell her "Marianne you don't have put on that red light, those days are over you don't have to share your body with the night." Get it she's a prostitute… it's like the song Roxanne… Marianne… Whatever.
Schramm accomplish one of it's major goals. To create the sense of psychosis through the eye of Louthar Schramm. It jumps back and forth in the time line with flashback of his childhood and alternate scenarios playing themselves out in his mind. There is heavy symbolism in the movie to keep your interest in the times of confusion. This is really a two person film, Gustorf does a fair job of playing your common, unassuming serial killer. A guy you couldn't imagine capable of killing a rat, let alone humans. And Monica M. does suitably in a minimal role. Buttgereit, in some scenes, is unafraid of going as deep and getting as close as possible to the depravity of Schramm. In the directing of the film Buttgereit shows a number of scenes that are as unsettling in their surrealism as they are in the real form. There's a random scene of a man sitting on the sidewalk, pulls out a gun, and shoots himself in the head. There's no explanation of who he is, what he represents, or for that matter if he represents anything at all besides keeping the audience off keel. The gore isn't going to rattle any horror fan worth his mettle.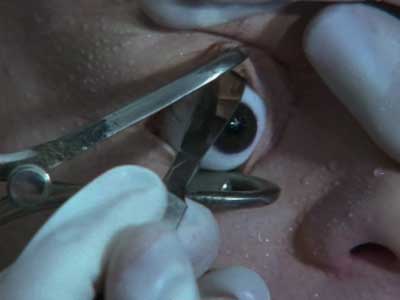 The most disturbing things for me are the scenes of Shramm's johnson. If you saw "Watchmen" and were thrown by the numerous shots of blue dong, than buckle your seat belts. This is a literal wiener schnitzel showcase, with one scene that will have any person with a respect of the male appendage reeling. There's also a scene where Schramm is at the dentist to get his tooth removed. But while there, the dentist decides to remove another problem… Schramm's eye. Come to think about it it's not that odd, I mean my dentist makes it a habit to check my prostate. He says it'll get rid of my tooth ache… Okay, I feel I've said too much.
The main problem with "Schramm" is it feels incomplete. I had my suspicions when I saw the running time of 70 minutes. There just seems to be many scenes that could have been fleshed out more. It settles for the flash moment of shock and moves on. For example, in terms of kills he's suppose to be a serial killer as told to you in the very beginning. Yet, the film only alludes to the couple he killed from the start. There times that they hint to his past like a dresser stocked with lipsticks, but they never delve enough into those moments to make Schramm stand out. There's a constant reference to his right leg, at times it's perfectly fine, the next in a bracem and then completely amputated. It's tidbits like that I would have like to have more exposition. Also because it's a two person film most of the drama is focused on whether or not Schramm is going to kill Marianne. When the pivotal scene plays out it is quite compelling. If there were more moments like that, maybe weaving more possible victims in just to keep the tension and balance the seemingly normal guy and the monster.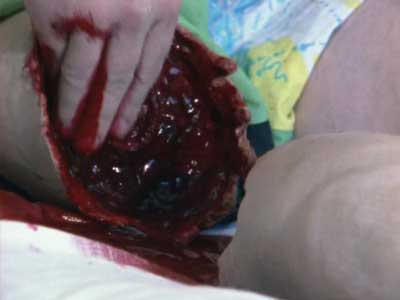 As a person who is fascinated with the serial killer culture, I find many of the movies whether loose retelling or fact based accounts to be hit or miss. I have to put "Schramm" in the miss category. I feel Buttgereit plays it a little too close too the vest. There are multiple scenes of visceral shock, but with no exploration you don't get the relevance of them.
A couple of scenes are so off the wall that they are comical, including a creature that could be taken off the set of a Troma film. There were moments that made me want to like this movie out of sheer wackiness, but those moments end up being lost opportunities. This film just doesn't stand up to the cream de la crème of serial killer movies like "Henry: Portrait of a Serial Killer", "Zodiac", and "Se7en".
Special Features
New Director's Approved HD Transfer (taken from the original 16mm negative)
Exclusive Introduction by Jorg Buttgereit
Audio Commentary by Jorg Buttgereit and Franz Rodenkirchen
Audio Commentary 2 by Actors Florian Koemer von Gustorf and Monika M.
The Making of Schramm
Still Photo Gallery
JB HD Trailers
Short films:
Horror Heaven HD with optional Audio Commentary by Jorg Buttgereit
Blutige Exzesse im Fuhrerbunker (Bloody Excess in the Leaders Bunker) HD
Mein Papi (My Father)
Original Motion Picture Soundtrack
Collectible new Blu-ray Artwork
Technical Specs
Germany / 1993 / Color / Approx. 65 Minutes / German Language with optional English Subtitles / Aspect Ratio 1.33:1 / Dolby Digital 2.0 Stereo/DTS MD 5.1 Surround.