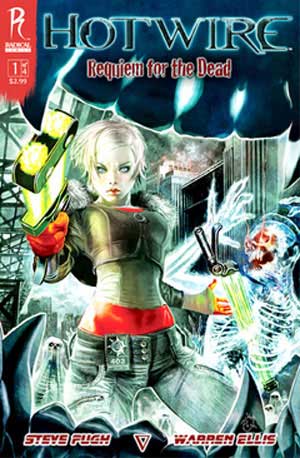 HOTWIRE: REQUIEM FOR THE DEAD #1 (COMIC)
Written by Steve Pugh and Warren Ellis
Art by Steve Pugh
Published by Radical Publishing
Publication Date: 2009
Format: Color – 28 pages
Price: $2.99
Hotwire: Requiem for the Dead has a very cool premise. It is like if Ghostbusters was a serious science-fiction film. Alice Hotwire is a detective for the Necromancy division of the police force. The spirits of the dead have stopped crossing over and are now called Blue Lights. The city is surrounded with towers that keep them in check, but some of them get through create havoc and periodically posses someone. As the book opens Hotwire is in the middle of a skirmish with an extremely powerful Blue Light of a little girl attempting to make a father jump off the roof of a high rise tenement.
The equipment used to capture the ghosts did not work so Hotwire had to improvise to take the specter down. While Hotwire is fighting ghosts riots are going on all over the city, because two police officers brutally beat two immigrants, weeks ago. The entire city is in civil unrest, and that leaves Alice Hotwire without backup. Hotwire partners with Peter Mobey, a police officer with no assignment, because he punched a fifteen year old protester.
Hotwire and Mobey make the stereotypical odd couple of the police force. Hotwire is a great mix of dystopic science-fiction and horror. This story is billed with two writers Steve Pugh and Warren Ellis. The actuality is the characters and concept were created by Warren Ellis ten years ago and Pugh put Ellis's name on the cover of the book, because of Ellis's large following. Pugh does an excellent job molding a ten year old idea and another man's writing style and twisting it to create his own vision.
Ellis is an incredibly dynamic and entertaining writer who stretches the expected boundaries especially of dialogue. Pugh plots the story well to his art style and the story flows well. Pugh doesn't write dynamic dialogue like Ellis, though. The dialogue is formulaic of your typical television cop drama. The scene where Alice speaks to the Necro-forensic scientist is fantastic and really mixes the two genres well. The art by Steve Pugh fits the genre bending story well. Pugh's art is detailed and he draws facial expressions well.
I also commend Pugh's coloring. Some of Radical Comics other titles use similar coloring that uses bright colors in contrast with dark shadowy surroundings, but the only time I really enjoyed the coloring dichotomy in Hotwire. The art feels like CGI done right. Hotwire: Requiem for the Dead has a fun premise mixing several genres. Pugh uses a new artistic style and does it well.
Pick one up at Radical Comics