Doc Rotten shares some Holiday Cheer Fear.
From time to time horror film makers point their carnivorous camera lenses at Santa Claus and create holiday horror treats that tear and claw at the world's fascination with jolly old Saint Nick. This season is no different with two European filmmakers putting Santa through the wringer.
With both features hearkening back to the ancient European legends of Saint Nicholas, the Krumpas and Sinterklaas, Jalmari Helander's Rare Exports: A Christmas Tale from Finland and Dick Maas' Sint (Saint) from the Netherland take two different paths in exploring the old legend. Both are wildly successful. With Rare Exports, Santa and a horned helper called Krampus are excavated from the Korvantunturi Mountains creating a chilling bizarre anti-holiday tale; with Sint, the focus is on the spirit of Sinterklaas returning on December 3rd to take revenge and feels more like a modern day version of an 80's slasher film. It doesn't matter if you're naughty or nice, you don't want to run up on either of these creepy old men.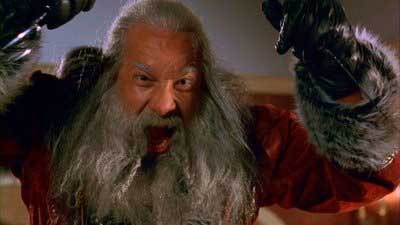 Over the years, there have been many variations on the concept of an evil Santa stalking his victims through the snowy December landscape. One of the first and most famous was Amicus' Tales from the Crypt (1972) where a naughty Joan Collins faces a killer in a Santa suite on Christmas Eve. Based on a strip in EC Comic's Vault of Horror, the film was produced by Milton Subotsky and Max Rosenberg and directed by Freddie Francis. In 1980, director Lewis Jackson brought Christmas Evil, featuring a homicidal Santa, to the theaters to little or no fanfare. Since then however, the film, also known as You Better Watch Out, has become a cult classic with cult filmmaker John Waters calling it the "greatest Christmas movie ever made."
Four years later, director Charles E. Sellier Jr. returns to the theme with Silent Night, Deadly Night (1984); however, this time, the subject matter causes quite a stir with famous film critics of the time, Siskel and Ebert and Leonard Maltin, condemning the film. With the critical reaction and the PTA (Parent-Teacher Association) fighting to have the film removed, the film released in November – also featuring a homicidal maniac dressed in a Santa costume – was quickly pulled from the theaters by TriStar Pictures, it's original distributor. The film would return to theaters a few years later and would inspire a series of sequels during the VHS craze of the Eighties and Nineties. Santa's Slay (2005), starring professional wrestler Bill Goldberg as a killer Santa, is another example of the theme. All these films tackle the theme of a killer dressed as Santa, but they're the Americanized version of Santa; the latest crop of holiday horrors are now focusing on the legends that form the basis for the jolly fat man we know today.
Evolving out of a pair of celebrated shorts films by director Jalmari Helander (Rare Exports, Inc 2003 and The Official Rare Exports Inc. Safety Instructions 2005), Rare Exports: A Christmas Tale is a darkly comedic gem about a young boy, Pietari (Onni Tommila), in the Korvantunturi Mountains who must save his village when a team of archaeologists unearth the hidden tomb of the real Santa Claus.
This Santa isn't found dressed up in the classic red and white jump suit – although he does end up being dressed in the costume – instead this Santa wears no clothes, walks barefoot through the snow covered forest and has a intense focused stare that will send chills down your spine.  As a horror film, this is more in the vein of Gremlins than the slasher films listed above. Rare Exports is a dark comedy with horrific undertones and some seriously creepy Santas. The film, well worth seeking out, is being released this December by Oscilloscope Laboratories and is already fodder in the rumor mill for a U.S. remake. Check out Dai Green's review or Doc Rotten's review on Widescreen Warrior for further details.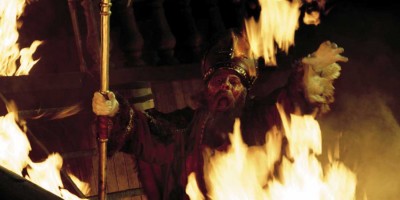 Dutch film director, Dick Maas, who achieved fame after the success of the movies De Lift (1983 and 2001), Amsterdamned (1988) and Flodder (1986), returns to the big screen with the comedy horror hit, Sint (Saint). In Sint, Santa is replaced by a close holiday cousin named Sinterklaas – or Saint Nicolaas – who returns each December 5 having a full moon as a murderous evil ghost. The film, which is scripted more like an 80's style slasher flick, has its holiday beastie dressed like a 1400s Bishop riding a large white steed and is accompanied by a band of  holiday helpers called Zwart Pieten. Released in the Netherlands in late November, the movie broke native box office records for a film rated 16 and above bringing in an estimated $1.3 million on 96 screens. The film also benefited from some pre-screen controversy when the film and tv classification body Nicam filed suit against the filmmakers trying to get the posters removed  from public display claiming the image would frighten younger children. The court ruled in Maas' favor, the posters remained  and the film is a runaway hit. At this time of this writing, there are no firm plans for the film to be released in the States, but surely it's only a matter of time.
Throughout horror film history, filmmakers had taken popular holidays and twisted them into their own monstrous, vile visions. Halloween, Christmas, New Years, Thanksgiving, even prom night is fair game. Many have taken the iconic look of Santa Claus and turned him into a murderous monster – typically slasher films. 2010 adds two to the list of these festive fear features with Rare Exports: A Christmas Tale and Sint. Whether it be the Krampus or Sinterklaas, Santa may never be the same as they each take their native holiday legend and display them in a more imaginatively creepy light. One is a long buried creature of legend set loose to steal the children from the nearby villages while the other is a centuries old ghost set on murder and carnage. Beware, he knows if you've been naughty or nice, so be good for goodness sake. Happy horror holidays from Doc Rotten.