It's the holiday season and time to trim the tree and sit around the fireplace drinking egg-nog.  But that's not all it's time for,  it's the season to watch you favorite Christmas themed Slasher films!   Grab your Christmas balls and get ready for chilling Christmas tales that would even make Ol' Saint Nick crawl back up the chimney in hiding.    Here are a collection of horror gifts that are sure to have made Santa's naughty list.
Don't Open Till Christmas (1984)
Somebody with very little Christmas spirit is killing anyone in a Santa suit one London holiday season, and Scotland Yard has to stop him before he makes his exploits an annual tradition.
A murderer is running loose through the streets of London, hunting down men dressed as Santa and killing them all in different, and extremely violent, fashions. Inspector Harris has decided to take on the unenviable task of tracking down the psychopath, but he's going to have his work cut out for him. Only the suspicious reporter, Giles, seems to offer the Inspector any promising leads.
A toy factory worker, mentally scarred as a child upon learning Santa Claus is not real, suffers a nervous breakdown after being belittled at work, and embarks on a Yuletide killing spree.
Five strangers get lost in a crypt and, after meeting the mysterious Crypt Keeper, receive visions of how they will die.
Includes the segment
… And All Through The House 
After Joanne Clayton (Joan Collins) kills her husband (Martin Boddey) on Christmas Eve, she prepares to hide his body but hears a radio announcement stating that a homicidal maniac (Oliver MacGreevy) is on the loose. She sees the killer (who is dressed in a Santa Claus costume) outside her house, but cannot call the police without exposing her own crimes. Believing the maniac to be Santa, Joanne's young daughter (Chloe Franks) unlocks the door and lets him into the house, whereupon he starts to strangle Joanne to death.
While the holiday season represents the most magical time of year, ancient European folklore warns of Krampus, a horned beast who punishes naughty children at Christmastime. When dysfunctional family squabbling causes young Max (Emjay Anthony) to lose his festive spirit, it unleashes the wrath of the fearsome demon. As Krampus lays siege to the Engel home, mom (Toni Collette), pop (Adam Scott), sister (Stefania LaVie Owen) and brother must band together to save one another from a monstrous fate.
During their Christmas break, a group of sorority girls are stalked by a stranger.
As winter break begins, a group of sorority sisters, including Jess (Olivia Hussey) and the often inebriated Barb (Margot Kidder), begin to receive anonymous, lascivious phone calls. Initially, Barb eggs the caller on, but stops when he responds threateningly. Soon, Barb's friend Claire (Lynne Griffin) goes missing from the sorority house, and a local adolescent girl is murdered, leading the girls to suspect a serial killer is on the loose. But no one realizes just how near the culprit is
Red Christmas (2017)
It's Christmas in Australia as Diane, played by the Dee Wallace, brings together her estranged family for a chaotic holiday gathering. A 20 year old decision literally comes back to haunt her when the ghost of Christmas past comes knocking at her door and is invited inside the family estate. Festivities quickly turn blood red, when the stranger is revealed to be Cletus, Diane's aborted fetus, all grown up, very much alive and ready to terrorize his long lost mother. Diane must face her past and explain the hideous truth that is trying to kill them all, especially to Jerry, her Down Syndrome son, before it's too late.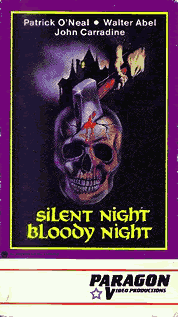 Silent Night, Bloody Night (1972)
A man inherits a mansion, which once was a mental home. He visits the place and begins to investigate some crimes that happened in old times, scaring the people living in the region.
Better Watch Out (2017)
On a quiet suburban street, a babysitter must defend a twelve-year-old boy from intruders, only to discover it's far from a normal home invasion.
A Christmas Horror Story (2015)
Interwoven stories that take place on Christmas Eve, as told by one festive radio host: A family brings home more than a Christmas tree, a student documentary becomes a living nightmare, a Christmas spirit terrorizes, Santa slays evil.
Silent Night, Deadly Night (1984)
After his parents are murdered, a tormented teenager goes on a murderous rampage dressed as Santa, due to his stay at an orphanage where he was abused by the Mother Superior.