Just recently finishing up episode 204 of THE HORROR HAPPENS RADIO SHOW with a focus on Week 3 of "Women in Horror" guests, HORRORHAPPENS.COM has updated their website's front page with some new conversations available on-demand via Soundcloud.com. Listen right now to smart, uncensored and fearless conversations with: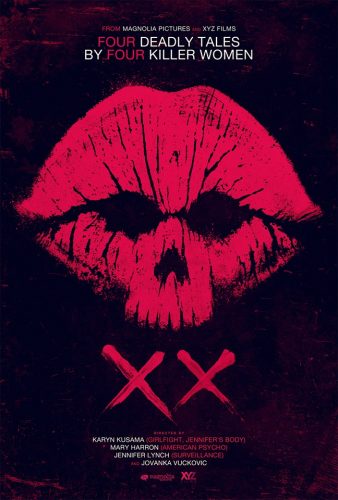 The Best Horror Books, Short Films & Features of 2016
Episodes 199-201 includes guest conversations with Authors Greg Gifune, Patrick Lacey, Jeff Strand, Sisters of Slaughter, Somer Canon & Sara Brooke. Filmmaker Dan Myrick, "Days of the Dead's" Adolfo Dorta, "Macabre Faire Film Fest's" Adam Ginsberg, "The Palace Theatre's" Jeff Meyer, a Radio Drama from Count Drahoon and Critics Top 5 Favorite Horror Films with Jerry Smith (Blumhouse), Howard Gorman (Cinema Chords), Nathan Hanneman (HorrorHound), Adam Holtzapfel (FDTC Network), Nick DeCarlo (Beneath the Underground), Steven Paul (Beneath the Underground), Larry Dwyer (HorrorNewsNetwork) and Devin March (Nightmarish Conjurings).
PLUS CONVERSATIONS ON-DEMAND WITH:
"XX" Producer, Writer & Director Jovanka Vuckovic
"Snowfort Pictures" Owner and Founder Travis Stevens
"24×36: A Movie About Movie Posters" Director Kevin Burke
 "FOX's The Exorcist" Writer Jeremy Slater
"Safe Neighborhood" Director Chris Peckover
FX/Makeup Legendary Artist Robert Kurtzman
Filmmakers Phillip Escott and Craig Newman & Actors Natalie Martins and Richard Pawulski
Shout Factory's "Horror Hunters" Co-Hunter & Screenwriter Adam Rockoff
"Plankface" Co- Writer, Composer & Cinematographer Brian Williams
"Trinity" Filmmaker Skip Shea
"The Autopsy of Jane Doe" Director Andre Ovredal
Horror Author of "Vicki Beautiful" Somer Canon
2014 Conversation with "The Godfather of Gore" Legend Filmmaker Herschell Gordon Lewis
Filmmaker Conversations from the 2016 "Fantasia International Film Fest"
"My Bloody Valentine" Director George Mihalka and Actor Paul Kelman
"Fungasm Press" Authors including John Skipp, Danger Slater, Autumn Christian, Laure Lee Bahr & Devora Gray
Talking the film "Bite" with "Black Fawn Films" Chad Archibald & Cody Calahan
"ToeTag Films" Founder & "August Underground" Filmmaker Fred Vogel
HorrorHound Weekend Panel with "Sons of Anarchy" cast members Kim Coates (Tig) & Kenny Johnson (Kozik)
Talking with the "Masters of Horror" including:
-John McNaughton (Haeckel's Tale) Plus His Latest The Harvest (Tentative on Whether Live or Pre-recorded)
– Mick Garris (Chocolate) Plus His Role in Forming the Masters of Horror and Touching on His Latest Written Work SALOME
– Tom Holland (We All Scream for Ice Cream) Plus the Multi-Media Website Tom Holland's Terror Time
– Joe Dante (Homecoming) Plus His Latest Film Burying the Ex & his Executive Production on DARK
– Lucky McKee (Sick Girl) Plus His Work with the 2015 Halloween Anthology Tales Of Halloween
– Plus A Special Added Chat with Glass Eye Pix Founder & Filmmaker Larry Fessenden