The late John Carradine (1906-1988) was one of the most prolific character actors of the 20th Century. He has 352 acting credits listed in the Internet Movie Database, but once claimed that he actually appeared in more than 400 television and film productions. As a member of director John Houston's stable of stock players and also as a free-lancer, he appeared in numerous prestigious classic films, such as The Grapes of Wrath (1940), Drums Along the Mohawk (1939),  and The Man Who Shot Liberty Valance (1962).
He also appeared in numerous horror films, most of which were frankly terrible — low-budget quickies with titles like Billy the Kid Versus Dracula (1966) and Hillbillies in a Haunted House (1967). He may have appeared in more horror movies than any other actor in the history of film. Yet, he never seemed to achieve the status of "major horror icon" that was bestowed on other prolific actors in the genre, such as Vincent Price, Peter Cushing, or Christopher Lee. This is probably because he usually appeared in supporting roles, which he sought over starring roles. His first love was the live stage, and he preferred a quick paycheck for  a small screen role to a more time-consuming role as a lead actor.
In compiling this list, I focused only on his  horror films, and of those, the ones where he portrayed a substantial role, as opposed to the blink-and-you-miss-them bit parts he played in classics like The Bride of Frankenstein (1933). In no particular order, here are his ten best films for fans of classic horror to track down.
The House of Frankenstein (1944),
directed by Erle C. Kenton, starring Carradine, Boris Karloff, Lon Chaney, Jr., Anne Gwynne, and Elena Verdugo. Carradine plays Dracula in this 70-minute Universal monsterfest that unites the studio's three most popular monsters in one storyline. Karloff headlines as Dr. Nieman, an evil scientist who revives Dracula, Frankenstein's Monster and The Wolfman after they've been killed/frozen by enraged Austrian villagers. As Dracula, Carradine essays one of the first horror roles that gave him substantial screen time. He does well in the role, although he's no competition for Bela Lugosi. Written by Universal's go-to horror scriptwriter Curt Siodmak (brother of celebrated noir director Robert), this film is packed with the usual Universal horror tropes, including gloomy castles, sinister laboratories, a resentful hunchback flunky, exotic gypsies, and enraged villagers toting torches and pitchforks. Elena Verdugo, later famous as Marcus Welby, MD's faithful office nurse, shines as a cheerful gypsy girl caught in a love triangle with the hunchback and Lawrence Talbot, aka The Wolfman (Chaney).
House of Dracula (1945),
directed by Erle C. Kenton, starring Lon Chaney Jr., Onslow Stevens, Lionel Atwill, Martha O'Driscoll, and Jane Adams. This loose sequel to House of Frankenstein features Carradine in his second film as Dracula. Stevens plays Franz Edelman, a respected doctor who runs a medical clinic out of a creepy old castle located near the same Austrian town that hosted the events of House of Frankenstein. The doctor is visited late at night by Baron Latos (Carradine), who turns out to be Dracula. Latos begs for a cure to his vampirism and Edelman treats him with an experimental blood transfusion process, assisted by his nurses, Milizia  (O'Driscoll) and Nina (Adams). Larry Talbot (Chaney) also visits the clinic,  begging for a cure to his lycanthropy. Edelman treats him too, with more success than he has with Dracula. In a side plot, Talbot and Edelman find the Frankenstein Monster, who was believed to have perished in the previous film, barely alive in some underwater caves. Edelman decides to revive the Monster in his clinic—and it all ends about as well as a viewer would reasonably suspect. Notable for being the film where Larry Talbot aka The Wolfman is cured of his affliction. The "all-monsters" storyline doesn't work as well here as it does in The House of Frankenstein, but The House of Dracula is still recommended viewing for those who love Universal monsters.
The Monster Club (1981),
directed by Roy Ward Baker, starring Vincent Price, Donald Pleasence, and Stuart Whitman. Based on a novel by R. Chetwynde-Hayes. Produced by Milton Subotsky, the co-founder of Amicus Films, The Monster Club features Carradine as real-life horror writer R. Chetwynde-Hayes. Hayes is taken to a nightclub for monsters by Eramus, a genial vampire played by Vincent Price. Eramus introduces three anthology segments to Carradine, the best of which stars Stuart Whitman as a film director who gets lost in a remote English village populated by ghouls. In between the story segments, the viewer is treated to music performances and witty comic banter between Price and Carradine at the Monster Club. This film is often included in lists of the legendary Amicus horror anthologies of the 60s and 70s, although it is not an Amicus release. This is also the last feature film made by Baker, the noted Hammer/Amicus filmmaker. On disc and streaming.
The Howling (1981),
directed by Joe Dante;  starring Patrick Macnee, Dee Wallace, Christopher Stone, Kevin McCarthy, Elisabeth Brooks, and Dennis Duggan. Carradine has a featured role in Dante's transformative lycanthropic classic. He plays a moderately sized but influential part in the film—which,  along with John Landis's An American Werewolf in London from the same year, ushered in the modern werewolf movie that features scarier and more realistic transformations than Universal's comparatively cuddly Wolfman. Wallace plays a Los Angeles newswoman, Karen White, who has a traumatic encounter with a brutal serial killer named Eddie Quist. Her affable psychiatrist, Dr. Waggner (Macnee, Mr. Steed on The Avengers 60s series) counsels her to spend some rest time at his woodsy retreat, The Colony. (As Erle Kenton, Carradine is a crotchety senior statesman at The Colony, who later turns rather nasty. BTW, Erle C. Kenton is the name of the Classic horror director who directed Carradine in House of Frankenstein and House of Dracula — Dante's little joke?) Karen and her husband Bill (Wallace's real life spouse, Christopher Stone) soon find out that The Colony is a nest of werewolves. Based on a best-selling novel by Gary Brandner, The Howling spawned numerous sequels and a remake in 2017. On disc and streaming.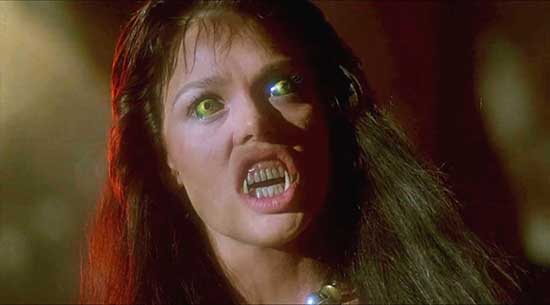 The House of the Long Shadows (1983),
directed by Pete Walker; starring Vincent Price, Christopher Lee, Peter Cushing, Desi Arnaz Jr., and Julie Peasgood. Carradine plays Lord Grisbane, the patriarch of an aristocratic family which owns a decaying mansion in rural Wales, in this comedy-horror that's more famous for its cast than its story. Unbeknownst to the Grisbanes, their house has been leased to an American writer (Arnaz) trying to win a bet that he can write a novel in twenty-four hours while living there. There's a gruesome mystery in the house that unravels with macabre hijinks throughout the evening, involving the Grisbane sons, who are played by horror legends  Peter Cushing, Vincent Price, and Christopher Lee. There are a few very creepy moments, but the main reason to view this film is the sheer joy of the greatest horror icons of the late 20th Century trade quips and barbs. It's a singular treat, as The House of the Long Shadows is the only film that features best friends Price, Cushing, and Lee acting together. (1970's Scream and Scream Again, also directed by Walker, features cameos from the three legendary actors, but they acted their roles separately.) Based on a play by Earl Derr Biggars, British author from the Golden Age of the Detective Story. On disc and streaming.
Swamp Water (1942),
directed by Jean Renoir; starring Dana Andrews, Walter Houston, Walter Brennan, Virginia Gilmore and Anne Baxter. This backwoods drama made by the great French director Jean Renoir offers a lot of creepy vibes, although it is not, strictly speaking, a horror movie. The plot centers around a backwoods community near The Great Okefenokee Swamp in Southern Georgia, which has been divided by the unsolved murder of the sheriff's deputy. The people of the community never venture into the swamp alone because of its deadly snakes, quicksand pits, and alligators. One day, however, Ben (Dana Andrews), goes there by himself to find his lost dog. He encounters Tom Keefer (Walter Brennan), the grizzled vagrant who's the main suspect in the deputy's murder, living in the swamp in the barest of conditions. This meeting sets up a chain of events that leads to the unraveling of the murder. Carradine plays Jesse Wick, a sinister townsman who knows more about the deputy's death than he lets on. All of the performances are terrific, but the most striking feature of the film is the spooky swamp itself; Swamp Water was filmed on location at the Okefenokee National Park. On disc and streaming.
Bluebeard (1944),
directed by Edgar Ulmer; starring Jean Parker, Nils Ather, and Ludwig Stossel. Carradine plays the title role as the world's most sympathetic serial killer in this proto-slasher loosely adapted from the familiar fairy tale. As the charming and sophisticated Parisian, Gustave Morrell, he runs an outdoor puppet show by day and paints secret masterpieces by night. In between, he strangles his female portrait models in uncontrolled murderous fits and dumps their bodies in the Seine. He tries to turn over a new leaf when he falls in love with a pretty dressmaker, played by Jean Parker, but a greedy art gallery owner and the dressmaker's sister get in the way. Made by the bargain basement studio, Producer's Releasing Corp., (nicknamed "Poverty Row Corp."), Bluebeard manages to look stylish despite its cut-rate budget, and Carradine's performance as Morrell is one of his best. On disc and streaming.
The Black Sleep (1956),
directed by Reginald Le Borg, starring Carradine, Basil Rathbone, Lon Chaney Jr., Bela Lugosi, Akim Tamiroff, Patricia Blair, and Herbert Ludley. This film is more sophisticated than expected from low-budget Bel-Air Productions, released through United Artists. In classic Universal style, Rathbone plays a mad scientist who experiments on kidnapped live victims at his secret laboratory in a shadowy old abbey. Carradine plays a bearded lunatic imprisoned in the abbey's dungeon, who has a major role in the last third of the film. Chaney is a brain surgery experiment gone bad and Lugosi portrays a mute butler at the abbey. The plot is surprisingly good and the script is well-executed. On disc and streaming.
The Secret of NIMH (1982),
directed by Don Bluth and two others; starring Elizabeth Hartman, Derek Jacobi, Dom DeLuise, Paul Sherar, Hermione Baddley, and Peter Strauss.  The Secret of NIMH isn't strictly a horror movie, but it has terrified several generations of kids with it's realistically depicted violence and spooky atmosphere. Carradine voices the frightening Great Owl, who advises a field mouse named Mrs. Brisby (Elizabeth Hartman) to move her house and children, so that they are out of the way of a farmer's spring planting. He tells Mrs. Brisby to enlist the aid of the rats of NIMH, supersmart lab rats who've escaped from a scientific institute. One of the rats, named Jenner (Paul Sherar), has evil plans to disrupt the relocation of Mrs. Brisby's house for his own agenda. Excellent artwork, voice acting, and score (by the great Jerry Goldsmith). On disc and streaming.
The Night Strangler (1973),
directed by Dan Curtis, starring Darren McGavin, Simon Oakland, Joann Pflug, and Richard Anderson. This made-for-television movie is a follow-up to 1972's legendary The Night Stalker, one of the most popular TV movies of all time. Reprising his role in the first film, McGavin plays Carl Kolchak, a rumpled newspaper reporter who keeps uncovering paranormal-involved murders. Carradine plays Lewellyn Crossbinder,  the crusty owner of the newspaper where Kolchak works. This time the story is set in rainy Seattle, where exotic dancers are being murdered at a frightening pace. What's more, all of the victims had blood withdrawn from their brain with a needle after being strangled. While not as well-known as its predecessor, The Night Strangler delivers a solid horror experience.  On disc and streaming.
Honorable Mention:
Whispering Ghosts (1942),
directed by Alfred L. Werker, starring Milton Berle, Brenda Joyce, and John Shelton. A fast-talking radio host (played by Uncle Miltie), an heiress, and several other strange characters board a derelict ship once owned by an elderly sea captain who was murdered a few years before. The ship supposedly contains hidden treasure as well as ghosts.  Carradine plays an out-of-work actor hired to scare people away from the ship. His hilarious impression of a frog is a highlight of this atmospheric comedy-horror film from Fox. On disc.
The Sentinel (1977),
directed by Michael Winner, starring Christina Raines, Ava Gardner, Burgess Meredith, Deborah Raffin, Chris Sarandon, Martin Balsam, Jose Ferrer, and Eli Wallach. Carradine appears as Father Halliran, a non-speaking but important role as a blind priest who guards the Gates of Hell — which happen to be located in a brownstone apartment house in Brooklyn.  Christina Raines stars as a top fashion model who moves into the demonic brownstone in this 70s classic Satanic Panic film, which features a cast of bit-part players who later became major stars. (This film would be higher-ranked on this list if Carradine had more screen-time.) On disc and streaming.