ROT 
The Horror Collective to Release Cronenbergian Horror/Thriller on November 19th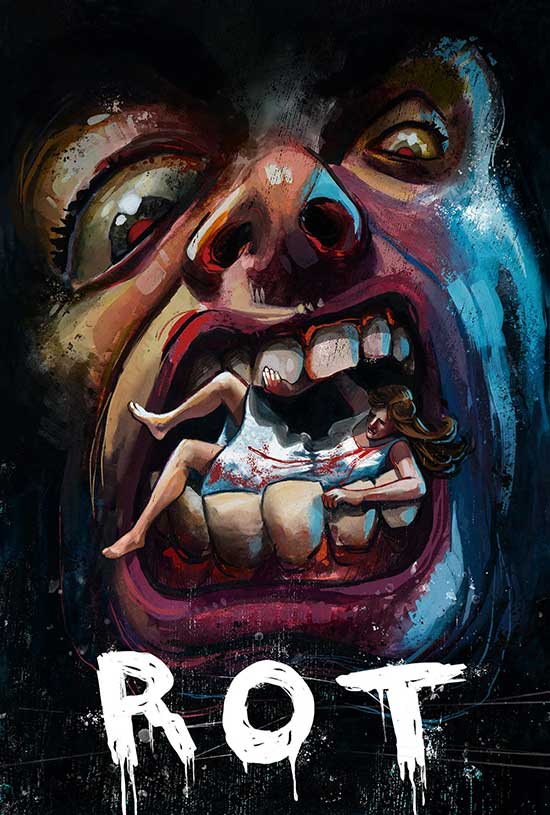 Genre distributor The Horror Collective is excited to announce that it will be distributing Andrew Merrill's nightmarish horror/thriller ROT. The film will be released on November 19, 2020 exclusively through Amazon, as announced this morning by Deadline.
ROT on Amazon: www.amazon.com/Rot-Kris-Alexandrea/dp/B08H5GCPSP/
Hailed by Film School Rejects as "especially chilling" and called "a powerful new independent horror" from Scariest Things, ROT is sure to take viewers into uncomfortable depths, culminating in a practical FX-driven climax that is sure to deeply unsettle audiences! Writer/director Andrew MerrilI says of the experience of making ROT that "I'm incredibly proud of what our team pulled off, and so grateful that everybody stuck with me through all the late nights, cramped apartments, and general craziness of independent filmmaking. I'm excited for ROT to find it's audience, and I hope it will resonate with them as much as it has with me."
Shaked Berenson, CEO of Entertainment Squad, the parent company of The Horror Collective, says, "The Horror Collective's mission is to uplift new and exciting voices, to help create the next generation of horror masters. ROT is one of those movies that is a perfect example of the kind of people and content we want to work with and we're proud to add to our slate."
The Horror Collective's Heidi Honeycutt adds, "ROT goes places only Cronenberg has dared to tread thus far. It's an incredibly effective and shocking picture that horror fans are going to enjoy as they shiver."
The film stars Kris Alexandrea (Gothic Springs),  Johnny Kostrey (Kidding, Aquarius, The Good Place), McKale Jude Bingham (Betrayed), Adam Burch (Nazis at the Center of the Earth), and Eileen Dietz (The Exorcist, 100 Acres of Hell, Halloween 2).
Written and directed by Andrew Merrill (Warm Insides), ROT was produced by Beth Crudele (The Gift, Fuller House).