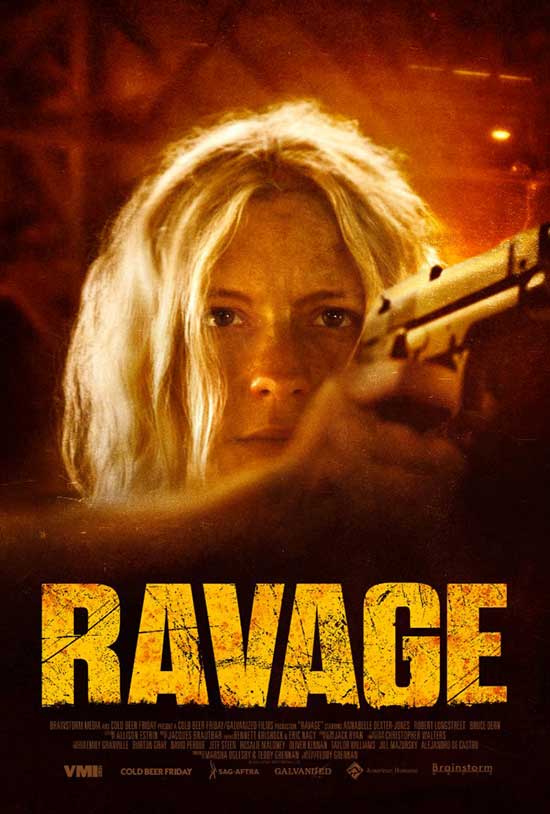 New release date: The revenge horror film RAVAGE is now opening in select drive-ins on August 14th and on VOD on August 21st.
The film stars Annabelle Dexter-Jones (UNDER THE SILVER LAKE, HOLY MOTORS, "Succession"), two-time Oscar-nominee Bruce Dern (ONCE UPON A TIME IN HOLLYWOOD, PEANUT BUTTER FALCON, NEBRASKA, COMING HOME) and Robert Longstreet (DOCTOR SLEEP, HALLOWEEN KILLS, "The Haunting of Hill House").
Harper, a young nature photographer on assignment in the woods of the Watchatoomy Valley, captures a disturbing event of a man being brutally whipped and beaten in the woods. After reporting the incident to the local sheriff, she is quickly captured by the culprits and taken to an abandoned farm in the woods to be tortured. Due to Harper's experience as a survivalist she is able to escape but is on the run and has to quickly outsmart capturers.
Writer/director Teddy Grennan, previously worked as a producer and executive producer on a variety of independent feature films. Prior to writing the script for RAVAGE, Teddy Grennan spent five years in the animation world writing for Nickelodeon and various other studios including Prana.
Running time: 77 minutes
Language: English
Rating: Not Rated
Written and directed by Teddy Grennan. Produced by Marsha Oglesby, Bennett Krishock and Teddy Grennan. Music by Jacques Bratbaur. Starring Annabelle Dexter-Jones, Bruce Dern and Robert Longstreet. A Brainstorm Media release.