Hello there Fiend Club!
I know that it's not time for me to give you the greatest in horror just yet, but sometimes special opprtunities fall into your lap and you cannot pass em' up..this just happens to be one of those treats. I have had the pleasure of getting to know one of my favorite contestants of the show Scream Queens 2, Sierra Holmes.
Yes,everything you witnessed on the screen is absolutely true, Miss Holmes is nothing but sweet, talented, and more importantly humble. She loves the art of acting for the art and nothing more,and as you will read she is definitely a true blue fan of horror..there's no fake bullsh*t in her. Myself as well as other readers I have spoken to on the matter were sad to see her go,but in true fashion,she has dusted herself off and moved on with her journey. She had also informed me that she has a few major horror film auditions in her future,but that's all I can tell you because that was all that was relayed to me.Hush-hush Hollywood..hahaha!So,even though the smoke has cleared and the show has found yet another break-out star for Saw 3D..congratulations Gabby, by the way,this reporter had nothing but high hopes for Sierra as she continued on through the show's challenges and further allowed the world to see her abilities,and this is why I had decided to interview her for this piece..she was and is the best.Please enjoy this interview with the true Scream Queen where she speaks out about the craft of acting,her frustrations, and also her potential rise from the ashes. Viva La Sierra!Scare ya later!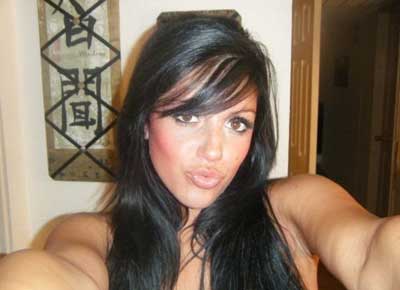 Horror Talk:
First of all Sierra I want to thank you again for doing this interview with me. It truly is a joy for me to be able to speak with you, and also to have been able to begin a friendship with you as well, you are a genuine woman and a sweetheart. So let me start off by asking you a question in reference to your fans' reactions to your elimination.Did you ever think that so many people would display so much anger and disillusionment to the judges' decision as they are?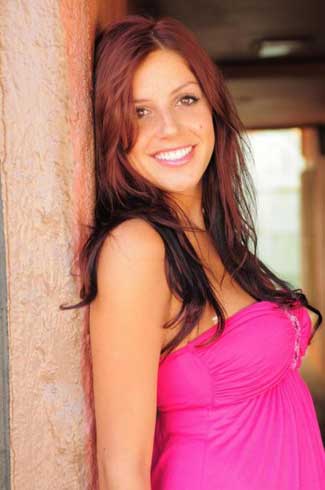 Sierra:I was just as shocked I got eliminated that episode as my fans were! I didnt think I did my best that week, but I certainly know I didnt do the worst! I couldnt be more grateful for all my fans support throughout the show and especially their reactions when I got the axe. It was very comforting to see other people believing in me that didn't even know me! It was a touchy episode to watch when I get eliminated but all their kind words of encouragement really helped raise my spirits and I want to thank each and every one of them!
Horror Talk:
I felt that you were definitely one of the strongest actresses on the show because of your ability to listen to direction and change whatever you needed to in your method, so while you were in the house, did you ever feel any of the women were a threat to your victory or did you basically feel in your heart that was the role was yours?
Sierra:
For me, every single girl in that house was a threat! In acting, you never know what a director is looking for, in this case, the judges. Whether it be a look, a mannerism, each one of us has something unique and talented about us! A girl would do poorly in one challenge, but then come back and kick butt in another challenge! In every challenge, something unexpected happened with someones acting and that's what kept me on my toes. Yes, of course I hoped and wanted to win, but I was going up against 9 girls that were chosen out of 30,000 so I always kept myself aware of that!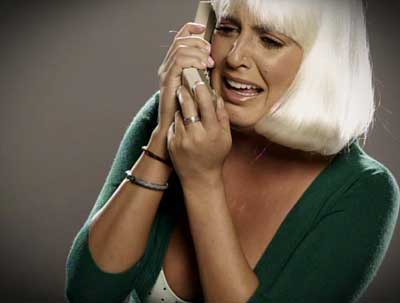 HorrorTalk:
Every episode focused on a different method and a director's challenge that focused on each one.Which one of these challenges did you enjoy the most,and what about that method of acting did you love?
Sierra:
My favorite more than anything was "campy" week! Ever since I was a little girl, Ive always been the funny one out of the family. I'm a goofball and I'm not afraid to admit it! The show portrayed me as me feeling like I need to be sexy all the time, but as you can clearly see in my nerdy vampire scene, they couldn't be more wrong! I love playing those type of roles and making people laugh! Comedy has always been one of my strengths, so I was very excited when they gave me that character. For acting, I would play silly over seductress any day! I'm not afraid to laugh at myself!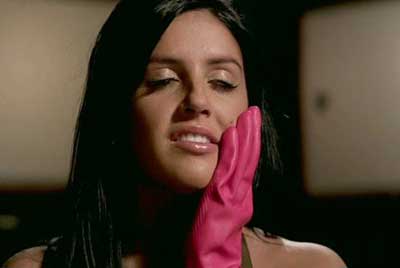 Horror Talk:
When the cameras were off and you were by yourself what exactly did you focus on in your mind? Were you always erratically thinking about winning, so much so that it was difficult to wind down, or was it easy to shut off your brain and relax when you had the chance to do so?
Sierra:
The cameras were NEVER off and there is no being by yourself when you're sharing a house with other girls! It was very hard to wind down my brain being put in the situation I was in. We weren't allowed any phones, ipods, books, TV, movies, computers etc. I was always thinking either about how I performed, how the other girls performed, what the next challenge is going to be, what the judges were going to say, and if I was going to be on "The List"! In between those thoughts I was able to squeeze in thoughts of, I'm hungry or I have to pee LOL, but for the most part the competition was on my mind every day at every moment!
Horror Talk:
What about horror do you enjoy the most and what aspects of horror so you not care for at all? And if you were to act in a horror movie what style of horror would appeal to you as an actress the most,for example a slasher, paranormal(ghosts), invasion(zombies,infection), or a psychological thriller like Silence Of The Lambs? Could you see yourself in that horrifying well with Ted Levine screaming at you? (laughs)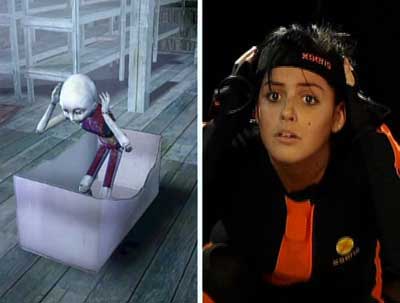 Sierra:
What I enjoy about horror the most is that it challenges me and pushes me as an actress. Before Scream Queens, I had never done horror acting before, but oddly enough it is my favorite genre to watch! I was always cast in romantic comedy and drama related productions. Horror is a lot harder than it looks! Theres nothing that I don't care for about horror, I respect the genre greatly! Everything about it is interesting, creative, jaw dropping eye opening fun! I mean, who doesn't like to see someones head get chopped off once in awhile! LOL If I had to choose one style of horror that appeals to me the most, it would be like asking me to take one piece of chocolate out of the box and put the box back…NOT POSSIBLE! I love all types of horror movies and my collection of scary movie dvd's at home takes up an entire bookcase! Evrything about that genre fascinates me! haha "It puts the lotion on its skin or else it gets the hose!" CLASSIC.
Horror Talk:
When you yourself think of a "scream queen",what cahracteristics do you feel a woman in horror should have and which of these characteristics do you think you, Sierra,portray the most?
Sierra:
To be a Scream Queen, I definitely feel you have to be able to play the girl next door but at the same time play a vicious killer! Horror movies run on the believability of the actress/actor, otherwise it just comes off as comedy! They have to be able to tap in and out of their emotions very quickly. You have to be able to be vulnerable and crying and then in a split second consume yourself with rage to attack your killer! I know being able to tap into my emotions quickly is one of my strengths, but as an actress there's always room to work and perfect everything.
Horror Talk:.
In the last episode for you, when you had to head to the Grand Ballroom you seemed extremely upset.Did you automatically at that point think that you were the one to go, or did you think that even you were a bundle of nerves you were the frontrunner to stay because Tai was awfully overacting during each and every challenge?
Sierra:
When my name was called on "The List" my head was going at a million miles per hour!  I didn't know what to think!  I was in the elimination so many times that I thought "I have to be going home this week, this was the last straw" but at the same time I also was thinking "I did better in some challenges this week than Tai and Christine!" Tai, Christine and I were all over the place this week with our performances, that it was very hard to guess who was getting the axe! We all had our off days and our on days. I was completely stumped to who was going home until it was just Tai and I remaining. Then I knew it was me by little things that the judges said to the both of us.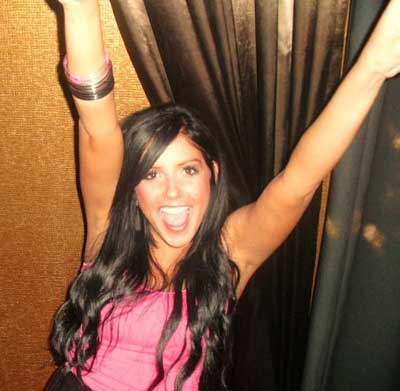 Horror Talk:
After elimination and had to dramatically descend the staircase to hell or whatever that is supposed to personify(laughs).What is the process like after the camera stops rolling, do the judges all come to you personally to wish you well in your endeavours? Because in my opinion,after it was stated you were getting "the axe",or "the shaft" as I would call it in your case,I thought the judges' farewell to you was extremely distant and cold,especially Jaimes. So how does that work?
Sierra:
After getting the axe, I still had to stick around and film the "staircase of doom" and then do an exit interview. This was hard for me because I was very upset and just wanted to crawl in a hole at the moment and not be in front of cameras at the time! I felt as if I was so close yet so far from my dream! As I was leaving the house, the producers and crew came and wished me the best of luck and said some really nice things to me and gave me hugs! I really appreciated that! I still remain friends with most of them! As for the judges, they are were not allowed to have contact with us. One thing I absolutely have to mention, that they edited out of the show, was that right after Jamie told me I was getting the axe and while they were still filming, she came up on the stage and gave me a huge hug!  That meant the world to me! If the judges came off distant and cold, I believe it was because I established a bond with them throughout the show and I think they were sad to see me go! If you watch closely, they cant even remain eye contact with me! I still keep in contact with all of them and they have been great friends!
Horror Talk:
So now that the show is over you,and even though it was a bullsh*t decision..do you feel that the show was a positive experience or do you feel that maybe it has hardened you from the idea of acting and Hollywood a little?
Sierra:
This is has been nothing but a positive stepping stone! In the acting world, I will get told NO many times before I get told YES! To even be one of the top 10 girls on Scream Queens was a blessing enough! I got to work with 3 amazing, smart, and talented judges that actresses would die for! I got to work with snakes, squibs, wires, blood, maggots, its was awesome! I have learned so much about myself and my acting by being on this show and it will help me succeed in this hard industry! I may not have won the Scream Queen title, but that definitely won't stop me from pursuing my dream! This show has just pushed me to work even harder to obtain my goal!
Horror Talk:
What are your plans for the future,and what projects do you have on the horizon? Also,do you feel that the fans from the show would follow your career even if you did not work in horror?
Sierra:
My plans for the future have been and always will be, to become a successful actress! I have been going on some big auditions lately, so that already has been a positive outcome for my career! I am working on a few projects right now that have to remain confidential..sorry! I can tell you though, that I am also a singer and I am almost done recording my own CD. I have a single coming out on itunes very soon! As for my fans, I hope they continue to stay interested in what is to come with my career! They mean so much to me! Hopefully they will see me on the big screen very soon!
So there you have it, and believe me you have not seen the last of her! I once again would like to thank the beautiful and talented Sierra for chatting with me, and allowing us to dealve further into her mind..I truly love her for that. Well kiddies,s tay tuned for the next edition where I have a talk with Jennifer-Blanc Biehn and Hatchet 2's Danielle Harris. The vixens of the film The Victim. Take care F.C.!
Interview: Sierra Holmes (VH1 Scream Queens 2)