Top 10 Indie Horror Movies You Can STILL Watch On Amazon Prime
It's been well documented that Amazon Prime deleted thousands of independent films with a ton of those being in the horror genre.   We decided to make a list of some horror films that you can still find on Amazon Prime.
At the time of this post these movies are STILL available on Amazon Prime.  Who knows what tomorrow holds?
10. The Evil Down The Street (2019)
A family of four moves into their new dream home having no idea their new home is possessed by a demon.
www.amazon.com/Evil-Down-Street-Kelton-Jones/dp/B07PY8YWGS
9. When Geek Meets Serial Killer (2019)
A cartoonist accidentally kills his best friend but comes up with a creative way to dispose of the body. Soon after, he finds out that said friend was sleeping with his girlfriend… and has drawn the attention of a serial killer.
www.amazon.com/gp/video/detail/B07SKDWWZG/ref=atv_dl_rdr
8. Terror 5 (2019)
While most of the residents of a small Argentinian town attend a funeral procession following a tragic building collapse, the few who do not will face terrors of their own in this mashup of urban legends from brothers-filmmakers Sebastián and Federico Rotstein. Think bondage, torture, zombies…and governmental corruption. Juan goes on a date with Sonia to a school where students get even with teachers. Luco and Paulo create an elaborate plan to swap girlfriends. Two lovers escape into a motel for a night of passion, while a group of friends enjoys a snuff film. As their primal urges distract them all, local officials are judged innocent of the neglect that caused the building collapse and then the horror really begins.
www.amazon.com/Terror-5-Rafael-Ferro/dp/B07MF42F48
7. Tales of Frankenstein (2019)
Four gruesome stories spanning a century, in an all star cast, in classic Frankenstein style. Man made monsters, mad labs and madder scientists. Castles, crypts, and creeping cadaver parts. Brain transplants and body snatching. Vampires, vixens and villagers with torches. And a gorilla too! Celebrating the 200 year anniversary of Mary Shelley's original "Frankenstein or the Modern Prometheus."
www.amazon.com/Tales-Frankenstein-John-Blyth-Barrymore/dp/B07HBZBB8X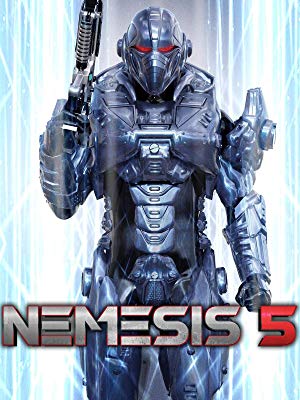 6. Nemesis 5 (2018)
It is 2077, the Red Army terror group dominates the Earth. The fate of Earth now rests in the hands of "The New Model", the ultimate Cyborg hybrid. She must now form an army of Cyborg Humans to destroy the regime to regain and save humanity.
www.amazon.com/Nemesis-5-Alex-Sinclair/dp/B07KP9SRYS
5. An Hour To Kill (2018)
Two assassins have an hour to kill (so to speak) before their next hit. To help pass the time, they entertain themselves by sharing horror stories to one another. With bizarre titles such as "Valkyrie's Bunker" "Assacre" and "Hog Hunters" – which hit-man's story will be deemed most disturbing when all is said and done?
4. Toxic Tutu (2019)
An Almost True Story: TOXIC TUTU is an homage to the original cult-classic horror-comedy, THE TOXIC AVENGER and explains what became of the "Toxic Avenger's" Melvin the "Mop Boy", Mark Torgl.
www.amazon.com/Toxic-Tutu-Mark-Torgl/dp/B07KZBRKRC
3. Rondo (2019)
Twisted, kinky and violent, Rondo is a highly stylized pulp noir revenge-murder melodrama that relishes in the dark underbelly of civility. Troubled war vet Paul (Luke Sorge) is told by a psychiatrist that sex may be the solution to his dependency and drinking problems. She sends him to an apartment where he is to release his tensions by having sex with a beautiful young woman, all under the encouraging eyes of the woman's husband. But deception is the name of the game as Paul and eventually his sister, are sucked into a bizarre criminal underworld where sex and murder are daily specials and revenge is served piping hot. Part black comedy, part slasher and part homage to the seedy films of 1970s grindhouse cinema, writer/director Drew Barnhardt has created a wholly unique American Indie.
www.amazon.com/Rondo-Luke-Sorge/dp/B07PZ6Q7F3
2. Murder Made Easy (2019)
Best pals Joan and Michael host an elaborate dinner party for their closest friends on the anniversary of the death of Joan's husband. But as each guest arrives they find their very lives are on the menu to protect a secret that links them all.
www.amazon.com/Murder-Made-Easy-Jessica-Graham/dp/B07PNKDZZP
1. Butterfly Kisses (2018)
A filmmaker discovers a box of video tapes depicting a disturbing student film project about an urban legend known as Peeping Tom. As he sets out to prove the footage is real, he falls into obsession, along with the film crew following him.
www.amazon.com/Butterfly-Kisses-Seth-Adam-Kallick/dp/B07JBLD356