The collecting of true crime related memorabilia has always been in high demand. Whether it's the guns they used or the nooses that hung them, there has always been a place on the collector's shelf for these pieces of crime.
Today those pieces are called "murderabilia". That interest has birthed PsychoKillerBobbleHeads.com and their just released limited and numbered edition run of serial killer bobbleheads. The controversial collection has already earned the set a place in the National Bobblehead Hall of Fame.

There are currently sixteen characters, all "dark" in the eyes of history, some a little more than others. They're all painstakingly modeled from the most familiar and recognizable images taken from various media sources. Charles Manson, Jeffery Dahmer, John Wayne Gacy and the thirteen other sordid characters are all meticulously sculpted with great detail.
Actually, the Hall of Fame created a separate category for this collection. They're calling it the "Hall of Shame". "We're not particularly bothered by it. In fact after thinking about it, we like the idea", said Michael Murray, President of PsychoKillerBobbleHeads.com.
After seeing an interview with murderabilia mogul William Harder, the owner of MurderAuction.com an eBay styled source for murderabilia, wherein he states, "the problem with this business is there isn't enough stuff for sale to meet demand".        "It took me about two minutes to think of bobbleheads", says Murray.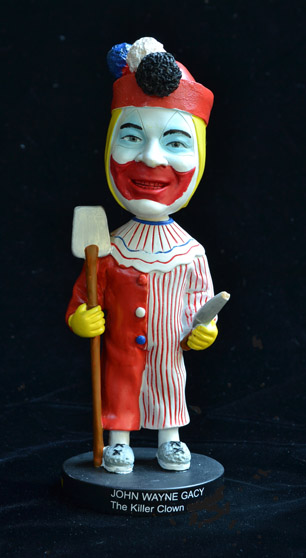 Murray reached out to Harder and after meeting the two decided to join forces and Harder became a partner in the company. "We have sixteen historical figures, 3OO
Individual units of each. We already have more figures on the drawing board, one that's gonna just kill it! We're also planning a European collection based on the high level of interest we've seen. The possibilities are endless!" exclaimed Harder.