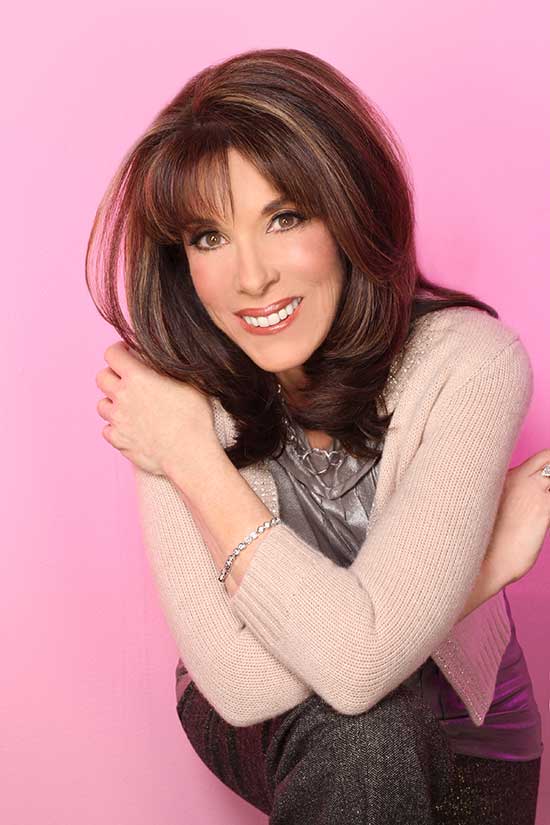 Kate Linder received a star on the Hollywood Walk of Fame on April 10, 2008 and Mayor Antonio Villaraigosa, Y&R co-creator Lee Phillip Bell and castmate Jeanne Cooper spoke at her well-attended ceremony.  Kate had roles in the feature films Hysteria (2012) and Erased (2013), Miss Meadows (2014), Garry Marshall's Mother's Day (2016) and The Charnel House. Linder wrapped several more upcoming features including Charlie Matthau's Book of Leah,Stereotypically You, Voice from the Stone and her latest, Dead Love.
If you're Kate Linder, you don't quit your job as a United Airlines flight attendant because you're cast for a one-day, one-line role on The Young and the Restless. Linder has done both jobs simultaneously for the 36 years she's been on the #1 rated soap opera (that's #1 every single week for 32 years) in daytime television — with the resulting confusion among passengers creating hilarious anecdotes. The passenger/fan response has been overwhelming and incredulous. Fortunately, she's been working only the first-class section for decades and unlike Linder, none of her co-workers there have graced the covers of soap opera magazines. She was preparing for take-off on a flight when the late Johnny Grant called to inform her she had been selected for a Star on the Walk of Fame. Linder is also active with the USO, visiting troops in the US, in Afghanistan, Pakistan, Korea and Guantanamo Bay. In late '05, Linder was elected Governor of the Daytime Programming Peer Group of the Academy of Television Arts and Sciences (yup, the folks who put on the Emmys), she was reelected in '07 for a second two-year stint. She is currently an active and longtime board member for SAG-AFTRA.
Linder, as Esther Valentine (so named because Linder was married on Valentine's Day), confidante/ housekeeper to the soap's wealthy and powerful matron, Katherine Chancellor (portrayed by the late Jeanne Cooper) has often been called upon to add a touch of humor to the show. Her character has been perennially unlucky in love and her two brief marriages were to con men only after the Chancellor fortune.  She and her boss were twice kidnapped in pursuit of the same fortune.
Kate is an eternal optimist and tireless worker for many charities and was named celebrity spokesperson for The ALS Association in early 2005. Her late brother-in-law was diagnosed with ALS (Lou Gehrig's disease) in December, 2004 and Kate has gone to Washington, DC each May to lobby for more funds to fight this disease with no cure. In 2006, Linder won the organization's All-Star Award for her passionate service to the cause and won their Packman Award in 2007 and their One Starry Night Award in 2016.  Kate travels around the country to participate in and encourage other volunteers at the ALS Association's fundraisers, Walk to Defeat ALS, and in their fundraising dinners for local chapters. She's also active with many AIDS charities and the Los Angeles Mission. In addition, Linder hosts three annual charity teas with a rotating group of her castmates, one for Canucks for Kids each July in Vancouver and another two in Toronto and Calgary for March of Dimes Canada's Conductive Education® (CE) program for children and adults with neuro-motor disabilities, Linder is the celebrity ambassador for the latter program.
Hi Kate, It is so nice to talk to you. I absolutely love the work you do. Thank you for taking the time to speak with me today.
Kate- Oh, you just so made my day. I have already had a bad day so.
Oh, I hope it gets better. It will get better.
Kate- Thank you.
Tell me how you got involved with the film, "Dead Love" and why you decided to portray the character Caterina?
Kate- It is interesting because I had done another film that Emanuel had written as well called "The Charnel House" which is also out now on iTunes. When I first met him I did a table read for "The Charnel House" and so we got along very well and he ended up writing this role Caterina for me on "Dead Love." So that's how that happened and it is interesting because it is such an interesting genre. I've never done this genre before and now I am in two. But, it was so different from the role of Esther so I really enjoyed playing both of those roles. It was fun to do.
What was it like working with the directors, Colin Floom and Greg Nemer?
Kate- I had not worked with him before and he was great. I enjoyed the whole process. We were in Colorado. The location was really interesting. It was filmed in the Hamill House which is a museum. ( ) Actually this man Hamill who was a miner in the 1800's is the great-grandfather of actor Mark Hamill. I found that whole thing interesting.
Okay, so honestly I would probably drive you crazy just wanting to ask you ten million questions if I was on-set with you. But, what was it like for you working with the cast?
Kate- Oh my God. You are just the best. I so appreciate that. It was a real good experience all the way around from the beginning to end and you don't always find that. But everyone was in this case, you know everybody was giving and caring. We all just wanted to end up with the best, possible product that we could. Everyone worked for that end. It is so different and such a different kind of film, a different kind of character for me that the whole process was terrific. I really enjoyed all of it and I wouldn't mind working with any one of them again. They were all terrific.
Now, for Caterina and for all the characters you portray. You become so invested and play them so well. Is there anything you do specifically to prepare?
Kate- Well, I just really work on the role and try to come up with a back story if it is not in the script. Or something for the character and how she ended up the way she is. It is just like the whole thing with her husband, there is no love lost between the two of them and the one thing that I liked about this film is that you really couldn't predict the ending. It drew me too because I was reading it and reading it and I'd go wow, that is what this about it. When you see it and I don't really want to say because it will wreck the film. It is a surprise and you really don't see that coming. I find that enticing and I like doing those kinds of things.
What do you want to say to the audiences that will be watching "Dead Love" and all the shows you are on? "The Young and the Restless?"
Kate- I am so grateful and honored to be part of "The Young and The Restless." In April, it was my 36th anniversary on the show. The show has afforded me a great opportunity. I love giving back. I am the celebrity spokesperson for the ALS Association. I do these three teas in Canada. One is coming up on December 2nd in Toronto for March of Dimes. We've been doing them, the one in Vancouver for twenty-one years. I am just so grateful that I am able to help people and this show has afforded me the opportunity to do that and I love it that people enjoy the characters that I play and they become invested in them and that means a great deal to me.
Thank you Kate so much for helping people and caring. Movies and television shows can be an escape for a lot of people so thank you.
Kate- Awwww, I so appreciate that and Esther is kind of the comic relief of "The Young and the Restless" so she can make people smile and kind of laugh sometimes then that makes me happy. Like you said, we all need a little help some times and we are all in that position and if any of these roles can make someone feel better for even one second than I am really happy to be part of that.
You do an amazing job as always. What are you working on next?
Kate- "The Young and the Restless" and you know I am going on with that, thank goodness because I love that. I just finished a play called, "Desperately Seeking Love" and that was a great experience as well. Hopefully there will be other things coming up. "The Book of Leah" will also be coming out and I already shot that. Armand Assante played my cousin in that and Charles Matthau was the director. That was a wonderful experience as well. I am looking forward to that but that is not out yet.
Is there anything that you want to do yet that you haven't done yet that you would really love to do?
Kate- I am a singer and dancer as well and I would love to do Broadway so you never know. I would love to do "Dancing with the Stars." I love working and I love bringing different characters to life so I am open to anything.
(I rambled on and told Kate a really long story but she listened to me and said Hi to my mom and said thank you to my mom so thank you Kate.)
You are so amazing and I thank you so much for taking time to talk with me. Also your website is great so everyone should check it out. www.katelinder.com/
Kate- Oh, I am happy.
I thank you so much. It was an honor. I hope you do get on "Dancing with the Stars" or do Broadway. I will be watching and in line.
Kate- You have no idea. You so made my day and I thank you for that.
You made my day.
Kate- I really appreciate that. You are so sweet. Thank you.
Thank you Kate.
Kate- Thank you so much Janel. Hopefully we will speak again.
Links:
www.facebook.com/officialkatelinder