FRIGHTFEST Halloween is an annual Autumn screening day that took place on November 3rd. The event was held at the same cinema as August FRIGHTFEST; a five day multi cinema event, residing in Leicester square. Movies were screened within the Cineworld and Prince Charles Cinema, the opening film and UK premiere of The Ranger. The directorial debut of Jenn Wexler, the first female director to open FRIGHTFEST. The 80's punk rock flick follows a group of stowaway teen punks on the run from the police, who find refuge in the woods. They are soon pursued by the local park ranger. The film is currently completing it's rounds at festivals and has received two nominations from Horrorant Film Festival 'Fright Nights and SXSW Film Festival for best film and a Game Changer award. The festival also premiered Summer of 84 that was included in my Horror films with completely disturbing endings article from earlier this year. Directors Anouk Whissell, François Simard and Yoann-Karl Whissell shine new light on the oh-so-common 80's style with the hit show Stranger Things and the recent remake of Stephen King's IT also becoming very popular in recent years.
"I've never been in a room with this many horror fans"-Chris Tongue.
Continuing to the highly anticipated Terrified/Aterados. From director Demián Rugna, this Argentinian horror surrounds a neighbourhood experiencing unexplained events, reliant on the aid of paranormal researchers to investigate the cases within Buenos Aires. Followed by an apocalyptic musical based in rural Little Haven in Wales. Anne and the Apocalypse took festivals by storm with it's catchy songs, scary zombies and amazing cast, with lead protagonist Ella Hunt who received a nomination for best actress from BAFTA Scotland. Moving from contemporary horror to Sci-Fi with Upgrade. From Insidious creator and star of Saw Leigh whannell. Upgrade is a good example of a Sci-Fi thriller, demonstrating anxieties surrounding the ever realistic fear of Artificial Intelligence taking over things. That can unfortunately not be said about Paul Hyett's Peripheral, that found it's unclear premiere at FRIGHTFEST this Autumn. To conclude this summers FRIGHTFEST was a literal CLIMAX. From Irreversible director Gaspar Noe comes this seductive and hypnotic trip, following a young dance group who spend the night in a remote school building and are drugged with LSD from the communal sangria. You can find the find the full list of previous FRIGHTFEST programmes here: www.frightfest.co.uk/festival-programmes.html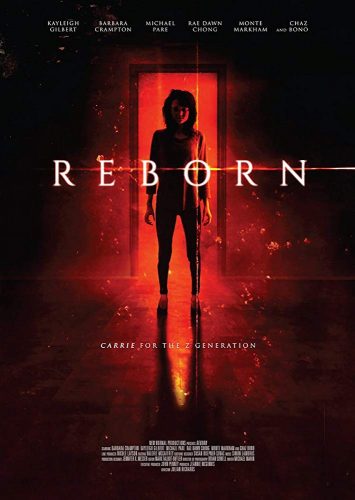 The opening film of the day starred FRIGHTFEST regular and cult horror actress Barbara Crampton, known for her roles in Re-Animator, From Beyond and the recent Puppet Master film, The Littlest Reich. Playing the role of Lena O'Neil, a struggling actress who similar to Barbara saw roles drying up as she grew older. The actress reportedly came out of retirement after the creators of YOU'RE NEXT hired her, the film signaled a return to acting for Barbara. She went on to star in Lords of Salem, We Are Still Here, Tales of Halloween, Road Games, Beyond the Gates, Death House, and Puppet Master: The Littlest Reich.  The character Lena suffers a stillbirth 16 years prior, believing her daughter has died. The stillborn baby is abducted and brought  back to life through electrokinetic power, introducing Kayleigh Gilbert as Tess. She escapes in search of her birth mother leaving a trail of shocking destruction in her path. The film was introduced by the Composer who only finished writing the music three days prior. During the introduction he explained how he concentrated on different qualities of the film, focusing on the right feel for the end of the film, he wanted it to seem as if it was still telling story. Hinting that by creating this atmosphere, implying there could be a sequel. "She's reborn, Could she be reborn again. Is this really over:" The acting, dialogue and action seen within Reborn possess resemblances to classic horror, although it's debatable if this style has aged as well as it's lead.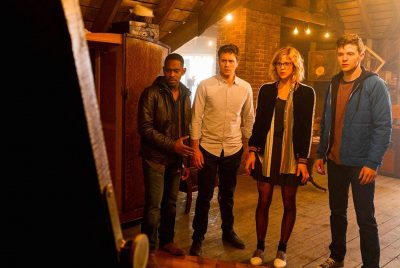 Parallel was introduced by the lovely writer and director Issa López, who recently took multiple festivals by storm with Tigers Are Not Afraid; this cautionary tale follows five orphaned children known as Urchins through the streets of Mexico, where thousands have been murdered or have gone missing due to the violent drug war. López is currently raising awareness of lost film students, she threw a number of t shirts into the audience whilst expressing concerns of the consistently rising number of people disappearing within Mexico. The t-shirts have photos of the missing individuals and the design was made by artist Chuzma who also created all the graffiti seen within Tigers Are Not Afraid. López is currently filming season 2 of Britannia which meant she could grace FRIGHTFEST with her presence, as always it was a pleasure and great to hear she is currently writing, but due to filming she has brought her Guillermo del Toro script to a holt. Bringing her opening to a close by commenting on Isaac Ezban's love for sci-fi classic The Twilight Zone, inspiration is apparent within Ezban's Parallel. A run down of this surprisingly dark story is as follows; four friends are struggling to find a buyer for their app, they accidently find a portal to Multiverse, for the most part it's an easy ride. Until tensions arise, a love triangle forms and chaos fills there usually tranquil shared home. The cast are a great compliment to what can only be described as Ezbans' best work to date. While the ending is slightly fragmented it's overall a very enjoyable film and a personal favourite of mine.
"An Inter dimensional something or other, we call them Fucktards."-Deep clean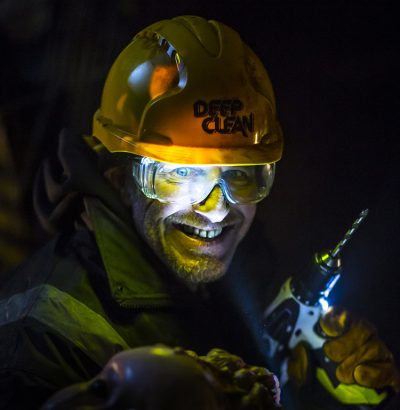 I'm still in awe of Matt Herlock's and Krent Able's Deep Clean, after the success of another British horror short Salt starring Alice Lowe and James Swanton. It's easy to see that British Horror is absolutely smashing it this year, alongside features such as Ghost Stories and Possum. This agonisingly short horror focuses on a troubled kid Alex (Joshua Glenister) and his work experience with his uncle's (Paul Way) road crew played by the continuously funny Tony Way and newcomer Shaquille Ali-Yebuah. Alex finds himself plunged into a less than conventional cleaning job, discovering a provoking secret involving the job and his deceased father. Deep Clean undoubtedly stole the show and my heart, I can't wait to see more of this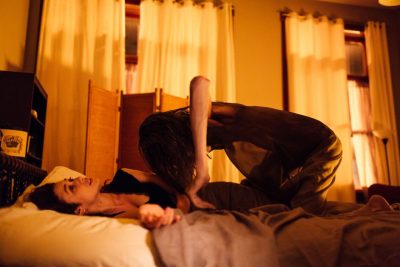 An exhausting experience for those who succumb to the overbearing use of jump scares in Clive Tongue's nightmare fuel Mara. A familiar scare that 40% have experienced at least once, sleep paralysis; the horrifying rendition stalks young psychologist Kate Fuller (Olga Kurylenko) after she finds herself a victim to the same strange symptoms as those she must diagnose. Science is no longer the answer, she must solve the case before she falls victim to sleep. The screening was accompanied by an audience Q and A from Clive Tongue, Craig Conway, Johnathon Frank, Scott Mann and James Edward Barker. The Q and A was very enlightening, seemingly research was prominent in the making of MARA, with research begin 7 or 8 years ago. An eminent question from the Q and A was on why they chose MARA targeting victims instead of there being being random attacks, the creators replied by saying "Well everyone's guilty of something, we wanted everyone to think they could be MARAed." They confirmed an January release and spoke briefly about John's future work with Olga taking place on the 11th February. Craig teased future work with Neil Marshall, the man behind Dog Soldiers and the recent HELL BOY remake.
To what I consider the most baffling screening of the day. Paul Hyett's A.I thriller demonstrating the ever so prevalent power held by media moguls, who control everything we do, say and think through marketing, consumption and creative exploitation. Peripheral relies on Bobbi Johnson (Hannah Arterton) to fall down the rabbit hole, when she begins using recent A.I computer that will help her write her new book, after she received a cult following from the last. Whilst she writing the book Bobbi is visited by druggy ex boyfriend (Elliot James Langridge) and a deluded stalker played by Rosie Day, another fellow Heretiks actress. The film's final thirty minutes lacked much of the substance planted throughout most of the film, and left far too many plot holes, leaving the audience to encounter the most bizarre computer fellatio scene. Regardless Arterton preformed fantastic, it had a strong message even if it was as clear as day, replacing Murdoch with a female Murlock was not the end I expected nor was it what the audience deserved.
Before the final two films of FRIGHTFEST Halloween, came 3 exclusive clips of RABID, the David Cronenberg's 1977 remake of the same name is currently in post production. With no confirmed release date as of yet, producer John Vidette did confirm the completion of an advert, unfortunately it was deemed to spoiler-ish by Paul Macavoy. The clips were SPOILER FREE and only contained minimal insight, what I can say is Rose is a ravishing villain, Laura Vandervoort was a brilliant cast.
"We never thought it would happen to us"-The Unthinkable
The penultimate film was the distinct favourite of the audience, The Unthinkable from writer and director Victor Dennell. This film brings an refreshing depiction of a terrorist attack, the advanced story focuses not on the attack primarily but the characters instead, it invests completely into how people react when their current life has completely changed. Alex (Christoffer Nordenrot) travels back to his hometown after some unfortunate news, revisiting the troubled past he left behind as a teenager; in particular his first love Anne(Lisa Henni), whom left when he was young. The film highlights how selfish and selfless humans can be all the while suggesting that we should argue less, talk more, and forgive each other. The unexplained events are terrifying, many struggle to survive what hides within the rain and unforeseeable military attacks. The audience knows as much as the character, producing a highly personal film; with a consist sense of anxiety throughout which is very upsetting, all accompanied by beautiful cinematography and a stunning soundtrack.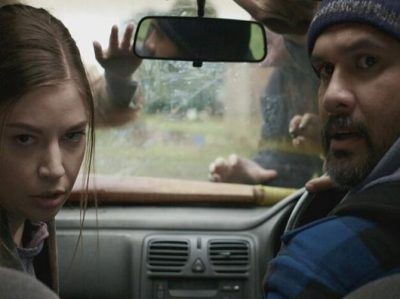 FrightFest Halloween 2018 concluded with a UK premier of Abrakadabra and the world premiere of zombie short The Predicament. Written and directed by Steve Baker, his last short A Love Story (2015) won the Jury prize at Bucheon International fantastic film festival in addition to being screened at Stiges. Baker's A Love Story introduced audiences to his take on the zombie genre, a widowed women's love for her undead husband, and The Predicament, a love triangle puts all three characters in danger when they assume on member lost the keys to win the heart of his unrequited love. Followed by the magical Abrakadabra from directors Luciano Onetti, Nicolás Onetti. A favourite of Argento fan's and a great homage to the 70's with s style fits perfectly, closing the Giallo trilogy, (Sonno Profondo 2013, Francesca 2015). Thirty-five years after the accidental death of Dante the great (German Baudino), his son Lorenzo has become a magician himself. A series of violent murders take place, with all evidence pointing to Lorenzo, he must discover who and why before it too late.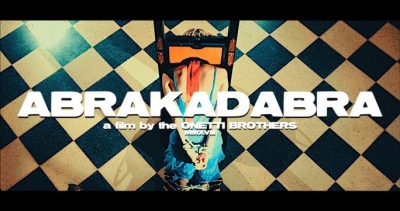 FRIGHTFEST Glasgow will be held on the 1st and 2nd of March 2019 and two extra films will be showcased on the 28th February. Tickets go on sale on the 14th January, all films and guests will be announced on the 10th January!