A Life Behind The Mask" is a comedic look at heroes and villains as they go about their lives in and out of their masks and capes, as they go about the same trials and tribulations of everyday occurrences as we all do except they approach things a little differently than most of us.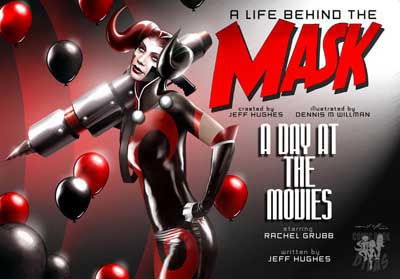 The web series will rotate around a different super hero and villain every month as they deal with their everyday lives in and out of their alter egos and try to manage a variety of everyday events in their own unique way and approach.
The series will feature a variety of women throughout the entertainment world that span the spectrum of models, actresses, and scream queens; Comic Book Divas will feature the likeness of the women to bring the characters personalities to life.
Well known B movie poster artist Dennis Willman is drawing and coloring the web series, Dennis Willman's art style brings a believable look to the characters this plus the added aspect of the women lending their likenesses adds to the realism of the heroes and villains in "A Life Behind The Mask".
Dennis Willman has worked on a host of movie projects and worked with many of today's top scream queens including April Burril, Bianca Barnett, Elske McCain, Scarlet Salem, and many more.
Rachel Grubb is a actress, producer, writer, and director; she has been in the movie and horror industry for many years; she is credited with several projects ranging from in front and in back of the camera. Rachel Grubb can be seen in such movies as; "Horror House", "Tales Of The Dead", "Horror Vault", "Camp Kill", she is also in the upcoming "Bad Girls Burn In Hell" and "Scream Queen Campfire"; .in addition Rachel Grubb is also owner of Silent But Deadly productions. Rachel Grubb portrays "Jolly" She is the clown that enjoys the fact that she can scare you and your kids at parties and the circus, Jolly also has a twisted sense of humor and while she is criminal she has a odd sense of justice.
Dennis Willman Art Notes:
The character of Jolly is, of course, a play on Harley Quinn and the Joker. Instead of symmetrical patterns I went with offset loops and odd shapes to create the jester motif. The horns are indeed a nod to Harley Quinn, but their design is a nod to Tim Curry's portrayal of The Lord of Darkness.