Anthology films (also known as portmanteau films, omnibuses, compilations or collages) consist of multiple short films usually with a common theme or framing device. This is not to be considered a complete list, but rather a rundown of the best and most interesting collections of short horror tales. Thanks to Wikipedia and the IMDB for assisting research.
THE LATE NIGHT DOUBLE FEATURE (2014). A double bill of fifties-style B-movie shorts from writer-director Christopher R. Mihm, the king of neo-retro schlock. 1. X The Fiend From Beyond Space, in which the crew of spaceship Endeavour find themselves orbiting a rogue planet and the captain, a stick-a-fork-in-a-powerpoint-to-see-what-happens kind of guy, has retrieved a dead alien for further study. But is it really dead? 2. The Wall People, in which a scientist discovers an evil alien entity from the former planet Pluto who kidnaps sleeping children through inter-dimensional portals in their bedroom walls.
LATE NIGHT DOUBLE FEATURE (2016). During a late-night taping of Doctor Nasty's Cavalcade Of Horror, bloody chaos takes place while screening two fake feature films ('Dinner For Monsters' and 'Slit'). Samantha, who plays Nurse Nasty, is frustrated with how the show is being run by its womanising director and its crazy drunk host, Doctor Nasty.
THE MIRROR (1999). A Hong Kong anthology directed by Siu Wing and written by Raymond Wong, five unrelated segments take place in five different time periods, each story connected only by an antique dressing table. The first segment is set in a brothel in ancient China, where a courtesan is murdered and her blood spills onto the mirror on her dressing table. The fifth and final segment takes place in Taiwan in 2000, where a woman approaches the antique dressing table and is shocked to see her eyeballs falling out from their sockets in her reflection in the mirror.
THE MONSTER CLUB (1981). The final Amicus anthology film also acts as a tribute, based on the stories of R. Chetwynd-Hayes, directed by Roy Ward Baker and starring John Carradine as author Chetwynd-Hayes, who is approached on a city street by a strange man (Vincent Price) who turns out to be a starving vampire named Eramus. Eramus bites the writer and, grateful for the small donation, takes his bewildered victim to the titular club, which is a covert gathering place for a multitude of supernatural creatures. In between the club's unique music and dance performances, Eramus introduces three stories about his fellow creatures of the night.
MURDER COLLECTION V.1 (2009). Directed and co-written by Fred Vogel. We are told there was a 1994 web-site simply entitled 'Murder' which would broadcast footage of actual deaths and violence. Murder was soon shut down by the authorities and all content confiscated, but the website's host Balan escaped. Years later, Balan re-emerges to share more clips, while commenting on people's obsession with death, its effect and how accessible new media has made it: "I ask you all, why are you watching? Are you trying to find reality? Do you feel the need to be shocked? To witness something that human eyes shouldn't see? Murder is reality. Death comes when you least expect it. With what you are about to observe, you may question your own integrity. You will ask, could this happen to me? My answer to you is, yes it can." At the conclusion, Balan states: "You realise now it's everywhere. Death casts a shadow on all our faces. The new media shines light on dank crevasses, revealing moral decay and broken experiences that are better left beyond the pale. Goosebumps explode on my skin with every clip we watch. I feel it now more than ever. How do you feel?"
NIGHT GALLERY (1969). Twilight Zone creator Rod Serling wrote and hosted this made-for-television pilot for the series of the same name, consisting of three supernatural tales. Serling appeared in a dark art gallery to introduce a trilogy of spooky stories by unveiling portraits (painted by Jaroslav 'Jerry' Gebr, head of Universal Studios' Scenic Arts Department at the time) that depict each segment. 1. The Cemetery directed by Boris Sagal, in which a seemingly haunted painting drives a greedy man (Roddy McDowall) insane. 2. Eyes directed by Steven Spielberg, in which a rich blind woman (Joan Crawford) gets a new pair of eyes that allow her to see for only one brief ironic moment. 3. Escape Route directed by Barry Shear, in which an idyllic painting gives a Nazi war criminal (Richard Kiley) in hiding some fleeting comfort.
NIGHT TRAIN TO TERROR (1985). Jay Schlossberg-Cohen, John Carr, Phillip Marshak, Tom McGowan and Gregg C. Tallas direct three tales written by Philip Yordan, beginning with God (Ferdy Mayne) and Satan (Tony Giorgio) on a train discussing the fate of three individuals. 1. The Case Of Harry Billings involves a man who is kidnapped and taken to an insane asylum where he is hypnotised to lure victims to be tortured and murdered as part of an organ-harvesting operation. 2. The Case Of Greta Connors concerns two young lovers who become part of a sinister cult of people fascinated with death. 3. The Case Of Claire Hansen is about Satan's apprentice, who wants to destroy mankind, and the group of immortals who want to stop him. While God and Satan decide who should go to Heaven or Hell, a rock band is seen setting up and playing, totally unaware that they're heading to their final destination.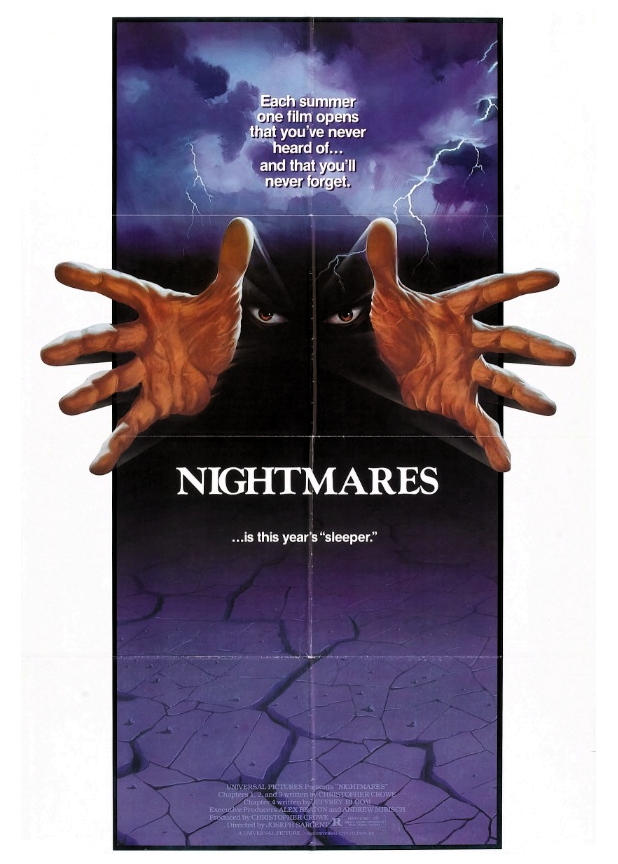 NIGHTMARES (1983). Four short films based on urban legends directed by Joseph Sargent starring Emilio Estevez, Lance Henriksen, Veronica Cartwright and Richard Massur. 1. A woman encounters a killer in the backseat of her car. 2. A video-game-addicted teenager is consumed by his own game. 3. A fallen priest is stalked by a pickup truck from hell. 4. A suburban family battles a giant rat in their home.
NITE TALES THE MOVIE (2008). Public Enemy rapper Flavor Flav, wearing his trademark oversized clock around his neck, presents two stories written by Diana Erwin and Deon Taylor. 1. Karma, in which four young thieves learn that crime does not pay. 2. Storm, in which college students learn that an urban legend may be more than just a story. The movie proved so popular when released on DVD, a television series followed in 2009. Each episode was shot in a single day on a 35mm camera and budgeted between US$20,000 and US$50,000.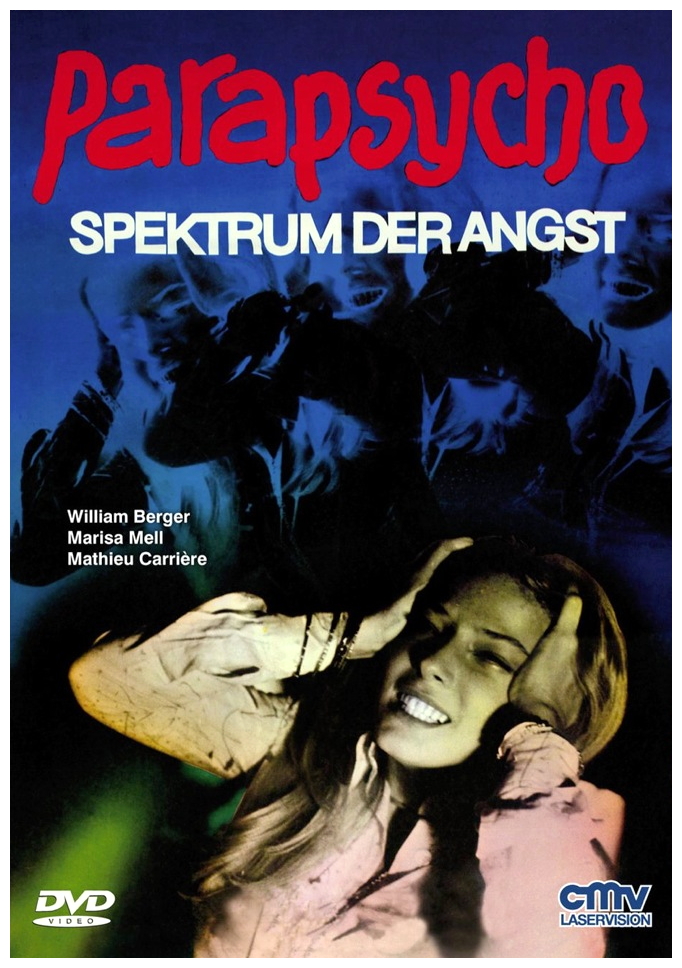 PARAPSYCHO: SPEKTRUM OF FEAR (1975). Three horror stories from Austria focusing on ESP, telepathy and reincarnation, directed by Peter Patzak starring Marisa Mell, Leon Askin and Devra Berger. The film was famous for using footage of a real autopsy, beginning with the incision of the body from sternum to pubic bone.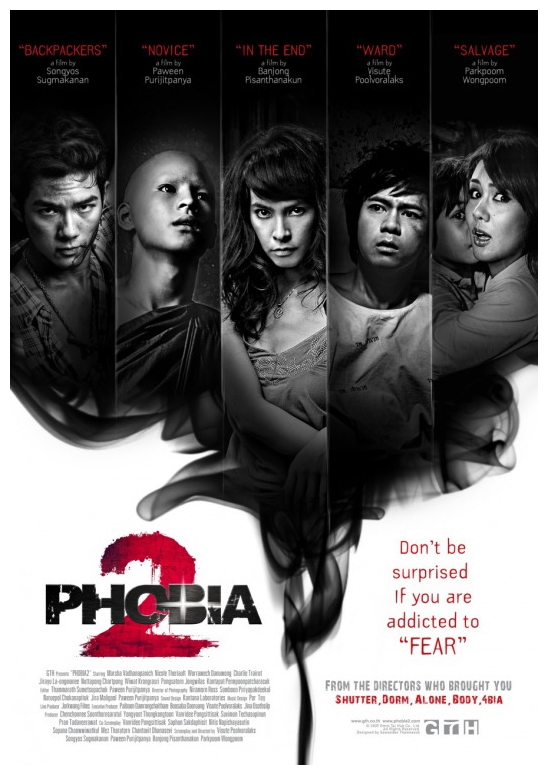 PHOBIA 2 (2009) also known as FIVE CROSSROADS. Presenting five short horror stories from Thailand. 1. Novice directed by Paween Purijitpanya. 2. Ward directed by Visute Poolvoralaks. 3. Backpackers directed by Songyos Sugmakanan. 4. Salvage directed by Parkpoom Wongpoom. 5. In The End directed by Banjong Pisanthanakun.
QUICKSILVER HIGHWAY (1997). Mick Garris directs two stories from horror masters Stephen King and Clive Barker. The framing story concerns Aaron Quicksilver (Christopher Lloyd), a travelling showman who loves to tell spooky stories. He meets a newly married couple who are hitchhiking, and recites to them the tales. 1. Chattery Teeth is about a man who is saved from a dangerous hitchhiker by wind-up toy teeth. Later Quicksilver encounters a pickpocket to whom he tells another tale. 2. The Body Politic concerns a man whose own hands rebel against him. Cast also includes Matt Frewer, Veronica Cartwright, Constance Zimmer, Clive Barker, John Landis and Mick Garris, with a fun soundtrack by Mark Mothersbaugh.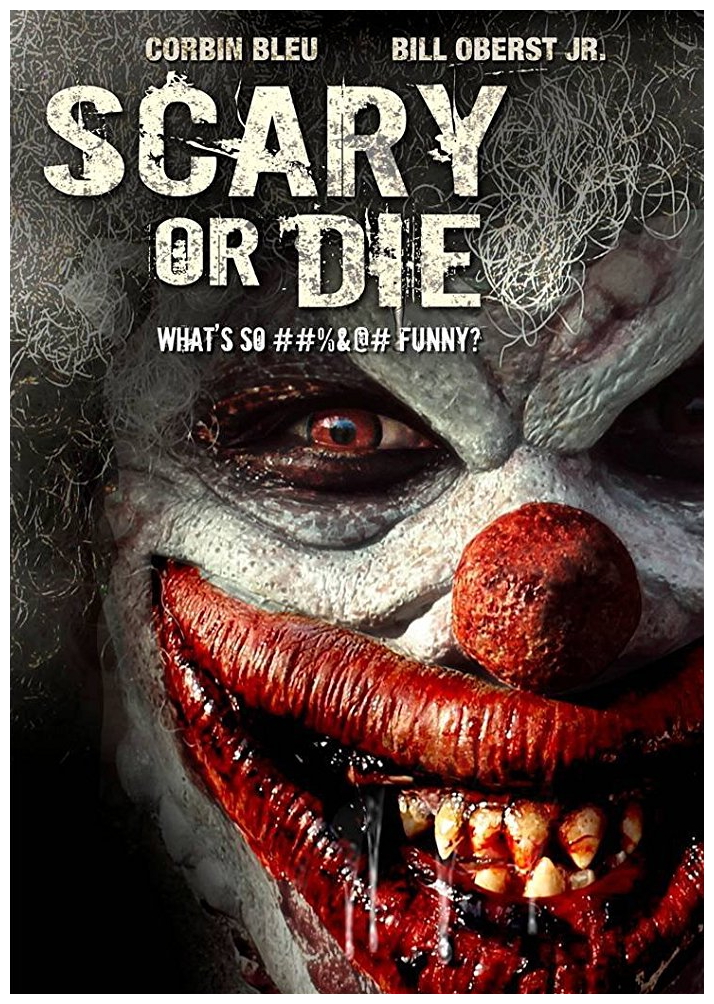 SCARY OR DIE (2012). Five stories of supernatural horror occur in and around the City of Angels, directed by Michael Emanuel, Bob Badway and Igor Meglic. 1. The Crossing involves zombie action taking place by the Arizona-Mexico border. 2. Taejung's Lament follows a man in mourning for a lost love and his reward for a good deed. 3. Re-Membered, in which a hit-man has his work cut out for him. 4. Clowned tells the tale of birthday party entertainment gone wrong. 5. Lover Come Back reflects on the power of true love.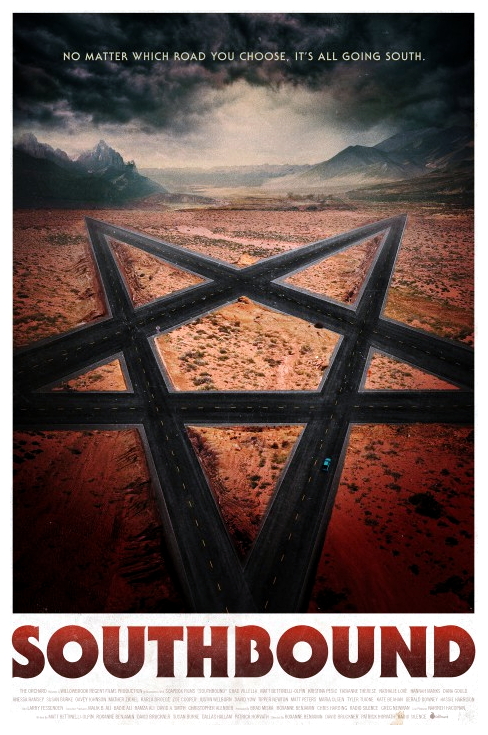 SOUTHBOUND (2015). Five interlocking tales follow a group of weary travellers who confront their worst nightmares and darkest secrets on a desolate stretch of desert highway. There are numerous allusions to the film's alternate meanings hidden throughout the segments. 1. The Way Out. Mitch and Jack are on the run from mysterious floating creatures and arrive at a mysterious motel. 2. Siren. At the same motel are Sadie, Ava and Kim, traveling musicians in a band called The White Tights. Leaving the motel, their van's tire goes flat and, stranded in the middle of the desert, they are picked up by a friendly but rather eccentric couple. 3. The Accident. The driver of the car, Lucas, talks to his wife Claire on the phone. Distracted, he does not see Sadie and she is hit by his car. He calls 911 but is unable to tell the dispatcher where he is. 4. Jailbreak. The dispatcher on the phone with Lucas, Sandy watches him drive away from a nearby pay-phone. She hangs up and walks into a bar named The Trap. Across the parking lot, Danny gets out of his car. Inside, the bartender reprimands Sandy for leaving the door open. An argument ensues between the two and Danny barges in with a shotgun, and demands to know the location of his sister. 5. The Way In. Jem exits the bathroom at Freez'n Over and sees Jesse walk back to the secret door.
SPIRITS OF THE DEAD (1968). American International Pictures distributed this anthology of three Edgar Allan Poe stories directed by Roger Vadim, Louis Malle and Frederico Fellini, starring Jane Fonda, Alain Delon, Peter Fonda, Brigitte Bardot and Terence Stamp. The English-language version is narrated by Vincent Price. 1. Metzengerstein concerns a cruel princess haunted by a ghostly horse. 2. William Wilson is a sadistic young man haunted by his double. 3. Toby Dammitt is an alcoholic actor who is haunted by the Devil himself.
TALES FROM THE CRAPPER (2004). Troma Entertainment co-founder and B-movie-maker Lloyd Kaufman plays the Crap Keeper, who presents the viewers with two stories containing gore, nudity, talking penises, lesbians, vampires, UFOs and Ron Jeremy. It was shot over three years with six directors and a dozen writers, compiled from a failed website series. After more than a year in production, Troma declared it unwatchable. The photography was unprofessional, the sound was missing from some segments, there were no complete episodes, and the entire budget of US$200,000 was spent. To salvage the project, Kaufman wrangled friends and former Troma alumni to re-work the script and find new uses for the footage.
TALES FROM THE CRYPT (1972). Freddie Francis directs five segments based on stories from EC Comics. Five strangers (Joan Collins, Ian Hendry, Robin Phillips, Richard Greene, Nigel Patrick) encounter the mysterious Crypt Keeper (Ralph Richardson), who tells each how they will die. 1. And All Through The House: On Christmas Eve, Joanne Clayton kills her husband expecting to receive his insurance. She hears on the news that the police are seeking-out a serial-killer posing of Santa Claus. 2. Reflection Of Death: Carl Maitland leaves his wife and children and leaves town with his mistress, but something happens during their journey. 3. Poetic Justice: Widower Arthur Edward Grimsdyke is a good man that spends his leisure time with the children from the neighbourhood. His heartless neighbour James Elliot hates him and destroys his life leading Grimsdyke to suicide. Exactly one year later, Grimsdyke rises from his tomb to exact revenge. 4. Wish You Were Here: Corrupt businessman Ralph Jason becomes bankrupt and his lawyer tells him that he must sell his real estate. When he informs his wife Enid, she says they have a statue with the legend that it could grant three wishes to the owner. She makes the wishes and leads Ralph to eternal damnation. 5. Blind Alleys: Cruel former army major William Rogers, accompanied by his vicious dog Shane, is the new manager of the Elmridge Home For The Blind. His extremely cruel treatment inspires the inmates to plan a complex act of revenge.
TALES FROM THE DARKSIDE: THE MOVIE (1990). Inspired by the anthology television show Tales From The Darkside and directed by John Harrison, a kidnapped paperboy tells three stories of horror to the local witch who is preparing to eat him. 1. Lot 249: Student Lee uses friends to oust a nerd named Bellingham and take his place at the university. In retaliation, Bellingham uses a scroll to revive a mummy to exact revenge. 2. Cat From Hell: Millionaire Drogan hires hit-man Halston to slay a household cat that has already killed three other people. Halston soon learns that the cat is truly from hell. 3. Lover's Vow: As friends Preston and Jer leave a bar, Jer is attacked and decapitated by a gargoyle. Preston promises never to reveal what what he has seen, and the gargoyle flies away. On his way home, Preston meets a woman named Carola, and a romance develops. Ten years later and happily married with two children, Preston decides to disclose his secret to his wife, with tragic consequences.
TALES FROM THE HOOD (1995). Producer Spike Lee and director Rusty Cundieff presents four short stories sealing with such concepts as police brutality, domestic abuse, racism and gang violence, all within a framing story about three drug dealers buying product from a funeral director. 1. A man is murdered by crooked police officers, and one of the officers begins to hear his voice from beyond the grave to avenge his death. 2. A boy named Walter is tormented by a monster, and his teacher begins to understand that something is terribly wrong. 3. A white supremacist running for governor lives in an old house with a history of racial violence, and refuses to heed the warnings of the supernatural presence that occupies it. 4. A career criminal agrees to undergo a horrific behaviour-modification program overseen by a government scientist.
TALES OF HALLOWEEN (2015). Ten segments set around Halloween by ten different filmmakers. 1. Sweet Tooth: A boy collects Halloween candies, and his babysitter tells the legend of an evil being that has sweet tooth and kills those who do not share candies with him. She eats the boy's candies and discovers the truth of the legend. 2. The Night Billy Raised Hell: A boy dressed like Satan is forced by his sister to throw an egg at the house of a secluded man. The man turns out to be Satan himself, and he teaches them how to create real havoc. 3. Trick: A group of drunk drugged friends find themselves under attack from local trick-or-treaters. 4. The Weak & The Wicked: A girl and her gang bully a teenager boy, so he summons a demon to exact revenge. 5. Grim Grinning Ghost: A young woman goes to a party and hears the story of an evil spirit. On her way home, her car breaks down and she has to walk the rest of the way. She is startled by footsteps and a spooky laugh behind her. 6. Witch: A man discovers that his wife is a witch who eats children. 7. This Means War: A battle erupts between neighbours as they fight over who has the best Halloween decorations. 8. Friday The 31st: A serial-killer confronts an extraterrestrial that possesses the body of one of his victims. 9. The Ransom Of Rusty Rex: Two thieves abduct the son of a wealthy man for ransom. The man refuses to pay, and the kidnappers have a surprise in store. 10. Bad Seed: A man carves up a pumpkin that fights back and eats the man, so a skeptical detective has to hunt down the pumpkin and find out where it came from.
TALES OF TERROR (1962). Three tales inspired by Edgar Allan Poe, directed by Roger Corman, written by Richard Matheson and starring Vincent Price, Peter Lorre and Basil Rathbone. The first story is based on Poe's Morella. The second story combines The Black Cat with A Cask Of Amontillado. The third and final story – The Facts In The Case Of M. Valdemar – is arguably the best of the bunch.
TALES OF THE BIZARRE (1982). In this sleazy soft-porn horror anthology, four young women at a pyjama-party flashback to their freakiest sexual experiences. One of the scumbags from one of the stories is seen peeping in the girls' window, and he summons the other male participants from the stories to come over and have an orgy with the girls.
TALES OF THE THIRD DIMENSION (1984). A skeleton by the name of Igor introduces three tales filmed in spectacular 3-D. 1. Young Blood is about a married pair of vampires who adopt a child and are horrified to discover that it is another kind of monster all together. 2. The Guardians concerns a pair of avaricious grave robbers who make a terrible mistake when they visit the St. Francis Abbey cemetery to do a little pillaging. 3. Visions is set at Christmas time and is set at the home of an outwardly loving grandmother whose smile conceals the heart of a cold-blooded killer.
TALES OF THE UNEXPECTED (1988). A collection of four episodes of the long-running UK television series hosted by Roald Dahl, starring Arthur Hill, Don Johnson, Dick Smothers, Sharon Gless, Charles Dance, Zoe Wanamaker, Sondra Locke and Frank Converse. 1. People Don't Do Such Things. Terence and Gwen Carter are a conventional married couple, disapproving of the misogynist ways of Reeve Baker, Terence's friend and tax accountant. Terence is shocked, then, when Gwen tells him that she and Reeve are in love and plan to go off together. Despite her husband's entreaties she leaves him but soon afterwards is found murdered. 2. Youth From Vienna. Television journalist Caroline Coates is promoted to anchorwoman and is anxious to look her very best. Doctor Baxter is working on a formula called 'Youth From Vienna' to stop the ageing process. Caroline, however, whilst happy to make use of Baxter, sees the younger, better-looking Alan Brodie as a fitter partner. 3. Skeleton In The Cupboard. Robert Smythe, a wealthy businessman, hears from a young woman called Jane Fisher that she is looking for a member of the MG club who got married twenty years earlier and killed her daughter in a hit-and-run. He fears exposure and must keep the facts from his wife. 4. Bird Of Prey. Jack and Edna's pet parrot dies after laying an unusually large egg which hatches out into a very ugly and fairly large black bird. Initially it does not speak but Jack comes to like it, unlike his wife. Jack suspects Edna of infidelity and comes to see the bird as an ally who will check up on her behaviour for him.
TALES THAT WITNESS MADNESS (1973). Psychiatrist Doctor Tremayne (Donald Pleasence) tells Doctor Nicholas (Jack Hawkins) about four case histories, directed by Freddie Francis and written by Jennifer Jayne. 1. Mister Tiger: Paul is the sensitive and introverted young son of constantly bickering parents. Amid the unhappy domestic situation he befriends an 'imaginary' tiger. 2. Penny Farthing: Timothy inherits an old penny-farthing bicycle and a portrait of his uncle Albert from his aunt. The portrait compels him to ride the bicycle, which takes him back in time to meet Albert's true love Beatrice. 3. Mel: Brian brings home an old dead tree, which he lovingly calls Mel, mounting it in his modern home as a bizarre piece of art. He increasingly shows unusual attention to Mel, angering his jealous wife Bella. 4. Luau: Ambitious literary agent Auriol lasciviously courts his new client Kimo, but he shows more interest in her beautiful young daughter Ginny. Auriol plans a sumptuous luau party for him but, when the plans fall through, Kimo's associate Keoki takes over. The luau, as organised by Keoki, is actually a ceremony to assure Kimo's dying mother Malia passage to heaven by appeasing their god, and a requirement is that he consume the flesh of a virgin, namely Ginny.
TERROR TRACT (2000). Real-estate agent Bob Carter (John Ritter) tries to sell a house to a kindly couple, and is compelled to tell them of the horrible history of each house. 1. Nightmare: A businessman is killed by his wife and her boyfriend, and she suffers nightmares of her ex-husband returning from the dead. 2. Bobo: A kindly family man suffers increasing fear and paranoia after his daughter adopts a mysterious stray monkey. 3. Come To Granny: A troubled teenager with psychic abilities visits a therapist to warn her that she will be the next victim of a serial killer known only as The Granny.
THE THEATRE BIZARRE (2011). Six segments directed by Tom Savini, Douglas Buck, Buddy Giovinazzo, David Gregory, Karim Hussain and Richard Stanley. Young Enola Penny is obsessed with what appears to be a long abandoned theatre in a seedy part of town. One night, she finds the front door is ajar and impulsively sneaks inside. There in the dark decrepit auditorium, an eerie human puppet named Peg Poett (Udo Keir) introduces Penny to six tales of the bizarre: 1. A couple traveling in a remote part of the French Pyrenees cross paths with a lustful witch. 2. A paranoid lover faces the wrath of a partner who has been pushed to her limit. 3. The Freudian dreams of an unfaithful husband blur the lines between fantasy and reality. 4. The horrors of the real world are interpreted through the mind of a child. 5. A woman addicted to other people's memories gets her fix through the vitreous fluid of her victims' eyeballs. 6. A perverse obsession with sweets turns sour for a couple who are in far too deep. As the stories unfold, something much stranger is happening to Enola.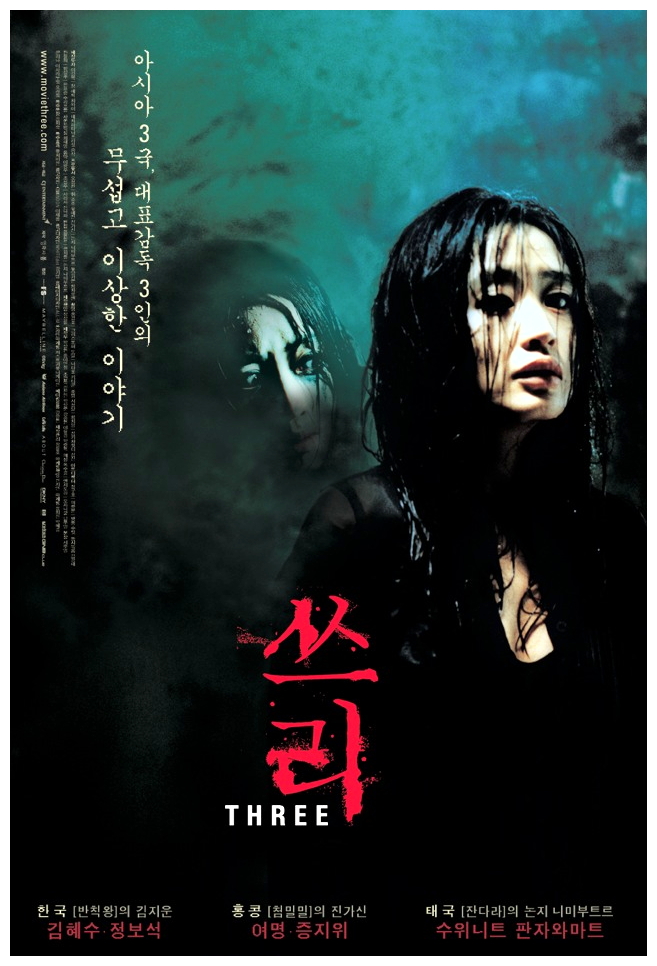 THREE (2002). Three short films from three different Asian countries. 1. Memories from South Korea is about a woman who disappears from the home she shares with her husband and children, and ends up in a futuristic city filled with many disturbing hindrances to her finding her way back home. 2. The Wheel from Thailand concerns a puppeteer who is unsuccessful in warning a dance troupe about using cursed puppets. 3. Going Home from Hong Kong is about a policeman who becomes involved with his neighbours, a married couple who dabble in mysterious herbal medications.
THREE EXTREMES (2004). The sequel to Three (2002) presents another three horror stories from three different Asian countries. 1. Dumplings: An ageing actress wants to rejuvenate her youth and beauty, and buys some dumplings from Aunt Mei, a mysterious seller who claims to be much older than she appears. However, to her disgust, she learns that the dumplings are in fact made from aborted foetuses, which Aunt Mei takes from a nearby hospital that has a secret abortion facility. 2. Cut: A movie director and his wife face a night of misery when a disgruntled employee kidnaps them in order to play a deadly game. He instructs the director to strangle an innocent girl or else he will chop off one of his wife's fingers every five minutes. The kidnapper reveals his jealousy of the director, who is a good man successful in life, while the kidnapper is poor and abuses his wife to the point of killing her before the kidnapping. 3. Box: Kyoko, a young novelist, experiences nightmares of her past as a circus performer with her twin sister Shoko, and their benefactor Higata. One day, Kyoko became jealous of Shoko and locked her in a box. When Higata tried to release Shoko, Kyoko scarred his face and set the box on fire.
TORTURE GARDEN (1967). Five people visit a carnival sideshow run by Doctor Diabolo (Burgess Meredith). After showing them a handful of traditional attractions, he promises them a genuinely scary experience if they pay extra. The small crowd follows him behind a curtain, where they each view their fate. 1. Enoch: A greedy playboy takes advantage of his dying uncle, and falls under the spell of a man-eating cat. 2. Terror Over Hollywood: A Hollywood starlet discovers her co-stars are androids. 3. Mister Steinway: A possessed grand piano by the name of Euterpe becomes jealous of its owner's new lover and takes revenge. 4. The Man Who Collected Poe: A Poe enthusiast murders another enthusiast over a collectable he refuses to show him, only to find out it's actually Edgar Allan Poe himself.
TRAPPED ASHES (2006). Four stories and a wraparound directed by Joe Dante, Sean Cunningham, Monte Hellman, Ken Russell and John Gaeta. Seven strangers visiting Hollywood movie studios find themselves locked inside a House Of Horror attraction. To leave the trap alive, they have to tell their scariest stories. 1. The Girl With The Golden Breasts: Phoebe receives breast implants made of reconstituted human corpse tissue but the implants exhibit an appetite for human blood. 2. Jibaku: Henry and Julia visit Japan, where Julia is seduced by a spirit attempting to draw her into Jigoku. 3. Stanley's Girlfriend: Leo has an affair with fellow filmmaker Stanley's girlfriend Nina, a witch who drinks the blood of her lovers to gain immortality. 4. My Twin The Worm: Natalie's mother Martine cannot treat her tapeworm without losing her unborn child and must allow them both to grow inside her. Once born, Natalie continues to be compelled to feed the worm.
TRICK 'R TREAT (2007). A dark comedy written and directed by Michael Dougherty and produced by Bryan Singer, starring Dylan Baker, Brian Cox, Rochelle Aytes, Lauren Lee Smith, Leslie Bibb, Britt McKillip and Anna Paquin. Five Halloween stories are told, the one common element being the presence of Sam, a mysterious child trick-or-treater wearing shabby orange pyjamas with a burlap sack over his head. Sam makes an appearance in all the stories whenever a character breaks Halloween traditions. 1. An everyday high school principal has a secret life as a serial killer. 2. A college virgin might have just met the guy for her. 3. A group of teenagers pull a mean prank. 4. A woman who loathes the night has to contend with her holiday-obsessed husband. 5. A mean old man meets his match with a demonic supernatural trick-or-treater.
TRILOGY OF TERROR (1975). A made-for-television anthology directed by Dan Curtis and starring Karen Black as four characters in three tales written by Richard Matheson based on his own short stories. 1. Julie is a sexually-repressed college teacher who is blackmailed by one of her students for a past indiscretion in which she played an unwilling part, but the student is unaware that Julie plots to turn the tables on him the first chance she gets. 2. Millicent is a plain-looking reclusive woman who lives with her amoral twin sister Therese whom delights in tormenting her, and only their doctor knows for sure what's going on. 3. Amelia is a mother-dominated woman who buys an African Zuni fetish doll for her latest boyfriend in which the doll comes to life and terrorises her in her own apartment.
TRILOGY OF TERROR II (1996). A sequel to the popular made-for-television anthology directed by Dan Curtis, this trilogy is written by William F. Nolan starring Lysette Anthony in each of the three segments. 1. A woman has an encounter when attempting to rob a grave. 2. The story of a woman who summons her son back from the dead. 3. Another tale of an African Zuni fetish doll that comes to life.
TWICE-TOLD TALES (1963). Three stories based on the works of Nathaniel Hawthorne, directed by Sidney Salkow and starring Vincent Price. 1. Doctor Heidegger's Experiment. Carl Heidegger (Sebastian Cabot) attempts to restore the youth of himself, his fiancee and his best friend. 2. Rappaccini's Daughter. A demented father inoculates his daughter with poison so she may never leave her garden of poisonous plants. 3. The House Of The Seven Gables. The Pyncheon family suffers from a hundred year old curse and the Pyncheon brother returns to his home to search for a hidden vault.
TWILIGHT ZONE THE MOVIE (1983). Directors John Landis, Steven Spielberg, Joe Dante and George Miller adapt their favourite Twilight Zone stories for the big screen, starring Vic Morrow, Scatman Crothers, Kathleen Quinlan, John Lithgow, Dan Ayckroyd, Albert Brooks, Nancy Cartwright, William Schallert, Kevin McCarthy, Bill Mumy and Murray Matheson. Burgess Meredith, a veteran of four of the original episodes, introduces each story 1. A bigoted businessman with an intense hatred for Jews, blacks and Asians is inexplicably transported back in time: In 1940s France he is pursued by Nazis; in the deep south of the 1950s he is pursued by the KKK; and in 1960s Vietnam he is pursued by US soldiers, leaderless and stoned. 2. An old man arrives at a retirement home and makes the wishes of the residents come true when he magically transforms them into youthful incarnations of their days gone by. 3. A young woman on the road gives a ride to a mysterious ten-year-old boy to his house and ends up trapped with other people in an alternate reality created by the boy's imagination. 4. A passenger on an airline witnesses a demonic-looking creature on the wing of the airplane trying to sabotage the aircraft, but is believed by no-one.
TWO EVIL EYES (1990). Written and directed by Dario Argento and George Romero, the film is split into two separate tales, both based on the works of Edgar Allan Poe: 1. The Facts In The Case Of M. Valdemar. Directed by Romero and starring Adrienne Barbeau as a cheating wife trying to scam her dying husband out of millions by having her doctor/lover hypnotise the geezer into signing his dough over to her. The old man dies while under hypnosis and is stuck in the limbo between the here and the hereafter. The door to the physical world is opened and the undead attempt to enter it. 2. The Black Cat. Directed by Argento and starring Harvey Keitel as Rodd Usher, an alcoholic photographer/artist who descends into madness after he kills a stray cat that his girlfriend Annabelle brings home. One murder leads to another, and the complex cover-ups begin.
TWO-FISTED TALES (1992). Directed by Richard Donner, Tom Holland and Robert Zemeckis, written by Frank Darabont, Randall Johnson, A.L. Katz, Gilbert Adler, Jim Thomas and John Thomas, starring Brad Pitt, Kirk Douglas, Lance Henriksen, Dan Aykroyd and David Morse. A failed feature-length television pilot from the makers of Tales From The Crypt and Perversions Of Science. The foul-mouthed wheelchair-bound Mister Rush (Bill Sadler) tells three tales: 1. Showdown is about an Old West gunfighter's last stand. 2. King Of The Road is about a racing driver whose past comes back to haunt him. 3. Yellow is about a soldier's cowardice during World War One.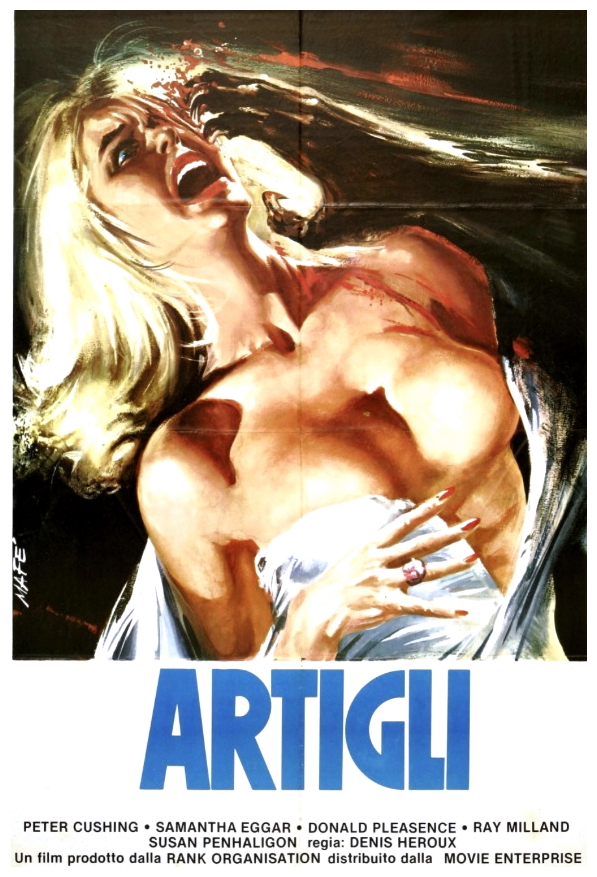 THE UNCANNY (1977). An anthology of stories concerning feline revenge written by Michael Parry, directed by Denis Heroux starring Peter Cushing, Donald Pleasence, Ray Milland, Samantha Eggar and John Vernon. Writer Wilbur Gray visits his publisher to discuss his new book about cats. Gray believes that felines are supernatural creatures, the devil in disguise, and tells three tales to illustrate his thoughts. 1. In 1912 London, Miss Malkin is a wealthy woman who rewrites her will leaving her fortune to her cats rather than to her nephew Michael. Her maid Janet, also the mistress of Michael, steals one copy of the will from the lawyer's briefcase and tries to destroy the original copy which is kept in the safe. When Miss Malkin sees her attempt, Janet kills her. The cats avenge Miss Malkin's death. 2. In 1975 Quebec, the orphan Lucy comes to live with her aunt Mrs. Blake, her husband and her cousin Angela after the death of her parents in a plane crash. Lucy brings her only friend, the cat Wellington, but her mean cousin forces her parents to get rid of Wellington. Lucy uses her mother's book of witchcraft to avenge Wellington. 3. In 1936 Hollywood, the actor Valentine De'ath replaces the blade of a fake pendulum to kill his actress wife, and give his young mistress and aspiring actress a chance. The cat of his wife avenges her death.
V/H/S (2012). Created by Brad Miska, the film features a series of found-footage shorts written and directed by Adam Wingard, David Bruckner, Ti West, Glenn McQuaid, Joe Swanberg and the Radio Silence team. The framing narrative, entitled Tape 56, focuses on a criminal gang and an anonymous source who offers them a large sum of money to break into a house and steal a single VHS videotape. The gang discover hundreds of unmarked VHS video cassettes, and proceed to view each one. 1. Amateur Night. Shane, Patrick and Clint are three friends who have rented a motel room to fulfil Shane's intent of bringing women back for sex. While the three young men are bar-hopping, Clint encounters a mysterious young woman named Lily who seems to be unusually shy, but soon reveals her true self. 2. Second Honeymoon. Sam and Stephanie travel to Arizona for their second honeymoon. One evening while the couple are asleep, someone breaks into their motel room, turns on the camcorder and films touching Stephanie's buttocks with a switchblade. The intruder then steals $100 from Sam's wallet and dips his toothbrush in the toilet. 3. Tuesday The 17th. Three friends – Joey, Spider, Samantha – accompany their new friend Wendy on a camping trip. Joey films the group as Wendy leads them through the woods, occasionally mentioning 'accidents' that took the lives of her friends. When scanning certain areas, images of mutilated bodies appear in the film. 4. The Sick Thing That Happened To Emily When She Was Younger. Via computer video chats, Emily talks to her boyfriend James, a trainee doctor, about a strange bump on her arm and how it reminds her of an accident she had when she was younger. After witnessing a small, childlike entity rush into her room and slam the door shut, Emily believes her apartment is haunted. Her landlord claims that no children have ever lived in the apartment, but Emily is unconvinced. 5. 10/31/98. Chad, Matt, Tyler and Paul head out to a Halloween party at a friend's house, only to end up at the wrong place. Sneaking inside, they begin to experience paranormal phenomena and decide they are in a haunted house and have fun with it. In the attic they find several men gathered around a young woman whom they've suspended from the rafters, apparently performing an exorcism.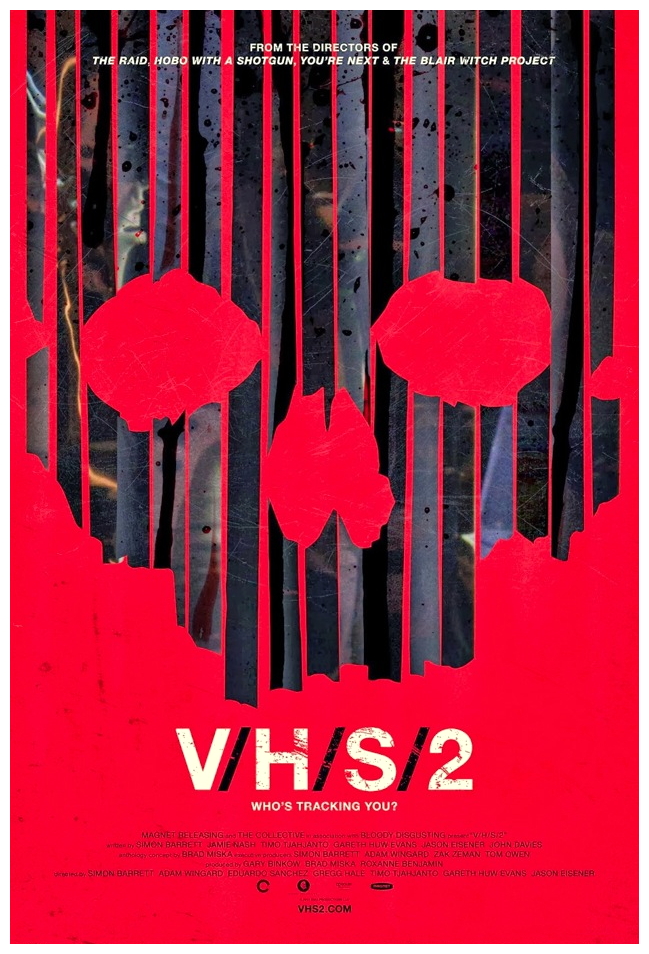 V/H/S/2 (2013). Created by Brad Miska, this sequel features a series of found-footage shorts written and directed by Simon Barrett, Adam Wingard, Jason Eisner, Gareth Evans, Timo Tjahjanto, Eduardo Sanchez and Gregg Hale. The framing narrative, entitled Tape 49, focuses on a private detective named Larry and his girlfriend Ayesha, who are investigating the disappearance of her son Kyle. After breaking into Kyle's dormitory, they discover a large stack of VHS tapes and a laptop that is still recording a video. On the laptop, Kyle discusses the VHS tapes, and Larry tells Ayesha to watch the tapes while he inspects the house. 1. Phase One Clinical Trials. After a car accident, Herman receives an ocular implant with a camera to replace his damaged right eye. The doctor warns that he may experience glitches because the implant is still in an experimental stage, and Herman notices a young red-haired woman staring at him on the way out of the hospital. That night at his home, he is haunted by a man and young girl, both of whom appear dead. 2. A Ride In The Park. A cyclist named Mike, with a camera affixed to his helmet, is riding through a state park, when he runs into a hysterical and bloody woman, asking for help with her boyfriend. Mike then sees several zombies approaching them, before he is suddenly attacked and bitten on the throat by the woman. 3. Safe Haven. A news crew – Malik, Lena, Adam, Joni – infiltrate an Indonesian cult in the hope of shooting a documentary about their mysterious activities. Inside the building, they find the walls adorned in bizarre symbols, schoolchildren in classrooms, and women dressed in white garments. In the basement, Adam finds a bloody woman strapped to a chair who begins convulsing, causing him to run away. 4. Slumber Party Alien Abduction. Young brothers Gary and Randy attach a camera to their Yorkshire Terrier dog, Tank, to create videos at their lake-side house. After their parents leave, Gary and Randy invite over their friends, Shawn and Danny, and the group harass the older sister, Jen, and her boyfriend Zack. While the group is swimming at a nearby lake, they fail to notice a grey alien hiding beneath the water.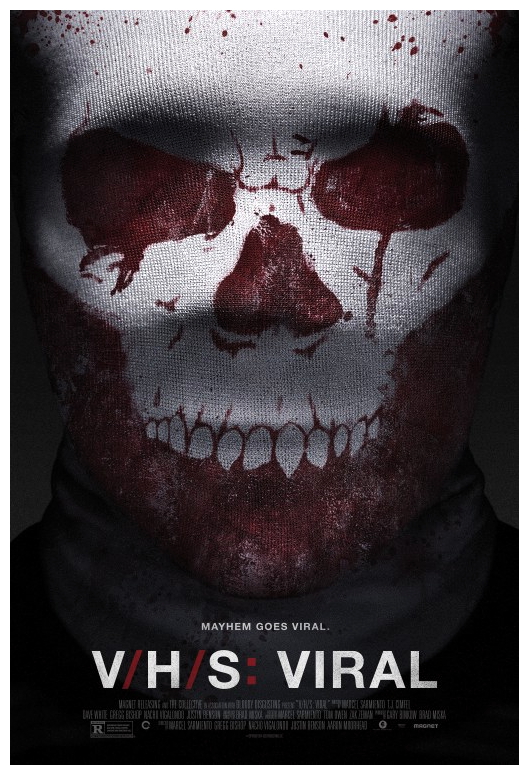 V/H/S: VIRAL (2014). The final film in the V/H/S trilogy created by Brad Miska features a series of found-footage shorts written and directed by Nacho Vigalondo, Marcel Sarmiento, Gregg Bishop, Justin Benson and Aaron Scott Moorhead. The framing narrative, Vicious Circles, is about amateur videographer Kevin and his girlfriend Iris. One evening, a high speed pursuit near his neighbourhood is broadcast on television, and he sees the opportunity to create a viral video. He arrives too late, though he sees Iris wander outside in a daze and get abducted. Kevin chases after the truck which circles the neighbourhood repeatedly. When Kevin finally catches up, he finds a number of televisions stacked atop each other in the back of the truck, and Iris appears on one of the screens and demands that Kevin upload the following footage to the internet. 1. Dante The Great. An untalented illusionist discovers the infamous cloak of Houdini which grants him the power to perform real magic. He quickly becomes famous, though he learns that the cloak requires regular sacrifices to work. 2. Parallel Monsters. On each side of an inter-dimensional portal, parallel versions of inventor Alfonso cautiously greet each other. Overcome by curiosity, the two explore each other's worlds. At first the worlds seem exact mirrored duplicates, but they are soon revealed to hold divergent dominant religions. 3. Bonestorm. A trio of skateboarders perform various stunts as the videographer they hired pushes them into increasingly dangerous circumstances in the hopes of filming a snuff film. Once they find a suitable place, the videographer encourages them to again perform more stunts. When one of the skateboarders injures himself and bleeds on a pentagram, a group of cloaked cultists attack them.
VAULT OF HORROR (1973). The sequel to Tales From The Crypt (1972) was directed by Roy Ward Baker, based on stories by Al Feldstein and starring Terry-Thomas, Dawn Addams, Denholm Elliott, Curt Jurgens, Tom Baker, Michael Craig, Terence Alexander, Glynis Johns, Mike Pratt, Robin Nedwell, Geoffrey Davies, Edward Judd, Daniel Massey and Anna Massey. Five strangers board a descending lift in a modern office block in London. They reach the sub-basement where they find a large elaborately furnished room. Resigned to waiting for help, each man tells of a recurring nightmare. 1. Midnight Mess. Harold Rodgers tracks his sister Donna to a strange village, and kills her to claim her share of the family inheritance. After settling down to a post-murder meal at the local restaurant, he discovers the town is home to a nest of vampires. 2. The Neat Job. The obsessively neat Arthur Critchit marries Eleanor, a trophy wife who is not quite the domestic goddess he hoped for. His constant nagging about the mess she makes eventually drives her mad. 3. This Trick'll Kill You. Sebastian is a magician on holiday in India, where he and his wife Inez are searching for new tricks. Nothing impresses until he sees a girl charming a rope out of a basket with a flute. Unable to work out how the trick is done, he persuades her to come to his hotel room, where he and his wife murder her and steal the enchanted rope. 4. Bargain In Death. Maitland is buried alive as part of an insurance scam concocted with his friend Alex. Alex double-crosses Maitland, leaving him to suffocate. Meanwhile, two trainee doctors, Tom and Jerry, bribe a gravedigger to dig up a corpse to help with their studies. 5. Drawn And Quartered. Moore is an impoverished painter living in Haiti. When he learns that his paintings have been sold for high prices by art dealers, he goes to a voodoo priest and his painting hand is given voodoo power – whatever he paints or draws can be harmed by damaging its image. Returning to London, Moore paints portraits of the three men who cheated him, and mutilates the paintings to exact his revenge.
VOLUMES OF BLOOD (2015). The framing narrative, entitled That's A Wrap! is directed by Lee Vervoort. A sociology student and three friends meet in a library and craft four new urban legends. 1. Ghastly by P.J. Starks. 2. Thirteen After Midnight by Jakob Bilinski. 3. The Encyclopedia Satanica by Nathan Thomas Milliner. 4. A Little Pick-Me-Up by John Kenneth Muir.
VOLUMES OF BLOOD: HORROR STORIES (2016). Seven new horror stories directed by Sean Blevins, John William Holt, Jon Maynard, Nathan Thomas Milliner, Justin Seaman and James Treakle. The screenplay was a collaboration by Blevins, Milliner, P.J. Starks and Jason Turner. 1. Trick Or Treat. 2. Feeding Time. 3. Blood Bath. 4. Murder Death Killer. 5. Fear For The Sinners Here. 6. The Deathday Party. 7. A Killer House.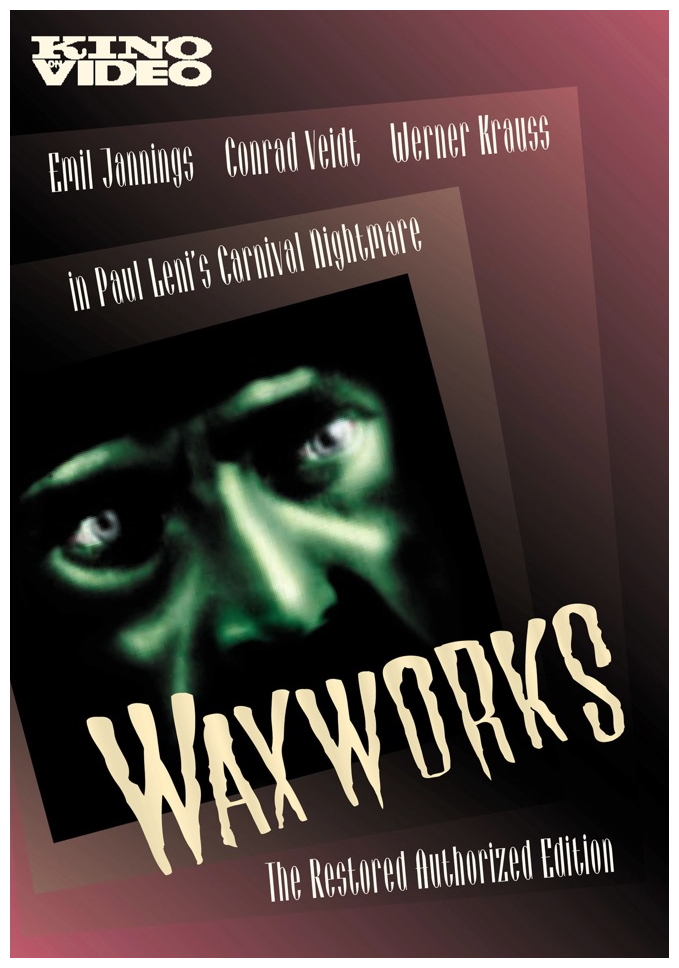 WAXWORKS (1924). Directed by Paul Leni, the film is about a writer who accepts a job from a waxworks to write a series of stories about the exhibits of Caliph Of Baghdad (Emil Jannings), Ivan The Terrible (Conrad Veidt) and Jack The Ripper (Werner Krauss) in an effort to attract customers. The first story is a fantasy adventure, the second is a historical dramatisation, and the third is nightmarish horror. After the poet finishes the last two stories, he wakes up to find that the wax model of Jack The Ripper has come to life, but it's the wrong Jack – it's Spring-Heeled Jack! Spring-Heeled Jack stalks the poet, who is unable to escape through the dark, twisted halls of the museum. As Jack draws close, multiple versions of him appear and, as his knife begins to slash, the poet wakes up to realise that it was all a dream.
WHERE THE DEAD GO TO DIE (2012). A computer-animated horror-crime anthology written, directed, composed, edited and animated by James Creamer. The film revolves around a group of kids living on the same block. The kids named Tommy, Sofia, and Ralph are being haunted by a talking, black, red-eyed dog named Labby, who takes them on a hellish ride through dimensions and time periods. 1. Tainted Milk. 2. Liquid Memories. 3. The Mask That The Monsters Wear.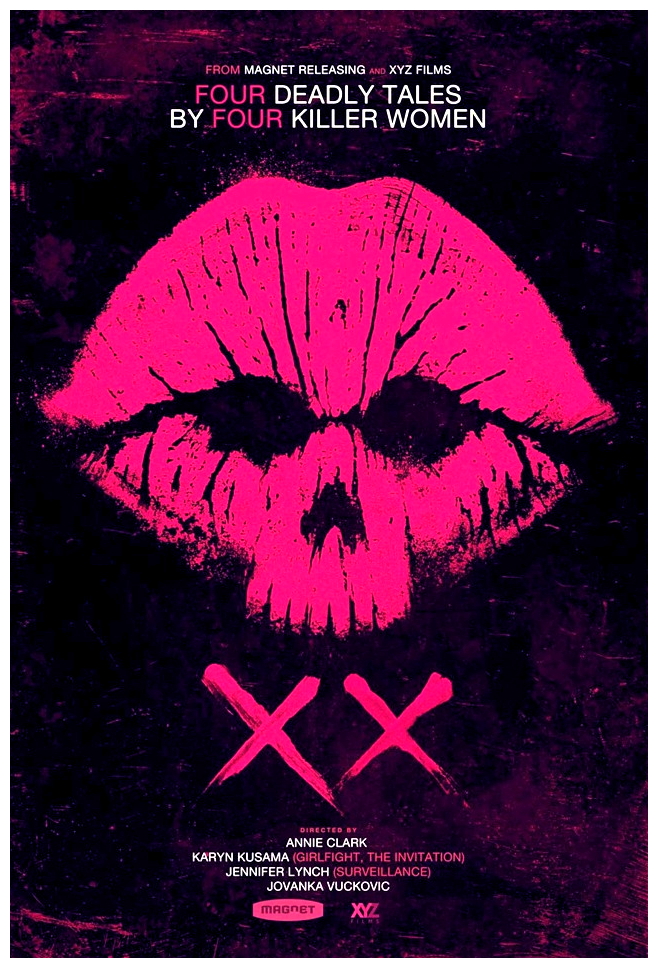 XX (2017). Directed by Jovanka Vuckovic, Annie Clark, Roxanne Benjamin, Sofia Carrillo and Karyn Kusama, starring Natalie Brown, Melanie Lynskey, Breeda Wool and Christina Kirk. 1. The Box: A boy (Peter DaCunha) starts to display strange behaviour after looking inside a mysterious gift box. 2. The Birthday Party: A woman (Lynskey) refuses to let an untimely death ruin her son's bash. 3. Don't Fall: An innocent camping trip turns deadly. 4. Her Only Living Son: A mother (Kirk) must deal with the child from hell.
Anthology Horror Films (L-Z)