SYNOPSIS:
A boy who has a bad Christmas ends up accidentally summoning a Christmas demon to his family home.
REVIEW:
I'm guessing Michael Dougherty has some metaphorical baggage he lugs around in his mind all the time. I'm also guessing that he's had some really rotten holidays, like Halloween and Christmas, because his last film (2007's seminal Trick Or Treat),and his latest film simply titled Krampus thoroughly skewer, slice and dice the heck out of them. What I'm absolutely positive of is that Dougherty has been sorely missed, because Krampus is a great example of a holiday staple that subtly subverts all of the Xmas traditions that you'd find in all of the cheery, happy holiday crap that get released to the Hallmark & Lifetime channels every damned year at this time.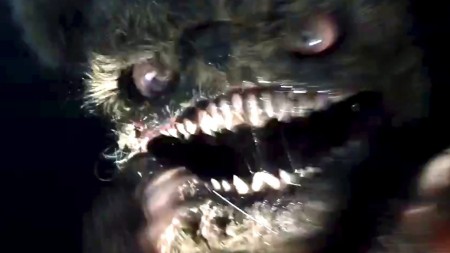 Much more to my liking are films like Krampus, in which a little boy named Max (Emjay Anthony) decides that Christmas isn't really as magical as he'd always thought it to be. He comes to this realization a few days before Christmas, when his Aunt Linda (Allison Tolman) and her family come to visit his gorgeously decorated home for the holiday. The contrast between the two families is immediately evident, with Max's family living a much more fanciful life than Linda's family. Max's dad, Tom (Adam Scott) is a workaholic who's distancing himself from his family because of his job. His mom, Sarah (Toni Collette) is flustered and trying to make everything perfect for the arrival of her extended family, his older sister, Beth (Stefania LaVie Owen) who's far more interested in spending time with her boyfriend than celebrating the holidays with her family, and his loving grandmother Omi (Krista Stadler), the only person who understands him.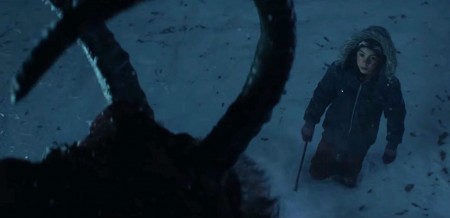 And while Linda herself is a seemingly nice person, her family consists of stereotypes that you'll recognize from any number of holiday films. Her husband, Howard (David Koechner) is a uninhibited loudmouth who carries weapons in the back of his earth shaking Humvee (Max's house literally shakes as the vehicle approaches). Her four children that consist of a boy who barely speaks, but burps with abandon, two tomboy daughters dressed in hockey gear who like to torment Max, and a baby who's so insignificant to the family, that they forget to bring her in from the Humvee when they arrive. Linda also brings along Aunt Dorothy (Conchata Ferrell), who casts a nasty, hypocritical eye on everything she sees. So understandably, Max is upset and begins to question why the holiday is so important to him. And after his cousins snatch a letter to Santa from out of his pocket, and begin to read it aloud to everyone at the table – he decides that the season is false, and tears his letter into shreds before tossing it out the window, into the cold, icy wind.
And that's all that Krampus needs to get to work. Who/what is Krampus you might ask? Well, he's the guy that takes care of all the bad kids during the holiday season, giving Santa some leeway to take care of all of the good ones. But Krampus isn't about giving kids lumps of coal for Christmas, he's more apt to use his large metal hook to grab kids and pull them up the chimney. Or he might just send forth his small army of nightmare inducing toys to take care of all the undeserving little rugrats. Either way, if you're on Krampus' list – you're pretty much toast. And since Max tore up his letter to Santa, essentially denying that big red even exists – Max makes himself and his family prime targets for punishment.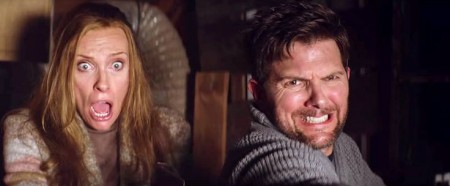 Let me just go right on ahead and say it: Krampus is sensational! Dougherty's script (co-written with Todd Casey and Zach Shields), starts out as another holiday potboiler as it introduces its principal characters, but soon goes into overdrive with the arrival of the title character, and his mean, little assistants that seem to be very, very hungry for the most part. Starting out with a montage of people trying to kill each other as they're Christmas shopping (to the strains of Bing Crosby crooning a holiday tune), Krampus feels like it might be more of a comedic take on the source material. But the script gets dark very quickly, and when the first victim of Krampus bites the dust, the audience realizes that no one in the cast is safe – Krampus plays no favorites. I know I've championed seeing kids get it in horror films in the past (I still do actually), but I was genuinely surprised at who got it first here. The film also wraps itself up with an ending that's the antithesis of what you're used to seeing when you watch holiday films.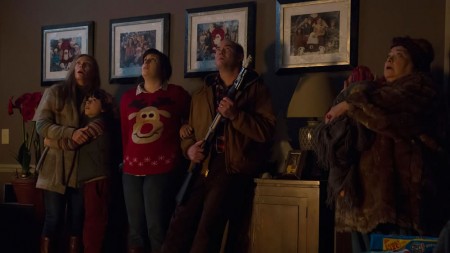 The Krampus itself is a marvelously realized (Thru both practical & digital means) creation, and the team at the WETA workshop are to be lauded for creating a bevy of truly terrifying toys that it employs to get his victims. They include some extremely adorable, but nasty little gingerbread men, and a Jack In The Box that does a whole lot more than just pop out of a box. In one particularly creepy scene, the surviving members of the family make their way up to the attic to investigate some noise, to find Jack, not only not in the box, but ingesting Linda's two tomboyish daughters. The scene is set up and framed like a very similar looking scene from John Carpenter's The Thing (1980), all the way down to the way the enter the attic and the icy breath coming from their mouths. It's a true bit of bravura film making, and I loved it. There's also a wonderfully animated scene in which Omi tells the tale of the Krampus to her family that's surprisingly eerie and morbid.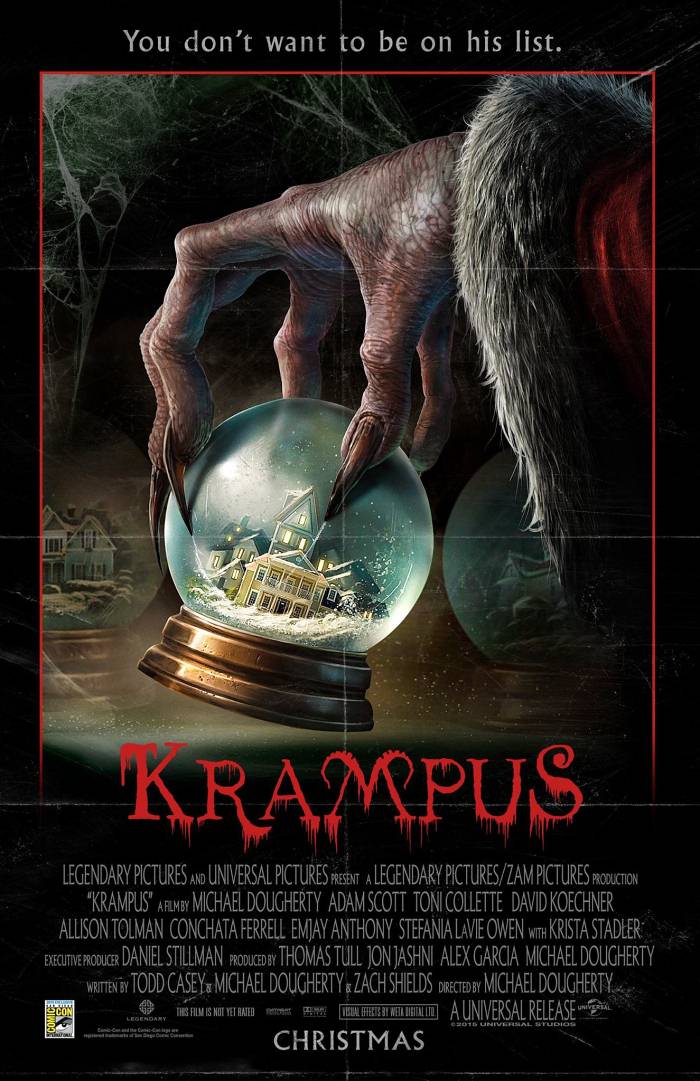 The cast is completely ready, willing and able to do whatever the script calls on them to do, and all of them are exemplary in their roles. But the weight of the film sits squarely on the shoulders of young Emjay Anthony, and he does a great job of expressing emotional and physical pain as Max. Krampus would fail if Max couldn't elicit some genuine feelings of pity from the audience. Luckily, Mr. Anthony can, and does. The film might take a little while to get rolling, but it was wise of Dougherty to allow us to get to know the family a bit before the proverbial shit hits the fan.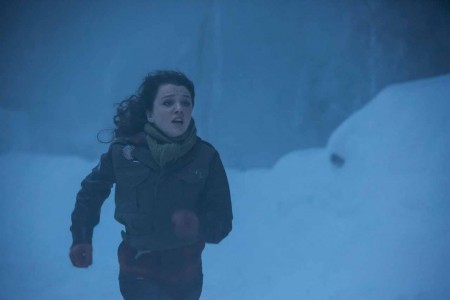 With Krampus being as good as it is (along with Trick Or Treat), it seems to me that Dougherty might have this whole holiday horror thing locked up. I think he ought to stick to this particular sub genre for awhile, maybe take a swing at an Easter horror film, or maybe a Kwanzaa creep fest? There have been a few no to low budget Krampus films released in the past few months, looking to cash in on this one before it was released. One of them was even halfway decent save for the crappiest CGI creature ever put to film called Krampus: The Reckoning. Oftentimes, the big budget feature they're getting the jump on is just as bad as they are, but not this time. Krampus is destined to be a holiday staple for years to come. It's scary, funny, eerie entertainment that just might be one of the best horror films of the year.
Krampus – 4.5 out of 5 shrouds.
Bonus Features
DISC ONE (4K UHD):
NEW The Naughty Cut With Additional Scenes And Adult Language Cut To Get A PG-13 Rating (Transfer Supervised By Director Michael Dougherty)
NEW Dolby Atmos Track
Audio Commentary With Director/Co-Writer Michael Dougherty And Co-Writers Todd Casey And Zach Shields
DISC TWO (BLU-RAY):
NEW The Naughty Cut With Additional Scenes And Adult Language Cut To Get A PG-13 Rating (Transfer Supervised By Director Michael Dougherty)
NEW Dolby Atmos Track
NEW A Dash Of Mischief – An Interview With Director/Co-Writer Michael Dougherty
NEW Storm Of The Centuries – An Interview With Producer Todd Casey
NEW The Great Protector – An Interview With Actor David Koechner
NEW Something Bad Happened On Christmas – An Interview With Actress Allison Tolman
NEW Max's Journey – An Interview With Actor Emjay Anthony
NEW Lord Of The Things – An Interview With WETA's Richard Taylor
NEW Mapping Mythology – An Interview With Storyboard Artist Simeon Wilkins
NEW I, Krampus – An Interview With Performer Luke Hawker
NEW A Winter Chorus – An Interview With Composer Douglas Pipes
Audio Commentary With Director/Co-Writer Michael Dougherty And Co-Writers Todd Casey And Zach Shields
Krampus Comes Alive! – A Five-Part Featurette On The Making Of The Film
Behind-The-Scenes At WETA Workshop: Krampus
Deleted/Extended Scenes, Not Seen In The Theatrical Cut
Gag Reel
Alternate Ending
Theatrical Trailers
Photo Galleries – Creature Art, Storyboards, And More
A special cut of Krampus (The Naught Cut) is now available on 4k per Shout Factory