With the release of Star Wars: The Force Awakens, fans from the U.S. and around the world are celebrating the triumphant return of the original cast. Let's take a look back at their roles in horror films through the years.
First up is Harrison Ford. The biggest star from the first three Star Wars films has gone on to great success in the Raiders of the Lost Ark franchise, Blade Runner, and Patriot Games to name a few.  But before Harrison Ford became a household name as Han Solo in "Star Wars", he had a role in the horror film, "The Possessed" released in May of 1977, just three weeks prior.
Harrison Ford and Joan Hackett in "The Possessed" (1977)
"The Possessed" is a made for TV movie that takes place at an all-girls school in Salem…Oregon that is. Ford has a small role as biology teacher, Paul Winjam. Although Harrison Ford does not star in the film he gives a solid performance and has a good supporting cast. The film stars James Farentino (Dead and Buried) and Oscar nominee Joan Hackett (Only When I Laugh). Farentino plays a defrocked minister-turned-exorcist who is investigating a series of bizarre and unexplained fires at the school. I'm not sure what possessed me to buy this on DVD, but there are some saving graces. An eerie score from two-time Oscar winner, Leonard Rosenman and appearances from P.J. Soles (Halloween/Carrie) and Diana Scarwid (Mommie Dearest/What Lies Beneath) along with a creepy atmosphere make this film worth watching for any avid horror fan.
Mark Hamill has had a long prolific career in Hollywood since his star-making role as Luke Skywalker. His success has mainly come from his award-winning voice-over work for cartoons and video games. He has been the voice of the The Joker, Hobgoblin, and countless more.  Mark has appeared in a handful of horror films over the years.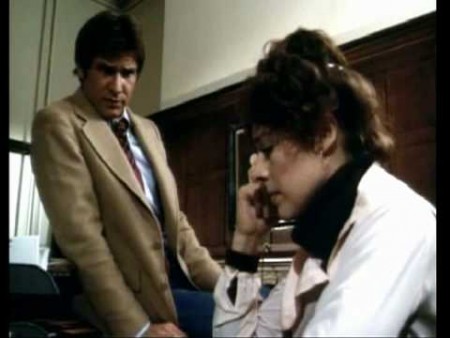 Mark appeared in the Stephen King scripted 1992's "Sleep Walker". It is Stephen King's first script written for the big screen and not based on any previously released novel or short story. It is more of a cameo than an appearance. The movie has many famous cameos and is one of the first films to feature CGI morphing. Not Stephen King's best work…although fans of Ferris Bueller's Day Off may get a kick out of seeing his "parents" and real life couple (Cindy Pickett and Lyman Ward) in another movie together.
For those craving more than a cameo there is 1991's hammy performance in "Black Magic Woman" featuring Apollonia Kotero (Purple Rain). And for something more substantial, there's 1993's "Body Bags" featuring Mark in an portmanteau film. The film has three segments, each with a different director.
Mark appears in the segment "Eye" directed by Tobe Hooper (The Texas Chainsaw Massacre, Salem's lot, The Funhouse, and Poltergeist) Body Bags originally aired on Showtime and was supposed to be a Tales From The Crypt style show with John Carpenter as host and director of one of the segments. Mark plays an up and coming baseball player who loses an eye and has an experimental surgery to replace his with the eye of a killer. For those seeking grisly and ghastly, you won't be disappointed. Mark is truly chilling in this role and uses his voice over talent to disappear into the role.
Lastly there is the 1995 film, "Village of the Damned" directed by John Carpenter. This is a remake of the 1960 classic film. Mark plays Reverend George in this tale of a small town who's women give birth to hostile alien children posing as humans. The movie stars Kirstie Alley, Christopher Reeves, and Linda Kozlowski. The movie is filled with enough violence and gore to satisfy most horror fans although Carpenter relies more on creating suspense and chills with his talent for cinematography. The movie was filmed in some of the same locales as "The Fog". The children are super creepy and Mark is great as the seedy-looking minister who's warnings fall on deaf ears.
VILLAGE OF THE DAMNED (1995)

Carrie Fisher has a few horror credits to her name, with "Frankenstein" (1984) being the most notable. This hard to find TV movie (unless you are a VHS user) is based on the 1981 stage play by Tony winner, Tom Moore. The play closed after one performance. Not exactly the best source for a movie, but with a universally known story, not much backstory or character development is needed.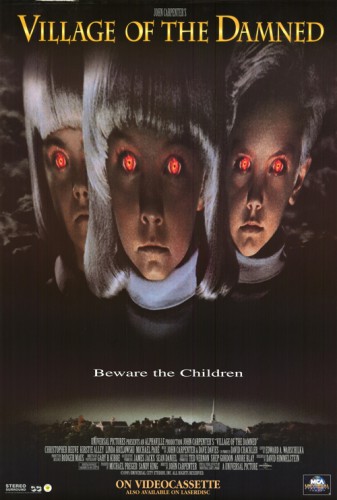 Surrounded by a stellar cast this British production is fast paced and clocks in at 81 minutes. The cast includes Robert Powell as Dr. Victor Frankenstein, David Warner as the creature, Sir John Gielgud as the blind man, and Carrie Fisher as Victor's fiancée. With the pedigree of British talent surrounding her, Carrie is convincing and charming during her series of brief scenes throughout the movie.
Coming off "Return of the Jedi", Fisher shows her range in a serious role and helps bring this TV version of Mary Shelley's story to life. The real star of the movie is of course the creature. David Warner plays a sympathetic monster who sees Victor as God and not just a creator. This version strays from Shelly's original ending, but has enough of it's own charm to raise this TV movie from the dead.
FRANKENSTEIN (1984)
Carrie Fisher lends her talents to the 1989 comedy/horror, "The 'Burbs". Directed by Joe Dante (The Howling, Twilight Zone: The Movie, and Gremlins) Fisher plays Carol Peterson, the snarky wife of Tom Hanks (Ray Peterson). The film takes place entirely in the cul-de-sac of their suburban neighborhood. Carol is less than pleased to be spending her vacation at home instead of at the nearby lake.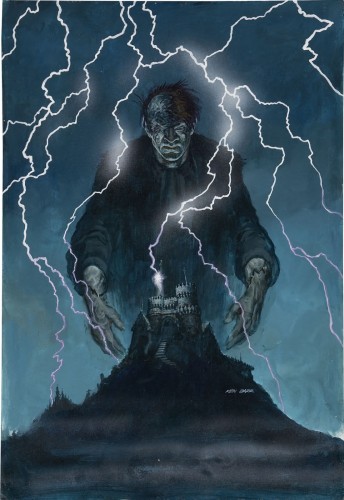 Summer laziness falls away as Rick and his neighbors, Art Weingartner (Rick Ducommun) and Lt. Mark Rumsfield (Bruce Dern) become increasingly wary of their new neighbors, the Klopeks. Are the Klopeks Satan worshippers, murderers, or just plain weird? Ray, Art, and Mark's curiosity is piqued and Carol is unconvinced and tries to remain the voice of reason. Carrie and Hanks have good on-screen chemistry, but it's the late, great Rick Ducommun who steals just about every scene he is in. Although Rick never became a household name, he is hilarious as the chubby and childish neighbor, Art.
Fast forward to 2009's "Sorority Row". This remake of the 1983 film, "The House on Sorority Row" tells the story of a group of sorority girls whos prank on a cheating boyfriend goes horrible wrong and sets off a series of murders. This MTV style slasher is a bit clichéd, but not as bad as it could have been. Carrie plays the tough housemother, Mrs. Crenshaw. With limited screentime, her most memorable scene involves her shotgun-wielding character taking on the hooded killer. There are enough twists and turns to keep the viewer guessing who is behind the grisly murders.
For further horror viewing from your favorite Wookiee and Droids, here are a few more titles to consider: Peter Mayhew (Chewbacca) as the mechanic in "Terror" (1978) and as Uncle Clyde in "Killer Ink" (2014). Kenny Baker (R2-D2) in "Circus of Horrors" (1960).  And Anthony Daniels can be seen as the priest in the horror/comedy, "I bought a Vampire Motorcycle" (1990).