SYNOPSIS:
"Urged by famous airman Ellissen the Lennartz Company puts into reality the project proposed by his friend Droste: F.P.1 is a huge floating platform in the Atlantic that makes long-distance flights viable. Ellissen is in love with company heiress Claire, but when he returns from his adventures to save the endangered F.P.1 he finds out that he has lost her to Droste." (courtesy IMDB)
REVIEW:
In the early thirties American cinema seemed dominated by angry physicians like Doctor Frankenstein, Doctor X and Doctor Fu Manchu. Meanwhile, in Germany, the science fiction film had not yet fallen victim of Mad Scientist syndrome, and 1932 saw the release of two totally different genre-related productions. One was Atlantide (1932) directed by G.W. Pabst and based on the popular 1919 novel by Pierre Benoit about Antinea, the mysterious Queen of Atlantis. F.P.1 Antwortet Nicht (1932) also known as F.P.1 Doesn't Answer, directed by Karl Hartl, was Germany's other contribution to the genre that year. Based on a novel by Kurt Siodmak – who eventually moved to Hollywood, changed his first name to Curt and wrote The Wolf Man (1940), Donovan's Brain (1953), The Invisible Man (1933) franchise and much more – who wrote the screenplay with Walter Reisch, it has been described as in the tradition of Metropolis (1926) and Die Frau In Mond (1929), but Hartl was no Fritz Lang.
F.P.1 Doesn't Answer is a rather slow-moving and weakly-plotted film ostensibly about the construction of a giant floating runway to be moored in the middle of the Atlantic Ocean, but it is actually more concerned with a tedious love triangle. The central character is an egotistical aviator named Ellissen (played by Hans Albers acting like he's just walked in from an opera) who helps his best friend Droste (Paul Hartmann), a designer, convince a shipyard to build Floating Platform #1. The sister of the three shipyard owners, Claire (Sybille Schmitz) falls in love with Ellissen but he leaves her to fly non-stop around the world from Berlin to Berlin. Unfortunately, he is not seen again until two-and-a-half years later, when we find out he crashed his plane in the Australian outback and was too embarrassed to emerge from the bush. I'm not making this up.
By the time he returns, F.P.1 is completed and in position in the Atlantic and Claire has switched her affections to Droste, who is now in charge of the platform, which has become a city on the ocean, with runways, hangars, hotels, and shopping centres. At one point the crew of F.P.1 become victims of a saboteur, who has gassed them all to sleep. Before the chief engineer (Herrmann Speelmans) flees he opens the valves, causing the platform to slowly sink. Claire finds the badly injured Droste and takes care of him, and Ellissen comes to the realisation that Claire is slipping away from him. After a short while, he pulls himself together and takes a plane out to get help. He sees a ship, jumps from his plane, is taken aboard the ship, and calls for help via radio so a fleet of ships and planes can be sent to rescue F.P.1. All ends happily: Droste gets the girl, while Ellissen joins an expedition to capture a giant South America condor.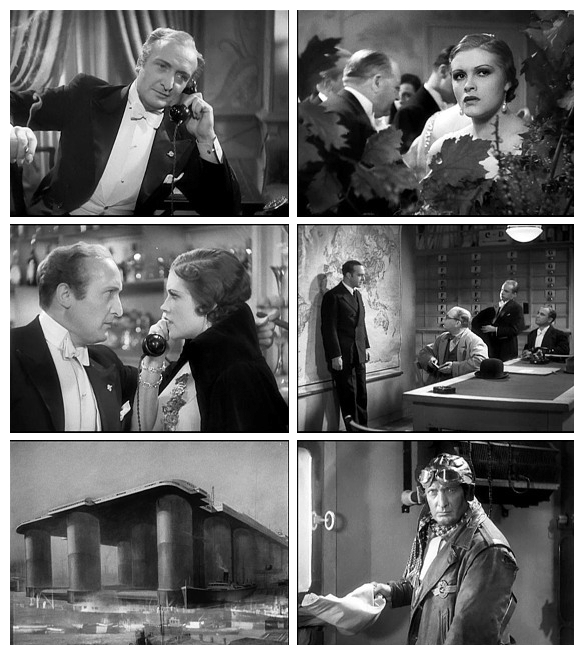 Rather on the level of a mediocre pulp novel, it has nothing of the slickness, vitality or humour of similar Hollywood products of the period. Even the model work, which is somewhat sparse, isn't terribly convincing. The only real source of entertainment is the overacting of Hans Albers and the languid posing of the statuesque Sybille Schmitz. A young Peter Lorre also appears in the film, but he doesn't have much to do except stand around and look mournful, and for good reason. It was the final film that either Lorre or Kurt Siodmak would make in Germany before the outbreak of war.
There were actually three versions of F.P.1 Doesn't Answer produced in three different languages performed by three different casts: German, French and English. Peter Lorre appears in the German version, of course, but I'm unsure of the existence of the other versions. If they do exist they're not in wide distribution. Filming multiple versions in different languages was common in the early sound film period, in fact some say the Spanish version of Dracula (1931) is far superior to the Bela Lugosi version, but that's another story for another time. Right now I'll ask you to please join me next week when I have the opportunity to sterilise you with fear during more terror-filled excursions to the dark side of the Land Of Chocolate for…Horror News! Toodles!
F.P.1 Doesn't Answer (1932)