TWO HIGH SCHOOL PALS FOLLOW THEIR HEAVY METAL DREAMS, BUT SOON FIND THEMSELVES THRASHING THROUGH A WORLD OF HORROR
DEATHGASM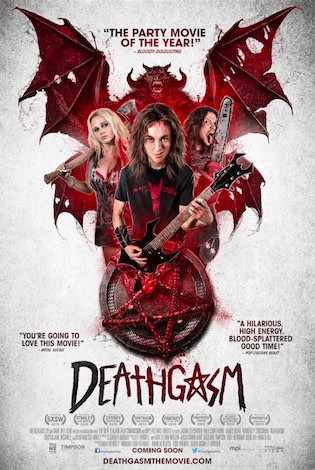 Comes to Digital Download and Blu-ray & DVD on January 5, 2016
Dark Sky Films announces the digital, DVD & Blu-ray release of the festival and theatrical hit, DEATHGASM. The crowd-pleasing heavy metal horror comedy comes to Digital Download, Blu-ray and DVD on January 5, 2016.
High school is truly hell in DEATHGASM. Metal-thrashing Brodie (Milo Cawthorne, Blood Punch) is an outcast in a sea of jocks and cheerleaders in a suburban wasteland until he meets a kindred spirit in fellow metalhead Zakk (James Blake). After starting their own band, Brodie and Zakk's come upon a mysterious piece of sheet music said to grant ultimate power to whoever plays it. But the music also summons an ancient evil entity known as Aeloth The Blind One, which threatens to tear apart existence itself.
The boys' classmates and family become inhabited by demonic forces, tearing out their own eyes and turning into psychotic murderers … and that's only the beginning! It's up to Brodie, Zakk and their group of friends to stop a force of pure evil from devouring all of mankind.
Blood-soaked and outrageously hilarious, DEATHGASM features an amazing original soundtrack of fist-pumping metal from such bands as Axeslasher, Beast Wars, Bulletbelt, Skull Fist, Nunslaughter and The Wretched End. Combine that with amazing makeup effects by Main Reactor (the Evil Dead remake, TV's Spartacus), and it's an extravaganza that makes both metalheads and splatter fans drool. DEATHGASM will gush bodily fluids, rain limbs and tickle your funny bone, before tearing it out and giving you a stiff beating with it.
Pop Culture Beast's Adam Ruhl called visual effects master Jason Lei Howden's debut film a "hilarious, high-energy, blood-spattered good time." "Get ready to have your eyeballs stabbed out by cinematic greatness," raved Emperor Rhombus of Metal Sucks. Gareth Jones of Dread Central said, "From the opening to closing credits, DEATHGASM is a film that never, ever, ceases to entertain." Popshifter's Brad Henderson said the film "succeeds with such finesse and heart that it will make you melt in your seat … Horror fans are going to go nuts for this one."