WHO: Fred Vogel
MOVIE: Maskhead, August Underground
ToeTag Picture's, man behind the madness, Fred Vogel sheds light on their sick past and the upcoming Maskhead film
Back in 2003 I started to hear rumblings from the underground about a horror movie that was so vile and had caused such an uproar, it was an immediate must see film, at least for me. Rumors of a blank tape containing snuff footage being left on subways was guerrilla marketing at it's finest and horror fans were rabid for it. A film titled "August Underground" had made its mark on Independent horror. The group behind the sheer madness was ToeTag Pictures.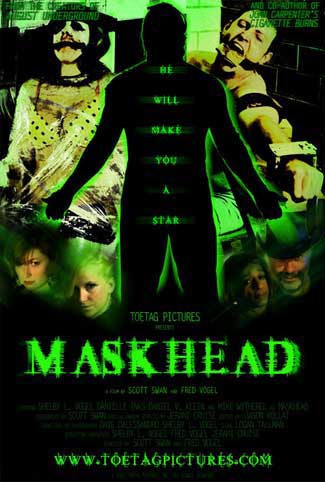 Since 2001, ToeTag Pictures has made a serious name for itself within the horror realm, both for bringing forth real brutality to cinema and creating a sickening realism in special effects. The August Underground trilogy (AU, Mordum and Penance) had touched a nerve amongst the real horror fans that had been only satisfied previously by films from Italy and Japan. Based out of Pittsburgh, ToeTag Pictures was created by Fred and Shelby Vogel, Jerami Cruise and Cristie Whiles, a young group of four friends who had figured out the formula to true terror. I was lucky enough to gain their friendship and have been a loyal believer in the ToeTag name since 2003, enjoying the "August Underground" series, having a great honor to pre screen "The Redsin Tower" and witness the last masterpiece they created, "The Murder Collection, Volume 1", I was extremely pleased to hear of the newest creation from Toe Tag Pictures "Maskhead". I had a chance to talk to Fred Vogel, original founder, about ToeTag Pictures and his latest feature "Maskhead". This will be a great way for some to be introduced to the ToeTag crew.
MASKHEAD tells the depraved tale of Syl and Maddie, a lesbian couple who produce extreme fetish and dark specialty movies. With the help of their sociopathic associate, The Cowboy, the ladies audition numerous up-and-coming talent to star in their top selling, stomach-turning fetish series: "MASKHEAD," which features a large man in a bizarre mask who tortures and kills his "co-stars" on camera.
Everyone has a fetish. What's yours? What turns you on?
Now, before I go any further…Toe Tag is serious horror. Some will be ready for these films, while others will not. Fred Vogel knows that he will offend many with his projects, but the fans that "get it", come screaming back for more.
Rob – Hey Fred, thank you for taking the time to give me your thoughts on how things are going, your past and present and MASKHEAD. I have been with you guys, as a fan, for several years now. I couldn't be happier of the success you guys continue to have. I appreciate your time.
Fred- It is always an honor to take a little break from the action to speak to the fans.
Rob – First, how would you describe what ToeTag is about? Who is ready to see what you guys offer and maybe what people can expect when watching any of your films?
Fred – Toetag is about Spreading the Sickness of course. We specialize in making shocking movies with a message. A great example is the idea behind Murder Collection v.1. Before we were off to last year's Wasteland convention, I was sent a link to a video that showed a real snuff video. A man was dragged to traintracks, tortured, and murdered before my eyes. Sure it was on my computer screen, but that opened my mind even more to how sick this world is. It is disturbing that viewing a real life brutal murder is at the click of a mouse. I hate that it is available to the public. People shouldn't see that sh*t, not even me. That really got my teeth grinding and inspired what was to become Murder Collection v.1. Between the clips of murders caught on recordings, the host, Balan, taunts the viewer and makes he or she think about why he or she is watching this. It's MURDER! It hit me hard when we were at the BUT Film Festival this year in Europe. People really got where I was going with the movie, which filled me with pride. I think it is an important movie. In the end, it is an anti-violence movie. None of my movies are intended to glorify taking lives. These are evil characters doing horrible things. There is a message behind all of my films that runs deeper than simply skimming the surface of the story. Whether you loved or hated a ToeTag Picture's movie, my goal is to make you think about it over the days to come and leave an everlasting impression.
Rob – What inspired you to make August underground? What was the original purpose of releasing only 200 copies of August Underground? Did you see immediate feedback from the horror community? What was some of the challenges that Toe Tag faced breaking into underground horror?
Fred – Making the sickest, difficult to watch, yet greatest horror movie ever seen was my intention of making August Underground. Every movie I've ever loved inspired it. I love a lot of movies. I just wanted to make a movie unlike anything any brain has absorbed. Originally, I had plans to drop them off unmarked, then the tragedy of 9-11 occurred and I couldn't do that anymore, so I released the 200 copies. As a collector, I learned from that. I want to create collectibles for my fans. Amongst a plethora of film collectables, I own a signed photograph of Boris Karloff and that piece of memorabilia is priceless to me. Karloff is my idol. Now, when I do limited releases, it is for my fans. These are intended to be priceless in the eyes of the owner.
I was nearly black barred when the horror community got their first glimpse of August Underground. Then I noticed many of the things I did in my movies were showing up in mainstream horror. That is a great honor. Now people seem to understand my artistic vision, and my fans love my sick movies.
There are many challenges I faced breaking into the Underground. My movies have been banned in numerous countries, I've been detained at the Canadian border, and getting the gears in place to run a successful company is a constant work in progress. The challenges are countless.
Rob – August Underground Mordum, the second film in the series, has been labeled as one of the sickest films of all time. Does this put added pressure on you to deliver when making new features?
Fred – Not at all. I'll aways admire that movie. People love it. People despise it. I'm still a young guy, so maybe the sickest is yet to come.
Rob – After the August Underground series, you changed your film "shooting style" for The Redsin Tower. I felt this film was received well by all who had seen it. Were you happy with the finished product? Was Redsin Tower a break through film for you guys?
Fred – My movies will always play with different shooting styles. I was very happy with Redsin, I think more of the mainstream took notice of the film, but that doesn't mean sh*t to me. I've had adequate success with Redsin Tower and all of my movies. I always strive to gain more fans.
Rob – I noticed your last two films, Murder Collection and now MASKHEAD have been kept very quiet until they are in post production. Any method or reasoning behind that?
Fred –The main reason I keep my movies under wraps until post-production is because I am a constant thinker. There have been times where I changed the idea for a project we were almost going with at the last minute. It would be embarrassing to promote a movie that does not get made. Sometimes unforeseen circumstances occur and things just need to be put on hold. There are a lot of big ideas out there, but not all of them see the light of day.
I also enjoy adding a little mystery for the fans. It makes me laugh when people see a new trailer and make comments about how ToeTag is going to come with a knockoff August Underground. People are going to be surprised every time I release a new movie. My movies are original ideas and are not predictable. 
Thirdly, I work hard to get my movies made in the most efficient amount of time. I don't piss around. Usually, the idea comes, we do the pre-production in a timely manner, and the movie is shot, edited, pressed and released to the public. Everything is done carefully and well planned out with limited takes. It is a quick process. The public only has to wait about two months from when the idea was thought of until it's on their screens. 
Rob – What can you tell us about Maskhead?
Fred – That was a fun film to make. I loved the entire experience and have gained good friends from the cast and crew I worked with. They are talented people and each one of them made this a great movie. The fans will see this in the special features on the DVD. This movie has a lot of passionate blood and sweat behind it.
Rob – What made you choose Scott Swan or did he choose you?
Fred – Swan first contacted me and we had extensive in-depth conversations for a while. The collaboration was a natural decision by two talented artists. It is a no-lose situation. He is a very creative writer and storyteller. We are fans of each other's work.
Rob – What can horror fans expect from MASKHEAD? Plus, will the ToeTag gore level remain high in this one?
Fred – MASKHEAD is something different from TOETAG, and you bet the gore level is high. Jerami Cruise had some brilliant Special Make-up Effects ideas, and he did some of his best work in this movie. I couldn't be more pleased. One thing fans may not expect is the humor in this story and how it is delivered uniquely. The tone is very unusual. The audiences have been fighting laughing at it because it just feels wrong.
Rob – Finally Fred, with Hollywood remaking everything they can, what do you think about the current state of horror in the US and how much better or worse is the Foreign films?
Fred – I think Hollywood is out of ideas and that's why they are remaking everything. They don't want to take risks and seek artists that are full innovative ideas. Innovative ideas fall into the garbage dump, because the polls and statistics are all Hollywood trusts when making a decision about what's next. Plus, there are so many movies that come out every week and most of the good ones don't get promoted or seen, so we end up going out and watching what the media commands, like the crapfest Halloween 2 or The Final Desination in REAL-D. It's all about the money. Every time another classic gets made, I ache a little more. 
Rob – Thank you Fred, Scott Swan and thanks to the entire ToeTag crew, I will continue to "spread the sickness" and for more information about ToeTag Pictures visit www.toetagpictures.com/.
Maskhead is officially released on October 2nd. These guys are the innovators of what true terror really is.
Interview: Fred Vogel – Director (ToeTag Pictures) (Maskhead, August Underground, Sella Turcica)