How did you get involved in the horror industry?
I have always had a love for the horror genre. The suspension of disbelief when you step into a movie theater and immerse yourself in the horror these actors bring to life is a phenomenal feeling. One day I saw a casting call on Facebook for the movie "Night Claws." I submitted my headshot and resume and it was later announced that I was to play the role of Sherry. Once on set I befriended everyone I could. I networked and made friendships that will last a lifetime. Because I did so well I was referred to Terron R. Parsons who directed "Hayride." After submitting my headshot and resume I was hired. The connection train really took off from there.
Have you been classified as a Scream Queen? And what do you think of that title?
My friends always jokingly called me a Scream Queen because I did continue to book horror films. The first time the name sunk in was at my audition for the film "Cobragator." Jim Wynorski told me I was a true Scream Queen after I mustered up a hellacious scream. That is one thing I always get compliments on is my scream. I take great pride in how loud and realistic it is. Jim actually hired me on the spot. The term really doesn't bother me. With my love for the horror genre I always feel giddy when people refer to me as a Scream Queen. I know I am capable of playing almost any part thrown my way, but I will always have a love for horror.
Which would you prefer: Girl who lives in the end, Victim Girl, or Killer? And why?
It's always nice to survive a horror movie just because I'm blonde. Stereotypically, I am one of the first to get the axe. However, I personally feel that playing the victim tends to be more of a challenge; and I LOVE a good challenge. Portraying the emotions of someone who has been tormented and is about to die is one of the strangest feelings to experience. When playing these roles you are the character. You yourself has been tormented, and you are about to die. Really grasping a hold of those feelings and being believable to the audience is such an important part of the film. As an actress playing the victim, I want and need the audience to feel my pain. I love telling the victims story. With that being said I have never had the opportunity to play the killer. I would imagine it would take some work and seriously twisted thoughts to get fully into character. One day I hope to have the opportunity.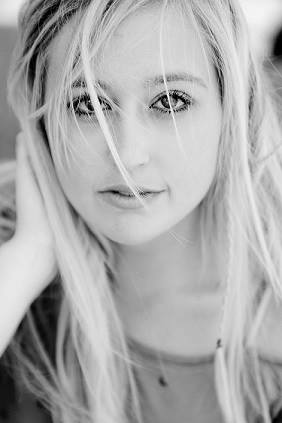 Who is a big horror influence for you?
I have so many I could probably write a novel for you. As far as directors of horror films, Alfred Hitchcock will always have my heart. His films rooted me with my initial love for horror and suspense. I have to say Wes Craven truly inspires my wild imagination with the "Nightmare on Elm Street" movies. It's a plus that I had the honor to work with Amanda Wyss (who played Tina Gray in the movie) on the film "Assassins Fury." James Wan is another director who captivates my attention with the "Saw" series and "Insidious." My biggest influence as an actress is Danielle Harris who played in "Halloween 4 & 5." She was also cast in the remake of the film. Her likability and how believable she was throughout the films from a young age all the way until she was older is just phenomenal. I admire her strong talent.
What projects do you have coming up?
"Cobragator" (I play the role of Josie) will be released next year on the Sci-Fi channel which is exciting. "Assassin's Fury" will also be released next year where I play the role of Katrina. As far as new movie roles are concerned, I booked the role of Autumn in the upcoming film "Echo Lake Massacre." I am very excited to be working with new individuals who share a similar dream as mine.
How can people contact you if they'd like to work with you?
You can contact me via Facebook (Kara Riann Brown) or through IMDB which has my contact information including the information for my agent (if you are in the state of Alabama).
Biography:
Kara Riann Brown was born in Pensacola, FL on February 21, 1991. She had always wanted to be a comedian and had a drive for entertaining anyone who would watch. At the age of 9 she started filming her own home made movies on a camera her grandfather had passed along to her. From that moment on she knew she wanted to be an actress/ filmmaker. At the age of 18 she got her first taste of set life as an extra in the movie "Straw Dogs." After that experience she landed a featured extra role as Sherry in the movie "Night Claws." With knowledge she gained from working on set, the actress promptly made the decision to explore Los Angeles, CA where Abraxas Talent represented her. Although the actress quickly learned how difficult it is to survive Hollywood, she never gave up on her dream. Once she moved back home she attended college at Pensacola State College and finished her double major at the University of West Florida. While excelling through her college courses, she booked her first major role as Beautiful in the horror film "Hayride." Her career began to blossom with the actress appearing in films such as "Rage," "Assassin's Fury," and "Cobragator," Kara plans to get her master's degree and has no intentions of backing down on her acting career anytime soon.
Biography courtesy of Kara Riann Brown