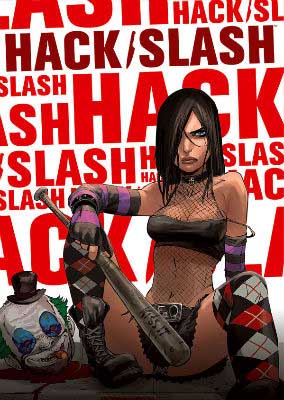 Something there doesn't seem to have been much progress with of late has been the movie adaptation of the Hack/Slash comic book series. Word that the film was going into development came way back in 2006 at SDCC from series creator Tim Seeley. The flick was supposed to be arriving in 2008, and yet there was no more real news until Variety announced in July 2009 that Fredrik Bond would be taking over the director's chair for the project. Megan Fox was rumoured to be up for the part of Cassie, and then…nothing.
What happened? Hack/Slash is a superb concept, and pretty much perfect for the current horror movie climate.
With Freddy and Jason once again back in the moviegoing public's consciousness, and the self-referential aspect of the genre on the rise again thanks to the new Scream movie on the way, it seems to be a great time for it. There's also the the current appreciation of more classic titles to consider. It just seems like a great time for this project to go ahead.
Why? Think about the concept. The character of Cassie is intended to personify the girl who survives all of the horror films. She's a badass who goes around the country wiping out nasties reminiscent of classic horror icons. She does this in the company of her brutish companion Vlad, who is initially mistaken for a slasher.
The comic is published by Devil's Due, and while it's far from being high art, it is a huge amount of fun. It's gory, funny, fast paced and very much entrenched in the genre that it equally adores and pastiches.
There have already been a couple of awesome crossover stories featuring the Hack/Slash gang, comics that have seen the demented duo go up against Chucky and Re-Animator. These give the reader some tantalising glimpses of what the franchise could do on the big screen. Hell, I would say there's even the possibility of a TV franchise here, as the title would lend itself really well to an episodic format. Something's gotta happen with it sooner or later, so come on guys, how about sooner?