Professional Wrestling Legend, Ox Baker, makes his triumphant return to the motion picture industry in the horror genre film titled, "Pinwheel". Ox conquered the move role and made it his own, much like he dominated the squared circle in his wrestling career. Pinwheel is currently being filmed at a top secret location in Connecticut, and it's carnival collection of bizarre characters led by the The Mighty Ox is sure to make "American Horror Story: Freakshow" look like Sesame Street.
Douglas "Ox" Baker, born April 19, 1934, is no stranger to the strange. His unique look and signature mustache ( often imitated but never duplicated ) made him bigger than life, and a cult figure much like the late great Andre The Giant. His stardom transcended from the wrestling ring to the movie screen, and made him one of the most recognizable superstars in the world before the big wrestling boom of the 1980's. Ox didn't need a multi-million dollar corporation to make him famous, his fame was self-made and is everlasting. Ox Baker is still as menacing today as he's ever been.
In possibly one the most well-known fights in cinematic history, Ox Baker battled against Snake Plissken (Kurt Russell) in John Carpenter's "Escape From New York". That apocalyptic throw down stands the test of time! It's rumored that during rehearsal, Ox Baker was so brutal that Kurt Russell's stunt double ended up all black and blue, like he was involved in a real street fight. This only attests to Ox's wrestling catch praise, "I like to hurt people".
That said, It's one of the most entertaining documentaries about pro wrestling that I've ever seen, and it's called "I Like To Hurt People". This Documentary on pro wrestling focuses on the rampage of The Original Sheik in the Detroit territory, with wrestlers like "The American Dream" Dusty Rhodes trying to "Stop The Sheik!". Ox Baker also gets involved in the action to battle against the dreaded Sheik, and it gets ugly. This documentary is a must see for any serious hardcore wrestling aficionado. "Blood Circus" is another appropriately titled film that features Ox Baker. It's a little harder to find, but it's worth the search.
One fact about the Ox, the only thing scarier than his movie characters, is his pro wrestling persona. He is one of the most notorious men to have ever step foot inside the ring, and rightfully so. He has laid waste to some of the best in the business, including Hulk Hogan, Randy Savage, Jimmy Snuka, Dusty Rhodes, and Austin Idol. I recently spoke with Austin Idol about Ox Baker and asked him if he had any interesting memories? Idol recalled, "Ox Baker did the greatest recital from memory of "Casey at the bat!" Who Knew? When he recited that poem, looking the way he does, with that loud outrageous voice it was spellbinding!" Ha! Ha! It's great to hear those little things that no one else might know, or remember.
The Infamous Heart Punch has put down many a wrestler, and some have been rumored to even die from the devastating finishing move. While there are still mysterious circumstances surrounding their deaths, both Alberto Torres and Ray Gunkel died shortly after wrestling Ox Baker and being struck down by The Hurt Punch! Of course, it's just a urban legend that Ox Baker had anything to do with either death, as there were real underlined reasons for both fatalities, but it's certainly more sexy in a sinister way to think that a wrestling strike known as "The Heart Punch" can kill a man dead in his boots.
I personally had the opportunity to meet Ox Baker at a convention a number of years ago. I remember he was selling his cookbook and talking about recipes, but something cool happened when Terry Funk walked into the building, it sparked a verbal exchange between the two, echoing back and forth across the gymnasium that transported me back in time to those wonderful territory days when both men were at the top of their game. It was an excellent day and it was topped off with a personal conversation with Ox Baker, who was digging my gold shirt and wanting to know where I got it.
In a chance meeting two years ago at a signing event, Ox Baker connected with Movie Producer, David Gere, and they struck up a friendship that would re-launch Ox Baker into the film industry.
Producer David Gere comments, "When I was a kid growing up watching pro wrestling, Ox was known the world over as one of the most notorious villains of all-time. I met him by chance and immediately saw the value and scope of putting him in current projects. It had been several decades since he last appeared in a film, I am honored and excited that I am the producer who brought him back to the forefront. Despite his imposing presence, Ox has a warm soul. I've greatly enjoyed my time with him both on and off set, His stories are legendary, wrestling the likes of Andre the Giant and Hulk Hogan – around the world and back…From the ring to Hollywood, Ox Baker Is a true legend and cult figure for all time."
David immediately cast Ox Baker in the horror anthology, "Chilling Visions: The Five Sense of Fear", for the Chiller television network. Ox played a menacing Butcher in the "Sight" episode directed by Miko Hughes of Pet Cemetery fame.
It was mutually beneficial for both men, because producer David Gere was about to enter into the world of professional wrestling as manager, DG Haven. While David resurrected Ox Baker's acting career, it was Ox Baker who mentored David and helped him mold the DG Haven character. DG Haven is now a force on the independent wrestling scene, with notable thanks to the teaching of Ox Baker.
Last year, In the science-fiction thriller "Sensory Perception",  Ox played an important role in the futuristic scenes as an imposing Senator opposite John Savage (The Deer Hunter). This film was also produced by David Gere.
Now, in their third project together, Ox Baker joins producer David Gere once again for the movie, "Pinwheel", this time with Daniel C. Dahlstrom making his directorial debut. "Pinwheel" was written by Dahlstrom and his partner Darren O'Brien.
Early on in the casting phase, both Gere and Dahlstrom agreed Ox would play a significant role in "Pinwheel", however recent health issues had taken its toll on The Mighty Ox Baker and his participation became unlikely. The film was midway through production, when David Gere went to visit Ox on his small farm property in Danielson Connecticut. The two talked and Ox became reinvigorated with the idea of appearing in the film. A single day role was worked out in advance, and the cast, crew and Ox's caretakers all worked together to prepare him for the scene and get him on set.
Before filming started, former World Wrestling Federation Champion, Bob Backlund, made to special trip to the movie set and had a private conversation with Ox Baker.
It was reported that Ox delivered his dialogue perfectly and with a quiet power that had the crew and onlookers applauding when director Dahlstrom announced "and that is a wrap on the fabulous Ox Baker."   Producer David Gere was touched emotionally and fought back tears as he watched his hero perform for one last time.
This was filmed at Wild Bill's Fun House in Middletown, Connecticut. It's a throwback, authentic fun house with some very unique details which were all very fitting for Ox's role as an eerie but thought provoking carney in a flashback sequence with actress Julie Dawson (Army of the Damned).
Julie Dawson comments, "It was a great honor to share a scene with Ox in Pinwheel. I feel fortunate to have worked with such a legendary figure."
In one of the greatest interview privileges of my life, I talked with Ox on the phone last night and asked him what it was like to be featured in the movie, "Pinwheel"? Ox replied, "It was fantastic! He really enjoyed himself." I can't put into words how excited Ox was that he had the chance to end his film career with this movie.
It all started with "Escape from New York" and I wanted to ask Ox about that experience, Ox replied, "They had wanted Bruiser Brody for the role of Slag, but due circumstances with Brody, I ended up getting the role".   I'm a huge Brody fan, but I think Ox Baker was custom made for that role.
I told him that I've been a fan of his movies and wrestling for my entire life, and asked if he wanted to share any favorite memories with all his fans. Ox replied, "There is just too many memories to pick just one, but I love all my fans". If there is one thing that I've learned about Ox is that he's not a selfish man, he works hard and he does it for all of his many, many fans.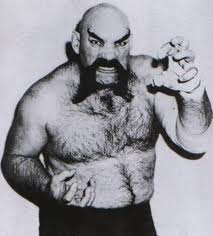 I asked Ox about taking David Gere under his wing to help develop his DG Haven wrestling character, Ox replied,  "Yes, I have a made trade off with David Gere. He would get me involved in movies again, and I would teach him how to be a great manager. And not to brag, I think he's got the greatest teacher in the world. David has all the tools but just needs my guidance to get him to a main event level and join the other great managers like The Grand Wizard, Captain Lou Albano, Gary Hart, and Bobby Heenan."
To sum it up, Ox Baker is an Icon, a Legend, a Teacher, a Friend, an Athlete, a Wrestler, an Actor, a Giant, a Gentleman, a Father, a Son, and an Inspiration to us all.    Thank you Ox Baker for all the memories!
Special Thanks to David Gere, Austin Idol, Matt Sauro, Bob McCarthy, Cheryl Miller McCarthy, Julie Dawson, and of course Ox Baker for all contributing to make this article possible.