SYNOPSIS:
26 different directors teach us the ABC's of death with brand new bloody vignettes. Each based on a letter of the alphabet.
REVIEW:
Released in 2012, the first ABC's of Death film was a decidedly mixed bag of both tricks and treats (mostly tricks). But it did have a few memorable entries and it was quite successful. Successful enough to warrant this sequel, which once again features 26 directors lending their particular talents to a different letter of the alphabet and creating a short film based on the letter they chose. I remember being quite intrigued with the entire idea and was really anxious to see it, but once it was all said and done, I found myself wondering how good an idea was it really? The biggest problem it faced was the central idea behind its existence – it's comprised of 26 different short films by 26 different directors with different visions. While this does indeed sound like it can be something worthwhile in theory, in actuality it turned out to be the film's biggest hindrance. The quality of the shorts varied wildly and eventually it felt to me as if a lot of the directors were trying way too hard to be shocking. In short, the film became something of a drag. But here we are a few short years later and the sequel has arrived. The only real difference is that there are 26 new directors plying their trade here. 26 new directors with 26 new short films – some really good, some pretty decent, some really bad. What follows is a quick opinion of each separate entry, rated from 1-5, with 1 being the worst and 5 being the best.
A is for Amateur – Directed by E.L. Katz. A clever take on what a hit man imagining what an upcoming hit is going to look like, and the stark reality of it once he actually starts in on his target. Lurid fun and a strong start. 3 out of 5.
B is for Badger – Directed by Julian Barrett. A bullying nature show host gets his comeuppance thanks to some unseen critters living nearby a nuclear power plant. Satisfactory but it felt like a rejected Monty Python bit to me. 2.5 out of 5.
C is for Capitol Punishment – Directed by Julian Gilbey. An accused child murderer is sentenced to death by a self appointed jury of townsfolk. Features some eye wincing violence and a few chuckles, but it felt incomplete. 2.5 out of 5.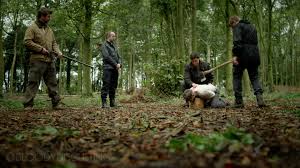 D is for Deloused. Directed by Robert Morgan. I really don't know what the hell this one is all about, but I think it's patently obvious that Mr. Morgan has been watching a lot of David Cronenberg movies. This stop motion animated entry is a nightmarish cavalcade of gore and grue with echoes of Cronenberg's Naked Lunch (1991) & Videodrome (1983). It's completely undecipherable, but oddly compelling at the same time. 3 out of 5.
E is for Equilibrium. Directed by Alejandro Brugues. Silly & predictable entry about 2 male castaways and the female who suddenly washes up on the shore one day. Looks great but it's utterly predictable. 1 out of 5.
F is for Falling. Directed by Aharon Keshales & Navot Papushado. A female Israeli soldier gets her parachute caught in a tree, and is confronted by a young Arab man with a rifle. Starts & ends well, but the middle lags a bit. 2.5 out of 5.
G is for Grandad. Directed by Jim Hosking. Ludicrous & silly, with a final image that I had to scrub from my brain with a Brillo pad to erase. 1 out of 5.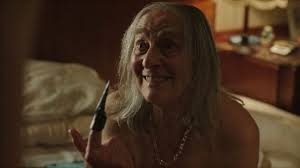 H is for Head Games. Directed by Bill Plympton. Immediately identifiable as a work by Plympton, it's his take on relationships as 2 lovers start to kiss and launch an attack on each other at the same time. Visually familiar and ultimately dull. 1 out of 5.
I is for Invincible. Directed by Erik Matti. A family tries to kill their grandmother to get her money, but she proves to be one tough nut to crack. It looks and feels like a mash up of Evil Dead (1981) & Dead Alive (1992). Slight but entertaining. 3 out of 5.
J is for Jesus. Directed by Dennison Ramalho. A father hires a pair of priests to kidnap & torture his gay son in order to exorcise the demons that he feels are making him homosexual. Touching & poignant, but extremely violent and hard to watch. 4 out of 5.
K is for Knell. Directed by Kristina Buozyte & Bruno Samper. A young woman looks out her window and sees a strange orb filled with a black liquid floating in the sky, and people being murdered in the building across the street from her. Starts strong but quickly turns into a head scratcher that made no sense at all. 1 out of 5.
L is for Legacy. Directed by Lancelot Oduwa Imasuen. A tribal sacrifice goes awry. A man in a Halloween costume starts killing people in the village. Viewer confused. Ugly with really bad CGI effects. .5 out of 5.
M is for Masticate. Directed by Robert Boocheck. A crazed man in dirty underwear runs down a sidewalk, chomping on people's necks, all in slow motion. This entry was the winner of the "26th Director" competition and it's not what you think it is. 3.5 out of 5.
N is for Nexus. Directed by Larry Fessenden. A man (dressed as Frankenstein) goes to meet his date (dressed as The Bride Of Frankenstein) on Halloween. It's decent enough but doesn't have as big an impact as it wants to have. 2 out of 5.
O is for Ochlocracy (Mob Rule). Directed by Hajime Ohata. The idea of being a human on trial in a world where the judge & jury are zombies is a new & interesting one, but the tonal shifts between comedy & horror feel forced. 1.5 out of 5.
P is for P-P-P-Scary. Directed by Todd Rohal. Three prison refugees run into a man in a rocking chair in a world with no light. I don't know exactly what was trying to be said here, but this entry doesn't seem to know what it wants to accomplish. Dumb, trite & utterly forgettable – it's the worst of the 26 entries. 0 out of 5.
Q is for Questionnaire. Directed by Rodney Ascher. A man takes a intelligence test without realizing the consequences of answering every question correctly. Obtuse & slow but I liked the way it ended. 1.5 out of 5.
R is for Roulette. Directed by Marvin Kren. Three people play Russian Roulette in a dank basement, but not for the usual reasons. I wish this one was a bit longer as I liked where it was headed, but it ended too abruptly. 2 out of 5.
S is for Split. Directed by Juan Martinez Moreno. An ultra tense take on a home invasion that owes a lot to Brian De Palma with a hell of a twist at the end. Intense, violent and unforgettable. 4.5 out of 5.
T is for Torture P**n. Directed by Jen & Sylvia Soska. A torture P*rn shoot goes awry when the sadistic photographers find they hired the wrong model. The Soska sisters are faves of mine so I was really looking forward to this one, but it felt forced to me. Regardless, it's quick & creepy enough to satisfy. 2.5 out of 5.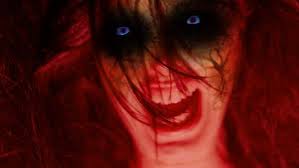 U is for Utopia. Directed by Vincenzo Natali. This entry has a Twilight Zone feel to it and tells the fate of a man who doesn't have the preferred look in a perfect world. Nice, compact & gorgeous. 3.5 out of 5.
V is for Vacation. Directed by Jerome Sable. Two friends go a bit too far while on vacation in Thailand in this decidedly nasty & ugly entry. Extremely bloody & violent, but kinda funny too (in a really depraved way). 4 out of 5.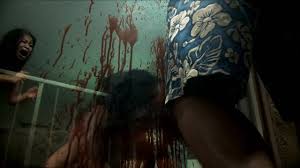 W is for Wish. Directed by Steven Kostanski. The writer/director of Manborg (2011) is back with this entry about two boys who wish they could live the same adventures that their favorite action figures live, only to find out that you really should be careful for what you wish for. Hilariously grotesque & violent, with some great visuals & a cameo from the Soska twins.
4.5 out of 5.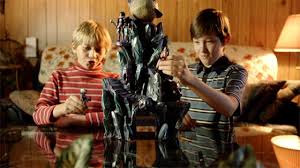 X is for Xylophone. Directed by Julien Maury & Alexandre Bustillo. Beatrice Dalle of Inside (2007) stars here as a babysitter who gets fed up with the noise the little girl she's watching is making with her xylophone. And you should never make Beatrice angry with you. Simple, quick & brutal with a gruesome final image. 4 out of 5.
Y is for Youth. Directed by Soichi Umezawa. A teen girl imagines getting revenge on her selfish parents in the most bizarrely graphic manner possible in this visually inventive entry. The use of practical effects over CGI here really make the entire episode a creepy treat for the eyes. Wonderfully entertaining. 4.5 out of 5.
Z is for Zygote. Directed by Chris Nash. A pregnant woman left alone in a farmhouse decides she doesn't want to let her baby leave her womb in this extremely grisly final entry. It's ugly, scary, bloody & brilliant, they saved the best for last! 5 out of 5.
Overall, I enjoyed this entry in the franchise a lot more than the first one, it feels more cohesive and has only a few outright clunkers as opposed to the previous film. But the clunkers here really fall flat and slow down the momentum just a bit. But it's a much better film than the first one and that can only bode well for the future. ABC's of Death 2 features a great animated opening credit sequence featuring schoolkids getting offed by their teachers in various grisly ways and a unsettling main theme that sounds a lot like the "La La" theme from Rosemary's Baby (1968). It also promises a third entry for 2016 to be called ABC's of Death 3: Teach Harder that I'm really looking forward to. Stay with it till the end credits are done for a little coda featuring Laurence Harvey of The Human Centipede II: Full Sequence (2011).
ABC's of Death 2 – 4 out of 5 shrouds.