You all know Katherine Isabelle for her work in films like the Ginger Snaps trilogy (2000 – 2004), Freddy Vs. Jason (2003), Ogre (2008), 30 Days Of Night: Dark Days (2010) and countless other film & television roles. But it was in 2012 that she struck a particular nerve with horror fans around the world with her starring role in Jen & Sylvia Soska's American Mary, where she played Mary Mason, a medical student who finds herself mixed up in the world of alternative surgery. The film and her performance in it won countless festival awards around the world (I thought it was the best horror film of 2012). She can currently be seen acting alongside Hugh Dancy & Mads Mikkelsen in season 2 of Hannibal as Margo Verger, the abused sister of Mason Verger (Michael Pitt). An absolutely great lady to talk to, she took some time to talk with Horrornews.net about how she got the role, what she hopes for in season 3, her latest film, See No Evil 2 (Also directed by the Soska twins), and what American Mary meant to her career.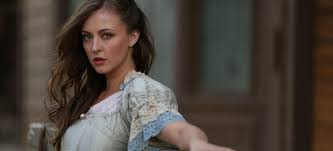 Horrornews.net: Thanks so much for your time. I'm really honored to be speaking with you as I'm a really big fan.
Katherine Isabelle: [Laughing] Thank you!
HNN: I can talk to you about all kinds of things but we're here to talk about Hannibal: Season 2…
KI: Best show ever!

HNN: In all honesty, I'd never watched a single episode of Hannibal before this week.
KI: Really…?
HNN: But then I got the request to speak with you regarding your work on the show, and after I got up off the floor, I figured I had to play catch up.
KI: So you watched season 2?
HNN: No, I watched both seasons. I binge watched.
KI: [Excitedly] And how awesome is that show?
HNN: It's the best freaking show on television!
KI: [Laughing] I know right? It's the best show I've ever seen! It's the best show in the world, I love it!
HNN: I cannot tell you how many times my jaw dropped during the last episode…
KI: Oh my god, I was losing my mind as I watched it! I didn't get the script for the last episode, I only get the scripts for the ones I'm in. So I sat here, screaming as I watched it. My dog actually ran out of the room because I was scaring him!
HNN: So you played the role of Margo Verger, sister of the infamous Mason Verger. When you were offered the role, what made you decide that you wanted to accept it?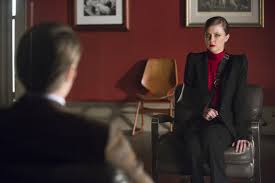 KI: People just don't offer me f*cking wicked sweet characters on the world's greatest show, I auditioned for it. I only found out later that there was a little conspiracy between Brian Fuller (Producer) & Vincenzo Natali (Director) to hire me for the role. I had worked with both of them before and they thought I would be a good fit for the part and that just tickled me pink [Laughing]! I am so incredibly grateful to have been remembered a/o thought of by them. So I auditioned for the part, and the studio didn't think I was strong enough for the role but I had only shot one scene for them, with no input or advice from anybody at that point. I was worried but then Brian made them watch American Mary & after watching it, they said "Oh, she's good!". So what do you mean, "What attracted me to it?", it's an amazing character!
HNN: She's an incredible character…
KI: On a f*cking amazing show, with amazing Mads Mikkelsen, created by amazing Brian Fuller! There's nothing to not freak out about on that show! As to the character herself, I'm drawn to Margo like I'm drawn to any of my favorite characters. They're strong, multidimensional, independent female characters regardless of whatever adversity they're going through or overcoming. They're smart, they're interesting and they're more complex than a lot of what people are used to seeing.
HNN: That's true of all the roles you play…
KI: Plus I get to wear $25,000 worth of Alexander McQueen clothes all the time [Laughing]!
HNN: Is that what your wardrobe costs? Really??
KI: Oh yeah, The wardrobe designers are amazing! The choker necklace in the last scene of the last episode I'm in was worth $5000. Right off the runway from Alexander McQueen. There's nothing to complain about on that show [Laughing]. The crew is amazing and everyone knows that they're making something special, It's enthusing & empowering when everyone knows they're making something this good and they're all proud of it.
HNN: Did you have to do a lot of research for the role?
KI: I didn't have much time. I arrived two days before shooting started to do wardrobe fittings, and I was handed the first season & a copy of Red Dragon, the book. And it's a huge book! I just wanted to skip through it all and find out where my character was in it [Laughing]. But one of my very best friends in the world, Sylvia Soska, was a big fan of the book and knew everything about it. She informed my character quite a bit, as far as the book version of Margo. And Brian was generous enough to call me a few times and talk with me about his feelings about Margo – the gist of Margo. And then I got on set with fantastic directors who worked with me and helped me get into the groove of the character.
I watched the entire first season in a day and a half, and it affected me psychologically! A fire alarm went off in my building one night at about three in the morning, and I looked outside my window, but I didn't see anything. I should preface this by telling you that I'm a lazy apartment dweller – unless I actually see fire trucks & firemen rushing into the building, I'm staying inside my apartment! Anyway, I saw a police car at the end of my block, with its lights on, and in the reflection of my one little window that opens up about 3 inches – I swear to god I saw a eviscerated corpse in the lobby of my building! So I'm thinking "Holy Shit! Someone was just eviscerated in the lobby of my building and the cops have turned on the fire alarm!". But then I thought "Wait a minute, if there was an actual murder they wouldn't want people running around in the lobby. They'd want everyone to stay inside". So I wondered why they'd turn the fire alarm on, but then I thought "What if the killer turned the fire alarm on, in the hopes that people would come running downstairs – where he could kill them all!". And then I thought "Oh my god, I'm watching too much 'Hannibal'! I need to calm down!". Of course, when I finally went downstairs, there was no eviscerated corpse or anything like that.
HNN: As I watched the series, I found myself taken at the intensity of Will Graham (Hugh Dancy) & the creepiness of Hannibal (Mads Mikkelsen). You had one on one scenes with both of them and I wondered if Dancy was that intense in person, and if Mikkelsen was really that creepy?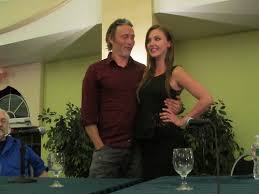 KI: They're both great actors! That's the thing with these guys, they're amazing f*cking actors. I totally fan girled over Mads when I first met him, and we got a chance to hang out at a convention recently – and he's not Hannibal! He's a really funny, cool, charming, down to earth guy that likes to have fun. He's supportive and he's interesting, he's just an amazing actor!
Its hard to believe that they're anything other than the characters they play, because they're such great actors. Otherwise, we'd just hire a real serial killer!
HNN: I think they did! I really think that Mads was a serial killer in another life!
KI: And it's a hard show…it's a really hard show to work on. We're in Toronto, at night with temps going to 30 below – going down to 47 below with the wind chill factor. English isn't Mads first language either, and he's got the most complex, psychological dialog! And Hugh Dancy? I don't know how he rides that line, he's never too over the top – They're amazing! It's a really hard show, there's so much dialog, so much intensity – I'm in awe when I watch them do it. I've been doing this for 27 years, and I know it like the back of my hand, but I'm in awe when I see those two lay down some shit. I could watch them all day.
HNN: I could listen to you all day!
KI: [Laughing] What you're seeing is the three minute version of a seven hour scene. I'm just in utter admiration of those guys and their work, attitude, professionalism & talent.
HNN: You mentioned English not being Mikkelsen's first language. I have to admit to using subtitles as I began watching the show, since his accent is pretty thick. I did get accustomed to it after a few episodes though and was able to carry on without them. Was that ever a problem for you when you worked with him?
KI: Not really, he's incredibly eloquent. He's vastly smarter than I could ever hope to be so that never bothered me.
HNN: Are you going to be back for season three?
KI: [Hesitatingly] Yeah…I will be. As far as I know [Nervous laughter].
HNN: So how do you think the relationship between Margo and Mason is going to develop? Your last line in season 2 was something like "I'll take care of you. Just like you…"
KI: "Just as you took care of me".
HNN: Right! And as your story arc ended, Mason was in a pretty bad way.
KI: I really don't know what they're going to do with our characters just yet, but I'm excited to find out. I'm excited to see how the power dynamic changes between the two of them. It's not like she leaving him, she's not leaving him to enjoy her life now that he's in the condition he's in – she's sticking around for control, possible revenge. So I'm really anxious to find out what the writers have in store for us.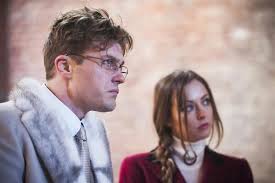 HNN: You worked with the Soska twins on their latest film, See No Evil 2. I spoke with them last year and they love you to death! I'm supposing you're in it because they asked you to be in it, what's it all about this time around?
KI: I'm not entirely sure how much I can tell you! It takes place directly after the first film, and Jacob Goodnight (Kane) is in the morgue since he died in the first film. An attendant who works there invites a bunch of her friends over and some of them sneak of to do some naughty things, which awakens Goodnight and its all very bad for everybody. It's really a lot of fun and the girls are absolutely amazing, I'm excited to see what the response to the finished film is.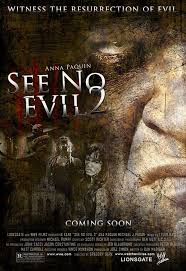 HNN: Before I let you go, I have to talk about Mary Mason, the role you played in American Mary. I thought it was the best horror film of 2012, as did a lot of my co-workers. I just wanted to ask what did acting in it mean to you? You got so much acclaim for the role and I wondered how it changed your life, if at all?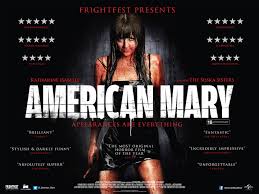 KI: It meant everything to me! I gained two best friends – Jen & Sylvia Soska are like my two lost siblings. That character was amazing and to be given the opportunity to be showcased in a film like that was amazing. To be given that character, to be able to show people around the world what women in horror can do, what female characters on screen can do, what I can do, what the twins can do…it meant everything. It changed my life in pretty much every way that I can think of really. It re-inspired me, I've been doing this for 27 years and it's a grind – especially as a young, attractive female working in films – you can get discouraged quite easily. But American Mary inspired me, it really did, and I think it inspired a lot of other people to see what someone can do when they don't necessarily have the money, time or resources but have the talent, tenacity, determination & creative genius that the Soska's have. It always helps if you're a creative genius [Laughing]! I read the entire script on my Blackberry when I first got it and then I sent it to my dad and asked him "Am I f*cking crazy or is this the greatest thing ever?", he agreed with me and ever since then, my life has changed. It changed my whole world and I'm incredibly grateful for that [Laughing]!
Season 2 of Hannibal will be available on DVD/Bluray this September 16th from Lionsgate Home Entertainment.