David Boreanaz, Nathan Fillion, Whoopi Goldberg, Christopher Lloyd, Norman Reedus Headline Celebrity Guests At Wizard World Philadelphia Comic Con, June 19-22
Karen Gillan, Karl Urban, Evan Peters, Anthony Mackie, Sebastian Stan, Five WWE® Standouts, Top Comics Creators At Pop Culture Festival At Pennsylvania Convention Center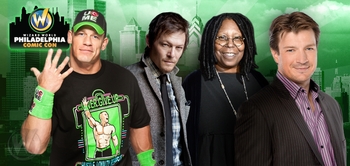 PHILADELPHIA, April 22, 2014 – David Boreanaz ("Bones," "Angel"), Nathan Fillion ("Castle," Serenity), Whoopi Goldberg ("The View," Sister Act), Christopher Lloyd ("Taxi," Back to the Future), Karen Gillan ("Doctor Who," Guardians of the Galaxy) and Norman Reedus ("The Walking Dead," Boondock Saints) are among the celebrities scheduled to attend Wizard World Philadelphia Comic Con, June 19-22 at the Pennsylvania Convention Center. It is the eighth of 16 events in the 2014 series produced by Wizard World, Inc. (OTCBB: WIZD) and will also feature a top-drawer collection of well-known comics artists and writers and a variety of activities, exhibitors and special attractions.
Fillion and Gillan will appear on Saturday, June 21 only; Reedus will attend on Saturday and Sunday, June 21-22; Goldberg will appear on Friday evening and Saturday, June 20-21; and Lloyd is scheduled to appear Friday through Sunday.
Other notables on the celebrity roster include Anthony Mackie (Captain America: The Winter Soldier, The Hurt Locker), Sebastian Stan (Captain America: The Winter Soldier, "Once Upon a Time"), Karl Urban (Star Trek, The Bourne Supremacy), Evan Peters (X-Men, Days of Future Past), Lauren Cohan ("The Walking Dead," "The Vampire Diaries"), John Carpenter (director, Halloween, Escape from L.A.), Eliza Dushku ("Buffy the Vampire Slayer," "Angel"), Daniel Cudmore (X-Men, Days of Future Past), Alan Tudyk (Serenity, Wreck-It Ralph), Sean Astin (The Lord of the Rings, Rudy), Ralph Macchio (The Karate Kid, My Cousin Vinny), Laura Vandervoort ("Smallville," V) and "The Walking Dead" stars Michael Rooker, Sarah Wayne Callies, Lauren Cohan, Scott Wilson and Jon Bernthal.
In addition, WWE® Divas The Bella Twins™ (Friday), WWE® Hall of Famer Bruno Sammartino™ (Saturday) and WWE® Superstars John Cena (Sunday) and Batista™ (Saturday) will attend.
Superstar comics creators scheduled to attend include Greg Capullo ("Batman," "Spawn"), Eisner Award Hall of Famers Marv Wolfman ("DCU Online," "Crisis on Infinite Earths") and Neal Adams ("Batman," "X-Men"), Jim Cheung ("Avengers vs. X-Men," "Iron Man"), Daniel Acuña ("Uncanny Avengers," "Captain America"), Jesus Saiz ("Swamp Thing," "Justice League"), Claudio Aboy ("Heavy Metal," "Marilyn"), Ethan Van Sciver ("Green Lantern," "Flash"), Greg Horn ("Marvel: World of Heroes," "Walt Disney"), Arthur Suydam ("Marvel Zombies," "Army of Darkness"), J.G. Jones ("Spider-Man," "Before Watchmen") and Michael Golden ("Hulk," "Daredevil").
Wizard World Comic Con events bring together thousands of fans of all ages to celebrate the best in pop-fi, pop culture, movies, graphic novels, comics, toys, video gaming, television, sci-fi, gaming, original art, collectibles, contests and more. Wizard World Philadelphia Comic Con show hours are Thursday, June 19, 3-8 p.m.; Friday, June 20, noon-7 p.m.; Saturday, June 21, 10 a.m.-7 p.m., Sunday, June 22, 11 a.m.-5 p.m.
A first-class lineup of topical programming takes place all three days at the event, with celebrity Q&A's, the Wizard World Film Festival, comics-themed sessions, costume contest, movie screenings, evening parties and more. Sunday, June 22, is also Kids Day, with an array of activities and programming specially designed for the younger Wizard World fans.
Philadelphia Comic Con is also the place for cosplay, with fans young and old showing off their best costumes throughout the event. Fans dressed as every imaginable character – and some never before dreamed – will roam the convention floor, often stopping by the Show Stage, the ideal place to see and be seen.
For more on the 2014 Wizard World Philadelphia Comic Con, visit www.wizardworld.com/home-pa.html.
About Wizard World:
Wizard World (OTCBB: WIZD) produces Comic Cons and pop culture conventions across North America that celebrate graphic novels, comic books, movies, TV shows, gaming, technology, toys and social networking. The events often feature celebrities from movies and TV, artists and writers, and events such as premieres, gaming tournaments, panels, and costume contests.
The full event schedule can be found at www.wizardworld.com.
Wizard World 2014 Schedule
January 24-26 – Wizard World Portland Comic Con
February 7-9 – Wizard World New Orleans Comic Con
March 7-9 – Wizard World Sacramento Comic Con
March 28-30 – Wizard World Louisville Comic Con
April 4-6 – Wizard World St. Louis Comic Con
May 2-4 – Wizard World Minneapolis Comic Con
May 30-June 1 – Wizard World Atlanta Comic Con
June 19-22 – Wizard World Philadelphia Comic Con
August 1-3 – Wizard World San Antonio Comic Con
August 21-24 – Wizard World Chicago Comic Con
September 12-14 – Wizard World Richmond Comic Con
September 26-28 – Wizard World Nashville Comic Con
October 2-4 – Wizard World Austin Comic Con
October 31-November 2 – Wizard World Ohio Comic Con
November 7-9 – Wizard World Tulsa Comic Con
November 21-23 – Wizard World Reno Comic Con