THE "MEGAFOOT" INDIEGOGO PROJECT REACHES 30%!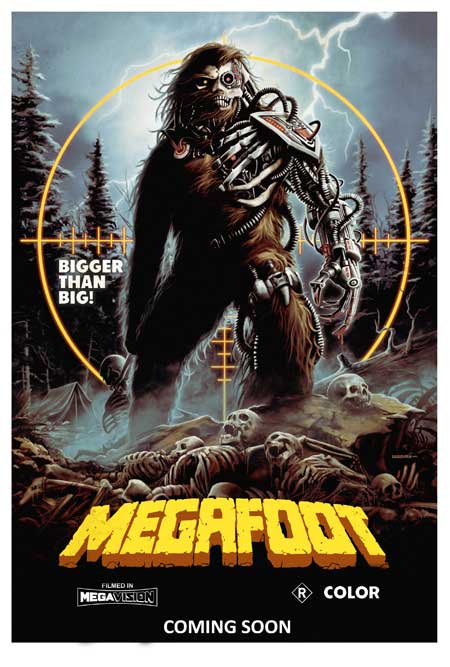 People With Chaetophobia Start Stockpiling Automatic Weapons As Deadline For Crowdfunding Campaign Looms
April 1st 2014, Los Angeles, CA – Writer/Director Rolfe Kanefsky (There's Nothing Out There!; Nightmare Man; The Hazing) and Producer Justin A. Martell (Return To Nuke 'Em High Volumes 1 & 2), announced today that the Indiegogo campaign for their hairy creature-feature MEGAFOOT has obtained 30% of their goal, and in celebration they released a new promotional video which finally answered the age-old question: "if Robocop had been a murderous yeti-borg with a penchant for slaughter and mayhem, how many lab assistants could he eviscerate?"
With six days left to contribute, the creators of this cruel skull-crushing mutant are urging their fans to continue their support.  "The more we raise, the more we shoot" stated Justin Martell, wiping blood from his face.
MEGAFOOT is a top-secret killing monstrosity (half Machine, half Bigfoot, all Terror!), which has recently escaped from the highly covert laboratory where it was created.  An elite squad of soldiers has been sent to track and destroy the sadistic sasquatch before it wreaks its horrific vengeance on the human race. Expect violence, suspense, creative kills and gore-soaked thrills in a movie that's bigger than big… it's MEGAFOOT!
For the complete synopsis, concept artwork and crew bios, please see the attached electronic press kit.  Also, visit our Facebook, Twitter and Indiegogo pages through the following links:
MEGAFOOT Facebook  – – –  MEGAFOOT Twitter  – – –  MEGAFOOT Indiegogo