SYNOPSIS:
"Jonathan Jones, a professor of ancient languages, comes into possession of an ancient coin. He translates its inscription, which gives him three powers: to inflict pain, slow down time or kill. Soon, he's pursued by enemy spies who have learned about the magic coin." (courtesy IMDB)
REVIEW:
United States naval captain Walter Karig was also a prolific author, writing a number of reference books about naval operations during World War Two, as well as scripts for the television series Victory At Sea. Karig was also a novelist, writing several volumes in the Nancy Drew series, the Perry Pierce series and the Doris Force series. Among Karig's many novels is Zotz! published in 1947, a satire dealing with archeologist and linguist Doctor John Jones who, after deciphering an inscription on an ancient disc, is imbued with deadly powers: To cause pain; to kill; or to slow down time. Because the novel is set during WWII there is a patriotic flavour throughout the story, much of which revolves around Jones' efforts to see President Franklin Roosevelt with the hope that he can convince the President that the Allies can use his supernatural abilities to help the war effort.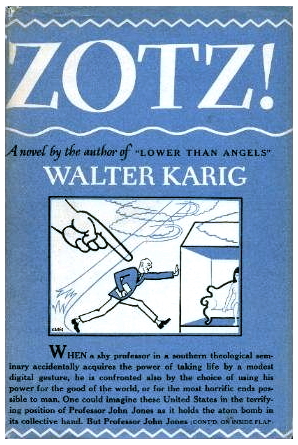 Karig wrote himself into the novel as a beleaguered officer working at a naval public information office, where dozens of people parade by his desk daily all trying to obtain appointments to meet the 'highest authority' in the government. He points out that mankind has not changed much in a thousand years – technology may have improved, but humans still have a strong desire to destroy and to kill. With his novel, Karig managed to blend a splendid satire of wartime Washington bureaucracy with ethical questions relevant to the advent of nuclear war. After Karig's passing in 1956, director William Castle chose to produce a movie version of Zotz! (1962) starring Tom Poston, Jim Backus, Maragret Dumont, Cecil Kellaway and Louis Nye. Despite the presence of these fine comedy actors, the movie remains extremely unfunny and greatly deviates from Karig's original novel, becoming little more than a showcase for some clever low-budget special effects.
You remember William Castle, right? Skeletons dangling above the audience, cinema seats wired to buzz, fright-breaks giving cowards a chance to escape, insurance policies guaranteeing viewers against death by fright, etc. These and other outrageous gimmicks are the creations of a filmmaker with the soul of a carnival pitchman whose goal was to scare the pants off America. It's a matter of debate whether the films he made lived up to that goal, but there's no denying that the delightful promotional schemes he came with made teenagers in the fifties and sixties step right up in droves, and made him one of the most beloved figures in the history of cinema. Always looking for another bandwagon to jump on, Castle had seen the lines around the block for Walt Disney's live-action comedy The Absent-Minded Professor (1961) and decided to get a piece of that particular box-office action. Although better known for his thrillers, the famous showman of the cinema still found time in his busy schedule to tackle other genres, such as the comedy fantasy Zotz! He had Ray Russell rewrite Karig's novel into a Disney-esque family-friendly shape, but Castle could not leave the darker aspects of his oeuvre behind, the end result being far from the director's (and the author's) original intentions.
The movie begins with a live action 'Torch Lady' for the Columbia Pictures logo, while Castle sits in his director's chair at the bottom right of the screen. He points to the Torch Lady and says "Zotz!" to which the Torch Lady turns her head and says, "Zotz? What's Zotz?" A brilliant but peculiar professor of Ancient Eastern languages, Jonathan Jones (Tom Poston), finds that an amulet sent to his niece Cynthia (Zeme North) by a boyfriend from an archeological dig has magical powers. Just by pointing at another living creature and saying the word 'Zotz' Jones can cause great pain or a strange change in another person's behaviour. Both United States and Communist agents immediately develop an interest in the amulet's possible military use. In the meantime, Jones and rival professor Kellgore (Jim Backus) are both in line for a promotion to take over from retiring Dean Updike (Cecil Kellaway) as head of the university's language department. A new colleague and possible romantic interest, Professor Fenster (Julia Meade), is startled by Jones' behaviour, particularly at a party thrown by Updike's wife that turns into chaos. Jonathan is eventually kidnapped by Nikita Kruschev himself, who looks like Tor Johnson but is actually B-grade film composer Albert Glasser.
In the best Disney tradition, all is wrapped up in a tight little bow by the end of the film, when the Columbia Torch Lady returns to say, "Zotz all, folks!" It's obviously meant to be a lighthearted film, but it doesn't quite convince as being as wholesome as it wants to be. It's not a terribly friendly magic object because, when the holder points at someone, they suffer a crippling pain in their insides and double up. Why, Mister Castle, that's hilarious – not. How about slowing down time after speaking the word Zotz which leads Professor Kellgore into a comic set-piece where he is struck by this spell and everyone thinks he's drunk? That's a bit better, but then there's the third power, the result being your target bursts into flame – not much comedy potential there.
As mentioned before, much of the comedy in the original novel is concerned with bureaucracy and Jones' efforts to offer himself up to the United States military as a new secret weapon. This is pared down to a short rather unfunny scene in the office of the flustered General Bullivar (Fred Clark). Even though Zotz! has charm to spare, it never really gets a laugh. The big comedy set-pieces all feel uncomfortably forced, often straining credibility even in a world where one can alter the flow of time. If Professor Jones wanted to show off his powers in private to the Dean, why on earth take a dozen white mice to a black-tie dinner party? Mind you, there is the scene in which Professor Jones does a 1962 version of The Matrix (1999) 'bullet-time' photography, and Professor Kellgore's slow-motion dinner toast is so poorly performed it's oddly fascinating. Zotz! is not an aggressively terrible film, but it is one of the unfunniest comedies ever to come out of Hollywood, and that's saying something.
Essential Castle viewing includes Macabre (1958), House On Haunted Hill (1959), The Tingler (1959), 13 Ghosts (1960), Mr. Sardonicus (1961), Homicidal (1961), Zotz! (1962), The Old Dark House (1963), 13 Frightened Girls (1963), The Night Walker (1964), Strait-Jacket (1964), I Saw What You Did (1965), Let's Kill Uncle (1966), The Spirit Is Willing (1967), The Busy Body (1967), Rosemary's Baby (1968), Project X (1968), Riot (1969), Shanks (1974) and Bug (1975). Many of these films were released on DVD in 2009 by Sony Pictures Home Entertainment as part of a William Castle Box Set, but I'm sorry to report that these editions are Region One only. Alternatively, Sony's manufacture-on-demand service (Sony Pictures Choice Collection) now features titles never before seen on DVD gathered from more than seventy-five years of Columbia Pictures history, available from Amazon, TCM and the Warner Archive.
William Castle was a showman who is revered more today for the outrageous gimmicks he created to promote his films, than for the quality of the films themselves. Zotz! is one Castle film that desperately needed a gimmick to bring audiences in, but the best he could come up with this time was a full-size plastic replica of the amulet given to audience members as a promotional item during the initial run of the film. Hardly a big draw, the replicas were essentially identical to the film amulet, with the additional feature of a small hole drilled at the top, for use as a necklace or key chain. Castle simply loved the show-business of movie-making more than the art itself, and brought to his work a kind of carnival pitchman's zeal, which is why he and his films remain in the memory. Enough crying over spilled blood, please join me next week when I have another opportunity to give your cinematic sensibilities a damn good thrashing with the ugly stick for…Horror News! Toodles!
Zotz! (1962)