It's been such a long year for this old saint. I can honestly say I've seen more films this year than ever before and while that might sound awesome to most of you, in actuality it can be something of a chore. Think about it for a hot minute or so, you get to watch nearly every movie released this year but how many of them do you actually have a good time watching? I can tell you that the bad far outweighs the good…by leaps & bounds. But I did manage to decide on 10 movies that I enjoyed immensely, or enough to include on this list anyway. So like them or lump them…here they are!
10 – The Banshee Chapter
Written & directed by Blair Erickson.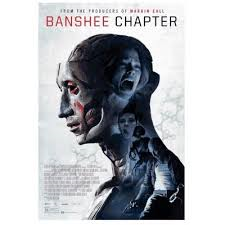 The most recent entry into my top 10 list. What's it all about you ask? Well…there are no screaming banshee's to be found here but what you will find is a genuinely gripping tale involving missing people, other dimensions, strange sounds, our government using it's citizens as guinea pigs in a horrible experiment, conspiracy theories & a character based on Hunter S. Thompson! All of that & it's legitimately scary to boot! Writer/Director Blair Erickson has crafted a low budget gem that might put some of you off with all of the myriad directions it wanders off into but if you give it a chance to weave it's web…you'll come away impressed. And scared. Really really scared.
09 –  The Lords of Salem
Written & directed by Rob Zombie.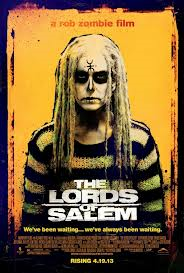 Say what you will about this one (And if your name is Doc Rotten you will) but I thought this was an eerie & unsettling film. It's not as good as director Rob Zombie's best film (The Devil's Rejects) but it doesn't have much to do with that particular type of film either. It's a dreamy, moody & downright sinister film that unnerved me with its overwhelming sense of dread. I was nervous seconds after it began & stayed that way throughout. Some of the images might have been better suited towards a 60's era LSD flick but I'm not gonna hold that against Rob. Meg Foster transforms herself so completely in this film that I didn't recognize her for the first half hour or so & Zombie has obviously learned so much from watching some of the films of Stanley Kubrick that at times I felt like I was watching some outtakes from The Shining. It got a piss poor release from Lions Gate & was criminally underseen so if you get the chance, take it.
08 – Frankenstein's Army
Written by Chris Mitchell & Miguel Tejada Flores. Directed by Richard Raaphorst.

Just a flat out fabulous little chiller with some of the best creature designs I've seen in years! Another example of the dreaded "Found Footage" genre that I loathe so much but this one gets it right with good performances, great art design, a good (If a bit hackneyed script) & some great performances. I still believe that a lot of it is based on Ridley Scott's ALIEN but no one seems to agree with me. It gets really manic at times but it's a beautiful type of manic, one that had me hooked from frame one.
07-  You're Next
Written by Simon Barrett. Directed by Adam Wingard.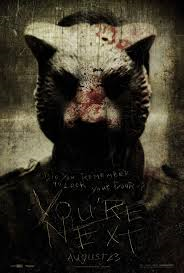 It's all been done before but it's been a long time since I've seen a home invasion flick that gripped me the way this one did. The story was fairly predictable (I figured out the twist 15 minutes into the flick) but that doesn't detract from how exciting & new all of this felt to me. Great performances (Sharni Vinson is a keeper!), great gore, some genuine laugh out loud moments & a killer ending make this one a real keeper!
06 –  Jug face
Written & Directed by Chad Crawford Kinkle.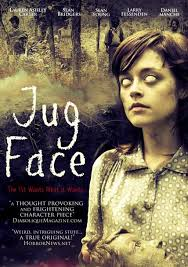 I dunno where this one came from but I loved every second of it's offbeat, backwoods vibe! Ostensibly a story of forbidden lust, writer/director Chad Crawford Kinkle adds the element of a mysterious entity that lives in a pit & demands a human sacrifice every so often in order to keep the good times rolling within the small community where the film takes place. The combination of the two disparate plot elements shouldn't work but does and Lauren Ashley Carter gives one of the year's best performances as Ada, a girl who does something really bad in the beginning and finds that her lies just compound the issue to where she can't lie anymore despite how hard she tries. Jug Face is a melancholy fairy tale wrapped up in a big bright bloody red ribbon that'll leave you stunned.
05 –  Contracted
Written & Directed by Eric England.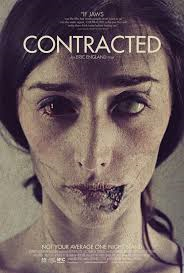 Yeah yeah…NOBODY acts the way people do in this film, so what? Writer/Director Eric England has crafted a deliriously icky movie that will drop your jaw to the floor at certain moments. And whether it's because you're horrified or stupefied doesn't matter, how many times can you say a movie has had that kind of an effect on you (at the same time?). A tremendously effective lead performance from Najarra Townsend and some of the most repulsive makeup effects I've ever seen assured that I wouldn't forget this one and I don't think you'll forget it either once you see it either.
04 –  The Conjuring
Written by Chad & Carey Hayes. Directed by James Wan.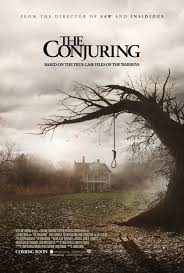 Director James Wan started out making a typical haunted house flick but ended up with a combination haunted house/demonic possession/creepy doll flick that nearly gave me a heart attack. Don't believe what you see in the trailers with some ghostly hands coming out of a closet, clapping twice either, I was prepared for that…what I wasn't prepared for was everything else Wan threw at me! If you're a regular reader (Or listener to the Horror News Radio podcast) then you already know that anything with an Exorcist vibe scares me & demonic toys (Dolls) scare me even worse. Throw them all together and you've not only managed to help me crap my pants but you've made one of the scariest movies ever. The utter brilliance of this film and the way it all comes together only made Wan's second film of the year, Insidious: Chapter Two, that much more disappointing.
03 –  The Seasoning House.
Written by Adrian Rigelsford, Conal Palmer & Paul Hyett. Directed by Paul Hyett.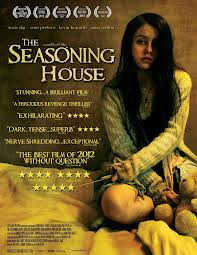 Although it falls prey to the curse of falling back on some standard horror movie tropes in it's final third, director/co-writer Paul Hyett's The Seasoning House knocked me on my ass! The story of a young deaf mute girl who feeds, cleans & shoots heroin into a group of kidnapped women forced into prostitution during the Balkan War, it's an unrelenting look into the ugliness of mankind and a completely engrossing little tale. It's misogynistic, brutal & graphic but it's also lyrical & even a bit tender at times. I still haven't heard to many people talk about this one but I hope this column changes that. Don't be fooled by the poster image either, this is definitely a horror film. And it's one of the best horror films of the year.
02 –  Found.
Written (Based on a novel by Todd Rigney) & Directed by Scott Schirmer.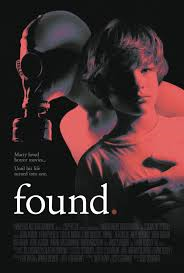 The winner of the Best Feature award at this year's NYC Horror Film Festival, writer/director Scott Schirmer has made one of the most haunting films I've ever seen with Found. The story of a typical American family (Father/Mother/2 sons) and the secrets they hide from each other, it might not sound too exciting at first but considering that one of the secrets involves human heads in bowling ball bags, you will sit up & take notice! Based on a novel by Todd Rigney, it's the most pervasively depressing movie I've seen in years and as I sit here typing these words I can recall the audience I saw it with sitting there in stunned silence as the nightmare on the big screen played out before our eyes. Featuring a terrific central performance from 12 year old Gavin Brown (Who also won the Best Actor award at the NYC Horror Film Festival), Found is the closest thing I've seen to a nightmare played out in real time, its languid pace belies the horror underneath it all and the final image and line of the film will haunt me for years. An incredible movie.
01 –  American Mary
Written & Directed by Jen & Sylvia Soska.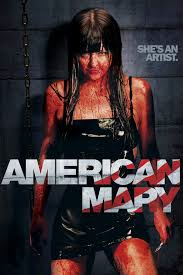 Writer/directors Jen & Sylvia Soska have made what I think is the best film of the year with their tender tale of a harried medical student (The drop dead gorgeous Katherine Isabelle) and her side job as a extreme body modification specialist! Obviously it's a lot deeper than I just described but I don't wanna spoil what's waiting for the few of you who haven't seen it yet. Just take my word for it, it's a sensuous, violent revenge thriller with a defiantly feminist bend to it. Great performances from all involved and some really bizarre imagery & bloodshed augment the decidedly radical script. You will do as I did and fall in love with Mary and the fabulously talented Soska twins as well. And you better cuz' you really don't wanna get on their bad sides…
So there you go, these are the 10 films that made 2013 special for me. I should make mention of a few films that warrant your attention as well, BIG ASS SPIDER, Girls Vs. Boys, Maniac, Would You Rather & Motivational Growth just missed the cut for me but are more than worthy of your attention so look out for all of them!
Comments? Agree or disagree? Feel free to comment below & state your case. I won't agree with you but hell…it's worth a try.
HAPPY NEW YEAR!!