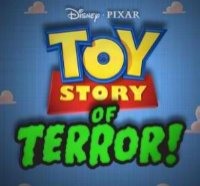 The haunt season brings many Halloween themed specials and programs but no one could have seen this one coming. Do you think you can survive the TOY STORY OF TERROR!
The first look trailer is in and it appears that Woody, Buzz and gang are in for one scary night. Check it out!
The special will air on Oct. 16th on ABC and will tell the story of the gang having to spend the night at a hotel after a car breakdown and all kinds of crazy stuff goes down.
Looks like a ton of fun!