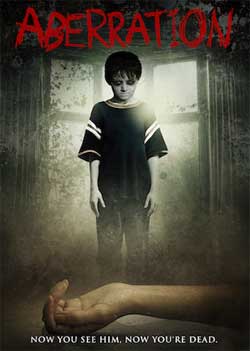 Image Entertainment, an RLJ Entertainment (NASDAQ: RLJE) brand, announces the release of the supernatural thriller Aberration on DVD on Sept. 17, 2013.  Directed by Douglas Elford-Argent, the film stars Gwendolyn Garver, Kristian Capalik, Cal Thomas, Bobbi Jean Basche and James Symington.  Aberration will be available on DVD at an SRP of $27.97.
The film tells the story Christy Dawson portrayed by Gwendolyn Garver (The Brazen Bull), who is just a normal high school student, but she hides a chilling secret. Caught between the worlds of the living and the dead, she has been plagued by horrific, terrifying visions.

With the appearance of a ghostly young boy, these horrific glimpses of evil begin bleeding into her reality. Someone or something is killing everyone around her, and her only hope of survival is to uncover the truth behind a mystery that has shrouded the entire town in terror.